In normal times we'd at least find today's landmark defeat of the UK government in a Scottish court amusing. But these are not normal times, and at the present moment our toxic loathing of every politician in Westminster makes it a bitter fruit.
Although we must admit this bit still did manage to raise a smile: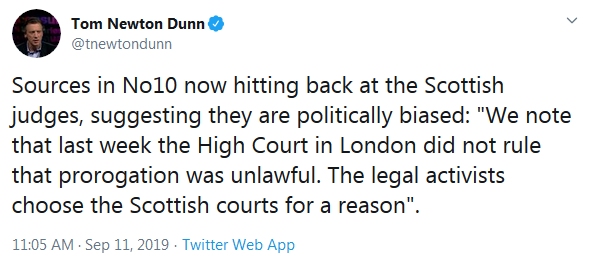 (The reason, incidentally, is that the English High Court wasn't sitting in August.)
What does it all actually mean, though? Well, nothing good.
1. Firstly, Parliament will NOT be recalled. Such a move is constitutionally up to the Prime Minister alone, and it's stupendously unlikely he'll do it before the case goes to the UK Supreme Court next week for appeal.
2. It's distinctly possible that the Supreme Court will overturn the decision. But that case is due to be heard on 17 September. Even if it upholds the decision, party conference season will have already started with the Lib Dems this coming Saturday. Parliament is due to be closed even if the prorogation is reversed.
3. Even if all the parties agreed to cancel their conferences – which would be an astonishing, almost inconceivable move given how much turmoil they're all in and how much they need to sort their positions out – and return to Parliament, what would it achieve?
(If you haven't been keeping up, the latest news is that the Lib Dems now plan to campaign directly for revocation of Article 50 in any election, not a referendum – making an electoral pact with Labour impossible because Labour policy is now to campaign for a referendum, NOT for Remain. The last we heard – and we're NOT making this up – was that a Labour government would in fact negotiate a new deal, then put that deal in a referendum and campaign AGAINST it.)
A law has already been passed forcing the PM to ask the EU for another Brexit extension. All bringing back Parliament would do would be to force Johnson to be in the Commons when he could (at least in theory) be in Brussels attempting to avert a crash exit by negotiating a new deal.
Recall would also open up the possibility of allowing him to make further attempts to dissolve Parliament by one means or another and trigger the pre-November election he wants.
4. And what of independence? If the judgement is upheld by the Supreme Court it undermines the SNP's long-argued position that Scotland has no influence in the UK when it matters. Unionists who are currently wavering would be reassured about Scotland's status as a valued and key partner and therefore the importance of keeping Scottish MPs in Westminster. The tiny pro-indy majority that's just beginning to coalesce in polls would die overnight.
(Even if the judgement ISN'T upheld it'll still have made it look as if it's at least arguable that Scotland has influence and an equal voice, subject to the vagaries of individual judges, when we know that in all normal circumstances it doesn't.)
And all of that obviously goes ten times as much if the SNP ultimately succeed in playing a crucial role in averting Brexit for the whole UK.
(And if they don't succeed, and Brexit happens anyway, they'll have thrown away a moment of extremely rare leverage and ushered in a hard-right UK government for the next five years or more which will never allow a second indyref.)
So as coldly entertaining as the UK government's fit of pique today might be, we hope you'll forgive us if we don't hang out the bunting. Nothing that happened today is of any meaningful consequence for the UK's prospects of leaving or remaining in the EU, and the only kind of news it represents for the cause of independence is bad news.