The UK's political commentariat is afire with shock today over a new poll.
The poll showed that Tory members would by margins of around 2:1 willingly sacrifice Scotland and Northern Ireland – along with the UK economy and their own party – to make sure Brexit happened. Which is all very interesting, unless you read Wings in which case you knew it a year ago.
Because that – almost to the day, 20 June 2018 – is when we published a poll showing that, um, Tory voters would by margins of around 2:1 willingly sacrifice Scotland and Northern Ireland to make sure Brexit happened.
Our poll was England-only rather than whole-UK, and asked Tory voters rather than party members, but the results were almost identical – if you strip Don't Knows out of both polls, ours comes out to 67-33 for Scotland and 65-35 for NI, compared to today's 68-32 for each.
So there's no actual news here for Wings readers, who've been a full year ahead of the curve. And it means what we've told you for many months will be the case – the UK is heading for a no-deal Brexit.
The only remotely viable way to stop no-deal at this stage is a general election, and what these polls illustrate is that that if there's a general election, either Boris Johnson (if he's Tory leader) or Nigel Farage (if he isn't) will win it.
All today's poll does is reinforce that analysis by spelling it out in short words: Tory members and voters alike will no longer tolerate a leader unwilling to pursue no-deal, even if it destroys their own party.
And we know where that leads: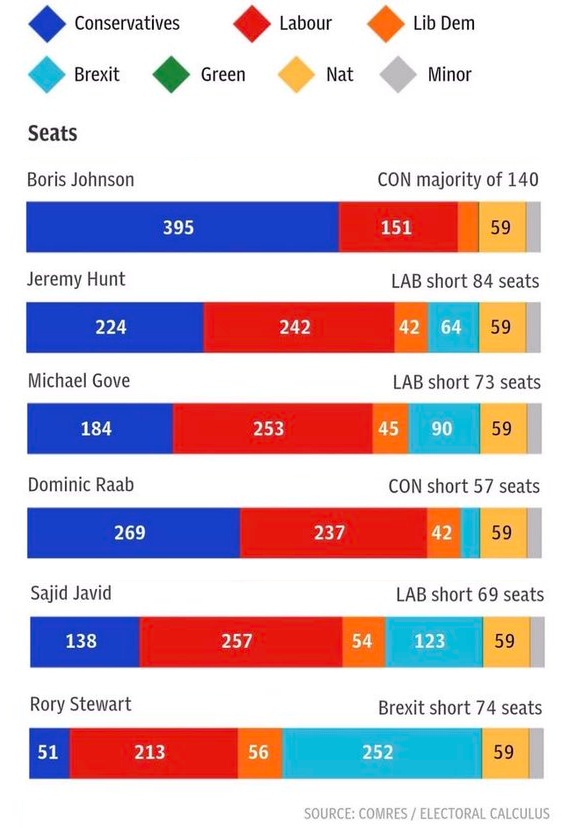 The specifics of exactly how it plays out remain to be seen. We don't know if an all-out Parliamentary war will erupt between the Prime Minister and the Speaker, or whether Rory Stewart will gather a guerrilla Parliament in an old church hall and attempt the world's most middle-class coup.
But voters have made their position clear. If the Tories make Boris Johnson leader – and they surely will – he'll have the majority to do what he wants. If they don't, or if Johnson stalls and delays on leaving on 31 October, voters will either inflict the Brexit Party or an impossible unworkable shambles of a Parliament on the UK.
In the latter case, uncharitable readers may wonder if we'll notice the difference. But either way, the only forseeable ultimate outcome is the cliff-edge.