We think our brains may have been completely fused by a story in today's Daily Record, which is based around comments by Rutherglen Labour MSP James Kelly, pictured below in a scene from the particularly bad acid headache he's just given us.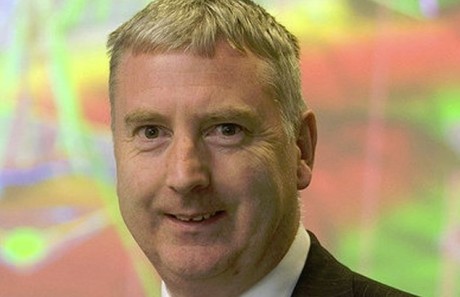 Here's the bit that's been making our minds spin round and round and round in circles this morning until we're dizzy trying to make sense of it:
"ALEX Salmond was accused of "double standards" yesterday over his efforts to woo Rupert Murdoch. Labour raised further questions about the First Minister's links with Murdoch following claims the media mogul lobbied Tony Blair to wage war in Iraq.

Former spin doctor Alastair Campbell said in the latest volume of his memoirs that Blair "took a call from Murdoch who was pressing on timings, saying how News International would support us, etc".

Salmond won plaudits across Scotland for his outspoken opposition to the war which he described as "the most disastrous foreign policy decision of recent times". But it did not stop him from trying to get closer to Murdoch to win The Sun newspaper's backing for the SNP.

Labour MSP and chief whip James Kelly said: "This could make the conversation a little uncomfortable the next time Alex Salmond has Rupert Murdoch round to Bute House for tea and biscuits. Alex Salmond was against the Iraq war but that didn't stop him cosying up to Rupert Murdoch. This is classic double standards from Alex Salmond who is prepared to put his party's interests ahead of any issue.""
Let's try to talk our way through this slowly: LABOUR is attacking the SNP for not being sufficiently critical of RUPERT MURDOCH when he backed LABOUR Prime Minister TONY BLAIR over going to war in IRAQ in 2003? What, seriously?
That can't really be it, can it? Labour, who instigated the illegal war that left hundreds of thousands dead, attacking an opposition party who voted against that war (and which actually tried to impeach Blair for it) for not being critical enough of a newspaper proprietor whose papers enthusiastically backed Labour at the time and who made Tony Blair godfather to one of his children, because when subsequently in government it had a couple of meetings with that newspaper proprietor (also one of Scotland's largest private-sector employers) the best part of a decade later?
Are we dreaming this stuff? Please tell us we're dreaming it.