It seems counter-intuitive – given Rupert Murdoch's often-overstated (despite endless and fevered speculation, the Scottish Sun didn't back a Yes vote) but still seemingly real support for Scottish independence – that Sky News should be seen as the most hostile of the nation's broadcasters to the Yes movement.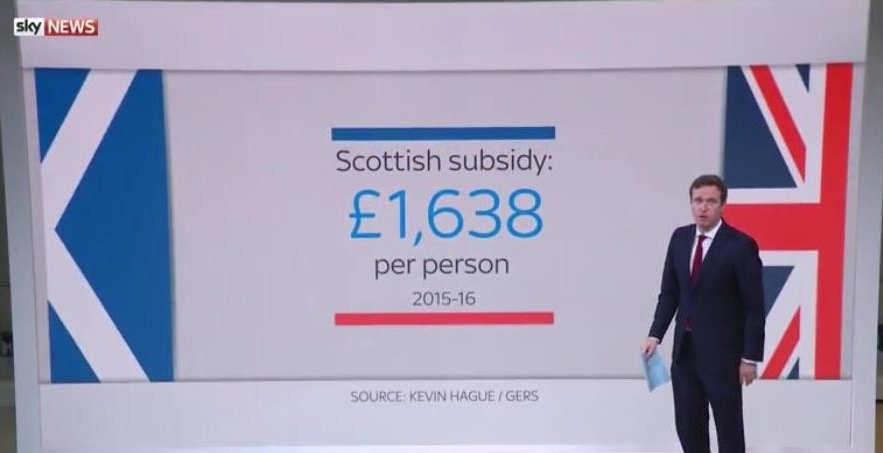 Yet such it is.
The channel's nightly newspaper review is notable for the rarity of Yes voices and the poisonously Unionist views of the commentators it does invite, and several of its presenters make little if any attempt to hide their partisan feelings on the subject.
In our most recent Panelbase poll, Sky News came dead bottom of a list of 20 media outlets when respondents were asked about perceived pro-independence leanings. While (completely bewilderingly) 8% of people thought that the Scottish Daily Mail was pro-Yes, and 7% said the same of the Scottish Daily Express, just 1% had the same opinion of Sky News.
"BROADLY PRO-INDEPENDENCE" SCOTTISH POLITICAL REPORTING
Wings Over Scotland: 23%
Bella Caledonia: 17%
=Scottish Sun: 15%
=STV News: 15%
Daily Record: 13%
The Herald: 12%
The Scotsman: 12%
Common Space: 10%
The Scottish Daily Mail: 8%
BBC Scotland (TV): 8%
BBC Scotland (Radio): 7%
Scottish Daily Express: 7%
The Sunday Post: 6%
The Courier: 5%
The Press & Journal: 4%
The Guardian: 4%
Buzzfeed: 3%
Channel 4 News: 2%
The Times: 2%
Sky News: 1%
(NB The poll allowed for "don't know/don't read/watch/listen" responses, which is why the likes of this site didn't score closer to 100%. Online media, obviously, were generally less recognised than mainstream print and broadcast.)
The broadcaster placed highly, conversely, when respondents were asked to identify pro-Union bias, behind only the Mail, Express, Times and BBC Scotland.
"BROADLY PRO-UNION" SCOTTISH POLITICAL REPORTING
BBC Scotland (TV): 34%
Scottish Daily Mail: 33%
The Times: 31%
Scottish Daily Express: 30%
BBC Scotland (radio): 28%
Sky News: 27%
The Guardian: 26%
Daily Record: 25%
Scottish Sun: 23%
The Scotsman: 23%
The Herald: 20%
Channel 4 News: 19%
The Sunday Post: 18%
The Courier: 17%
The Press & Journal: 16%
STV News: 16%
Buzzfeed: 6%
Wings Over Scotland: 5%
Common Space: 4%
Bella Caledonia: 4%
So there was more amusement than annoyance on pro-indy social media last night when the broadcaster's dedicated polling arm, Sky Data, produced a poll suggesting that Theresa May was more popular with Scots than Nicola Sturgeon.
Because the survey's findings were, let's be generous here, something of an outlier. Conducted among "more than 2,000 people with registered addresses in Scotland", it gave the Prime Minister an overall +1 rating compared to the First Minister's -12, a lead of 13 points that's wildly at odds with every other poll on the subject.
Our recent Panelbase poll, for example, had put Nicola Sturgeon a hefty 27 points ahead (with a +27 rating compared to May's net 0), fully 40 points out of line with Sky.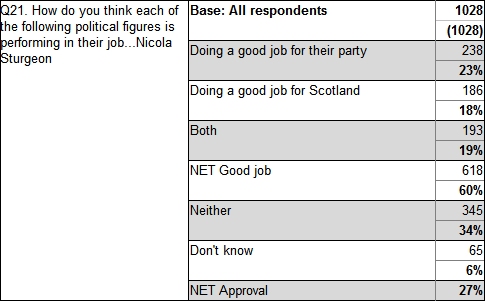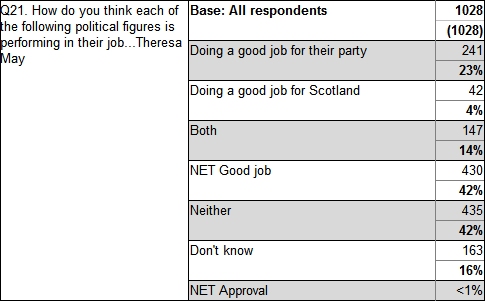 Panelbase's findings tallied almost exactly with a YouGov poll just a few days ago, reported by Sky Data itself, which put the Scottish FM 26 points ahead of the UK PM.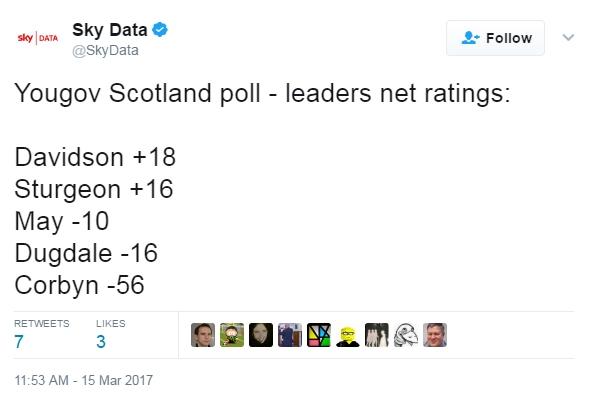 And an Ipsos MORI poll specifically on the subject of Brexit this month delivered an even more striking gulf between the two women among Scottish voters, with Sturgeon a breathtaking 50 points ahead (+15 to -35), an astonishing – almost ridiculous – divergence of 63 points from the Sky Data stats.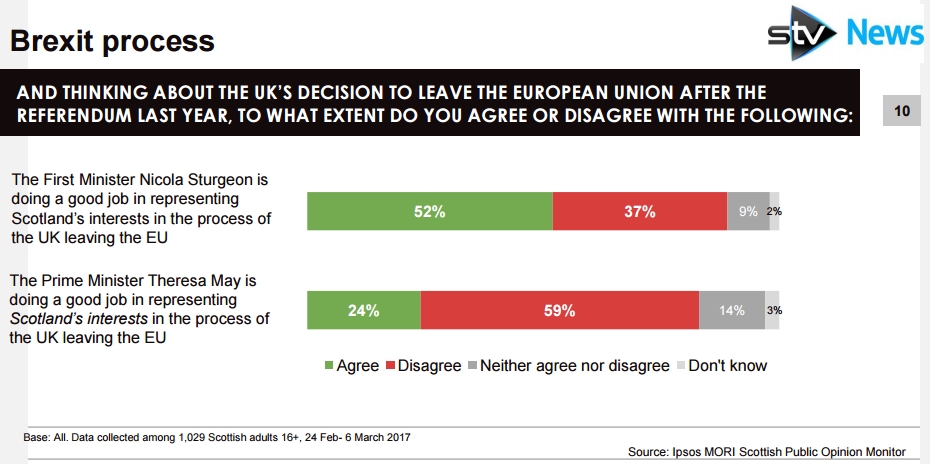 Sky Data isn't regulated by the British Polling Council, so unlike the three recognised pollsters above it's not required to release its raw data for scrutiny. As such its results should obviously be treated with great scepticism as a matter of principle. But what's perhaps more concerning is the motivation behind the production of such results.
The Scottish Conservatives certainly leapt on the figures with glee: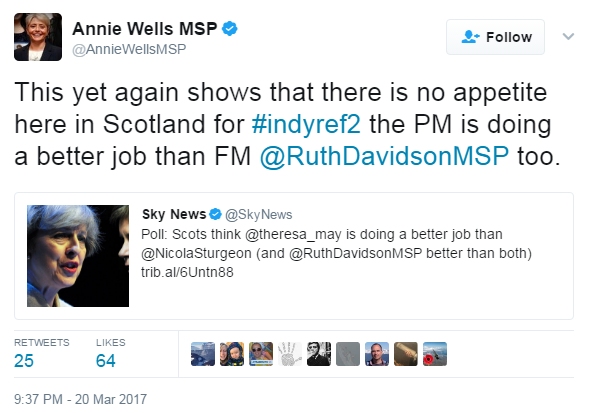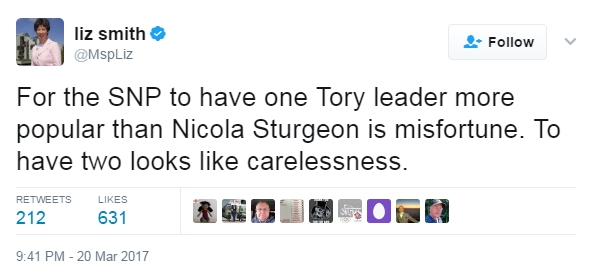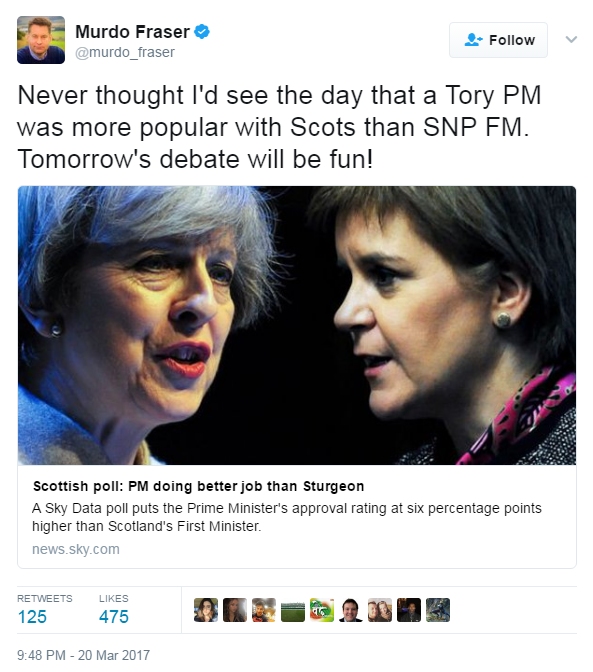 Murdo Fraser's comment is perhaps the most telling. It seems highly likely that the figures will be used in today's televised debate, despite their extremely poor scientific pedigree, and will feed into public perception, almost as if Sky had intended them to.
The episode is a reminder, if it were needed, that the Yes movement can once again expect nothing from the mainstream media when it comes to fair treatment. As ever, victory will be achieved on our own or not at all.