Today the Scottish Parliament spent several hours heatedly debating a motion to call for a second Section 30 order to enable a new independence referendum (several more will follow tomorrow before the vote). We watched all of it so you didn't have to, and are delighted to present you with a few clips that probably won't make the news.
On such a momentous topic, this was the intervention that Scottish Labour list MSP Monica Lennon felt was the most pressing issue to raise, for example:
We're very touched, obviously, and will add it to our file of other mentions in the chamber and elsewhere. But there were probably more important things to discuss.
(We're not sure why Lennon is bothered by who Christina McKelvie retweets – if she's blocked, she won't see them anyway. And as it happens, Lennon has a bit of a nerve complaining about other people engaging with controversial figures on Twitter.)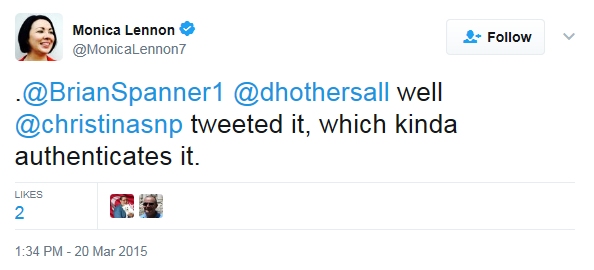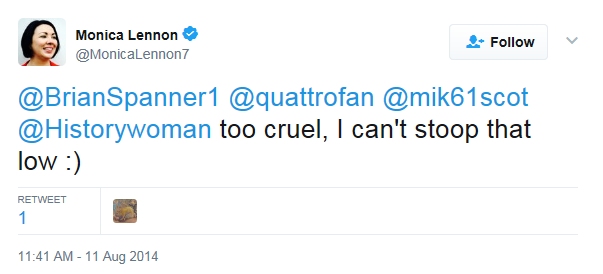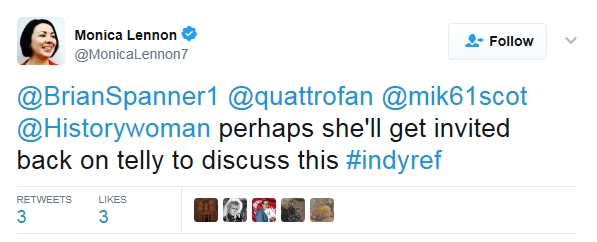 Elsewhere in the debate, we were startled by the sudden unexpected candour of Anas Sarwar, head of the infamous and short-lived Scottish Labour 2014 Truth Team:
And then unsurprised at the weaselly cowardice of useless Tory goon Brian Whittle, who made a snide attack on the First Minister then didn't have the guts to stand by it.
But the most impressive feat was surely that of the SNP MSP for Glasgow Cathcart, James Dornan, who addressed numerous hypocritical Tory claims about the Scottish Government's mandate by reminding Ruth Davidson of a zinger of a quote she made during election night 2011, which embarrassed the Conservative leader so much that she actually vanished (or maybe just hid under her desk).
We suppose it's too much to hope that he can pull the same trick tomorrow on Jackie Baillie, but we're keeping our fingers crossed.