Yesterday we noted that while Scotland's opposition parties and Unionist media were united in the staunch belief that the Scottish Government should do something to improve the poorly-performing economy over which it has almost no control, none of them seemed able to offer so much as a single actual policy they wanted changed or implemented to this end.
Today the Daily Mail continued the attack at length: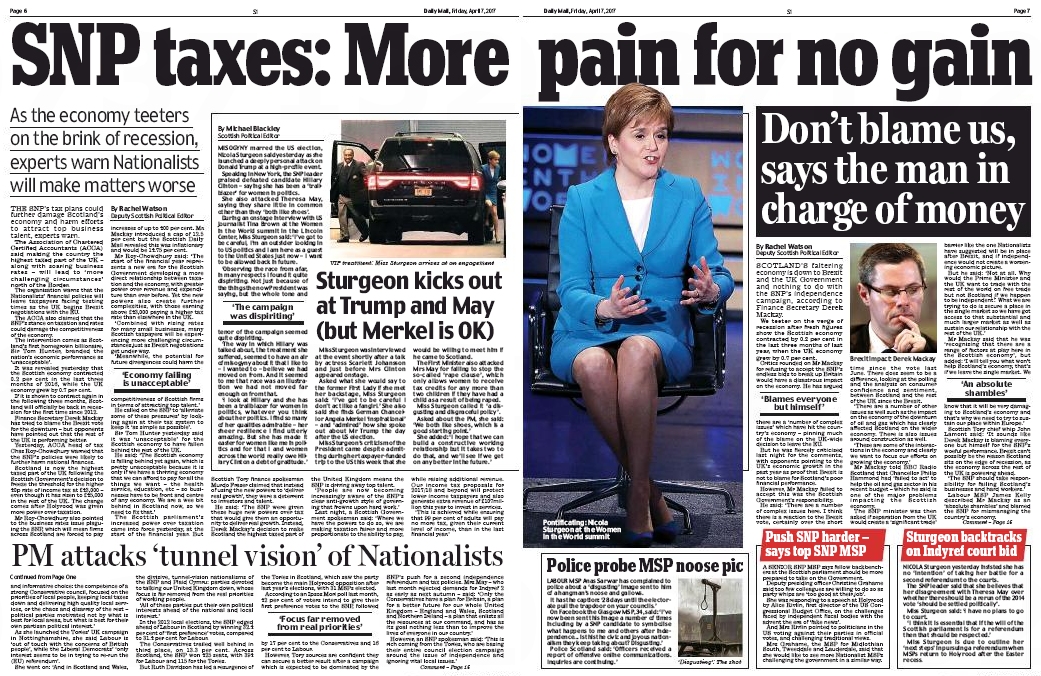 So we thought we'd see if anyone had come up with anything yet.
Firstly, some bloke from the Association of Chartered Certified Accountants (no, us either) was wheeled in to offer up some vague boilerplate waffle:
"Mr Roy-Chowdhury pointed to the business rates issue plaguing the SNP, which will mean firms across Scotland are forced to pay increases of up to 400 per cent. Mr Mackay introduced a cap of 12.5 per cent but the Scottish Daily Mail revealed this was inflationary and would be 14.75 per cent."
A rise of 14.75% is "up to" 400%? What? No it isn't. It's a rise of up to 14.75%. But in fairness to Mr Roy-Chowdhury, he'd said the same thing about business rates rises in England just a few weeks earlier:

In fact, in Scotland the overall rates burden on businesses is being reduced, as noted in February by law firm Pinsent Masons:

Many Scottish firms will see increases of less than 14%, or even decreases, while a large number of English companies are expecting hikes of 20% or more. But curiously Mr Roy-Chowdhury seemed rather ungrateful for this extra assistance:
"Mr Roy-Chowdhury said: 'The start of the financial year represents a new era for the Scottish Government developing a more direct relationship between taxation and the economy, with greater power over revenue and expenditure than ever before.

Yet the new powers also create further complexities, with those earning above £43,000 paying a higher tax rate than elsewhere in the UK. 

Combined with rising rates for many small businesses, many Scottish taxpayers will be experiencing more challenging circumstances just as Brexit negotiations get under way. Meanwhile, the potential for future divergences could harm the competitiveness of Scottish firms in terms of attracting top talent'."
We'll get to that last bit in a minute.
He called on the SNP to 'alleviate some of these pressures' by looking again at their tax system to keep it 'as simple as possible'."
That one's going to be tricky to fit on a pledge card. Everyone wants simpler tax, but with the UK tax code running to more than 17,000 pages and the Scottish Government having control of just a tiny fraction of it, it's not much of a policy.
Next up was billionaire businessman Sir Tom Hunter:
"Sir Tom Hunter yesterday said it was 'unacceptable' for the Scottish economy to have fallen behind the rest of the UK.

He said: 'The Scottish economy is falling behind yet again, which is pretty unacceptable because it is only if we have a thriving economy that we can afford to pay for all the things we want – the health service, education, etc – so businesses have to be front and centre of any economy. We are a wee bit behind in Scotland now, so we need to fix that.'"
Fix it how, Sir Tom? What is it you want done exactly? Oh, he's gone. Still, the good news is that Murdo Fraser's back! The Tories' economic whizzkid has been thinking about this for 24 solid hours, so he's bound to have a coherent and practical package of plans to move Scotland forward!
"The Scottish parliament's increased power over taxation came into force yesterday, at the start of the financial year. But Scottish Tory finance spokesman Murdo Fraser claimed that instead of using the new powers to 'deliver real growth', they were a deterrent to investors and talent.

He said: 'The SNP were given these huge new powers over tax that would give them an opportunity to deliver real growth. Instead, Derek Mackay's decision to make Scotland the highest taxed part of the United Kingdom means the SNP is driving away top talent.

'People are now becoming increasingly aware of the SNP's clear anti-growth style of governing that frowns upon hard work.'"
Oh. No he hasn't. Still, he's got a cracking line in flat-out lies. Scotland is NOT the highest-taxed part of the UK, and there's absolutely no sign that a slight divergence in income tax policy from the rest of the UK is "driving away top talent". In today's Times, the associate director of the right-wing IFS thinktank says the opposite:

(The paper, of course, whips this up into "Tax differences MIGHT eventually make people move if they get a lot bigger at some point in the future", the same line that Chas Roy-Chowdhury had used in the Mail.)
So in the space of a day we've now heard from Scotland Office minister Lord Dunlop, the GMB trade union, Willie Rennie (Lib Dem spokesman for roundabouts and slides), Jackie Baillie (sort of Labour), Murdo Fraser (Tory MSP), the director of the Scottish Chamber Of Commerce, the Association of Chartered Certified Accountants, Murdo Fraser again, a prominent wealthy businessman and the Institute for Fiscal Studies, and NOT ONE of them has had a SINGLE actual suggestion for a policy the Scottish Government should be implementing to boost the economy.
Reasonably-minded readers might well arrive at the conclusion that if such an august gathering of experts from right across the political spectrum can't come up with even a solitary idea between them, it might just be because there's pretty much nothing the Scottish Government can actually do.