We've been trying to take advantage of the current lull in politics, with Holyrood in recess for Easter, to have a bit of a semi-break. Having to watch all the Unionist party conferences in March is always toxic to the soul, and with the gargantuan torrent of insane lies emanating from the indyref2 and Article 50 developments to deal with as well, this year's was even grimmer than usual.
So when all the papers went heavy on this morning's news that the Scottish economy had a slight retraction in the last quarter of 2016 and filled their pages with rentaquote drivel from the opposition parties about how it was all the SNP's fault, our first instinct was to simply direct readers back to this piece from last October, detailing how the Scottish Government – by design – controls almost none of Scotland's meaningful economic levers, and go to the movies again.
But then a headline in the Scotsman's article changed our minds. Because we thought we should see which policies they actually wanted changed.
The paper's second paragraph said:
"The Scottish Government has been told to drop its calls for a second independence referendum and focus on economic growth amid claims that ministers are 'out of touch' over the impact of their policies."
But we already know that referendums don't damage the economy. During the heat of the first independence campaign, Scottish businesses actually attracted an all-time record level of investment.
Indeed, it wasn't until shortly after the No vote that Scottish growth started to diverge negatively from that of the UK.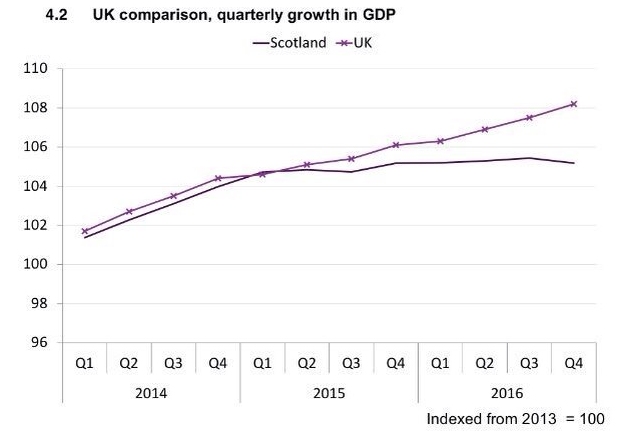 …which may have been due to a dramatic plunge in national pride – reversing a long trend of improvement – after Scotland became practically the only first-world country in history ever to democratically reject taking control of its own affairs.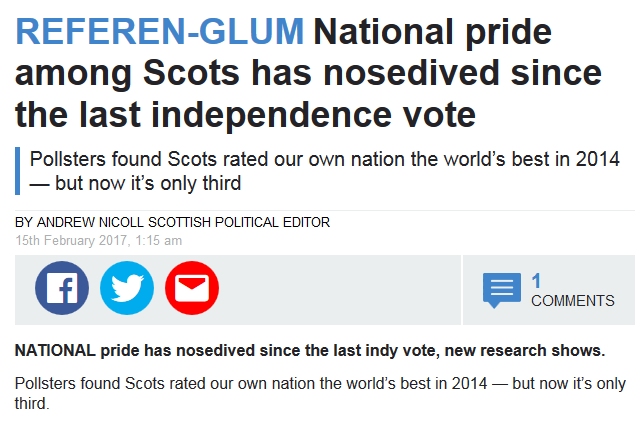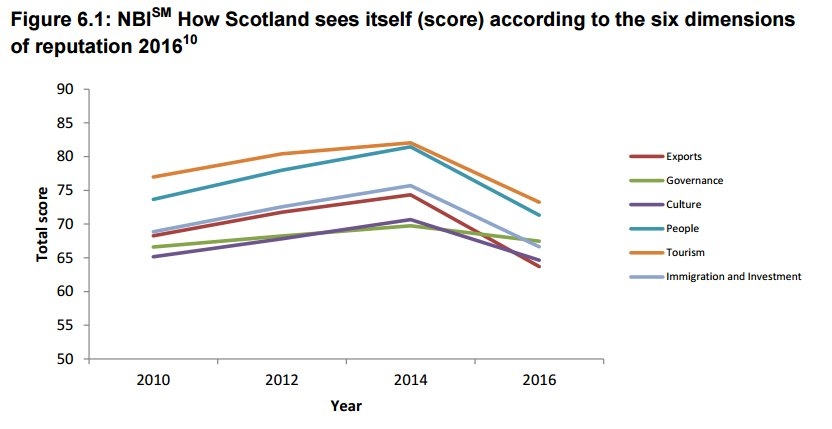 So other than not having another indyref – presumably on the grounds that voting No again would make us even more depressed – what was it the Unionist parties were actually suggesting the Scottish Government should do to turn the economy round?
"UK government Minister for Scotland Andrew Dunlop said the figures should prompt the Scottish Government to 'take a second independence referendum off the table '
Lord Dunlop said: 'There has been no growth over the past year and the gap between Scotland and the rest of the UK continues to grow.

The economy in Scotland has huge potential, but what we need now is for the Scottish Government to use their unprecedented powers to make Scotland more competitive and return its economy to growth.'"
Nope, that's still just "no second referendum". Demanding they should exercise their "unprecedented powers" is no good unless you specify which ones and how.
"Do more" is not a strategy. More of WHAT?
"Scottish Liberal Democrat leader Willie Rennie said: 'Given the lag in publishing figures, we may already technically be in another recession.

No Scottish Government ministers have acknowledged this risk and the role played in it by their independence obsession.

Instead of playing the blame game, the Scottish Government should be setting out clear and credible plans to turn this around.'"
Such as what, Willie?
"Scottish Labour's Jackie Baillie said: 'Rather than focusing on boosting growth by investing in the economy and creating jobs, Nicola Sturgeon is swanning around the US talking up the prospects of another independence referendum.'"
Labour's grand plan is apparently not only to take a second referendum off the table, but for the First Minister to stay at home rather than travelling all over the globe during the Parliamentary recess in search of investment.
You certainly wouldn't catch a Scottish Labour leader "swanning around the US" when there was important work to be done, of course.
(Parliament, incidentally, was NOT in recess during Dugdale's ill-fated US jaunt. It had in fact just come back from its autumn break when she flew off to help Clinton lose.)
Perhaps the Tories had some constructive ideas?
"Conservative shadow finance secretary Murdo Fraser said the Scottish economy was facing a 'crisis'.

'These are deeply worrying figures which show that Scotland under the SNP is now on the brink of a recession,' Mr Fraser said. 'Nicola Sturgeon's Scottish Government must take responsibility for this mess.'"
But "take responsibility" isn't a plan either. What should they actually DO? Fraser went to the additional trouble of penning an entire article on the Scottish Conservatives website to fail to explain what specific actions he wanted Nicola Sturgeon to take.
"She has made Scotland the highest-taxed part of the UK and created more instability and uncertainty with her threat of a second referendum.

Now we see the real-life impact of her mismanagement. More than ever, Scotland needs a First Minister in charge who gets back to her desk, ends her obsession with a second referendum, and focuses on her day job.

Scotland's economy is facing a crisis. We need a Scottish Government in charge, not a campaign for independence."
We already know, of course, that the "highest-taxed part of the UK" line (also repeated in the press today by Liz Cameron, CEO of the Scottish Chambers of Commerce) is a complete lie. Any business moving from Scotland to the rest of the UK will almost certainly find itself, its owners and its employees paying MORE tax, not less.
So it seems they've got nothing. All three Unionist parties are fighting for ownership of a single magic bullet which will apparently fix the ailing economy – abandon any thought of a second independence referendum, and go ahead with the economic death wish of Brexit under a UK Tory government.
Scotland has no political opposition. Their only ideology is "no to independence". Their only policy is "don't have a referendum". The only thing they believe in is letting the UK government run Scotland's economy, then blaming the SNP when it's a mess.
It's a real mystery why they don't get more votes.