Because in the 124-page Labour manifesto released yesterday, these 115 words are the entire amount of text devoted to Scotland: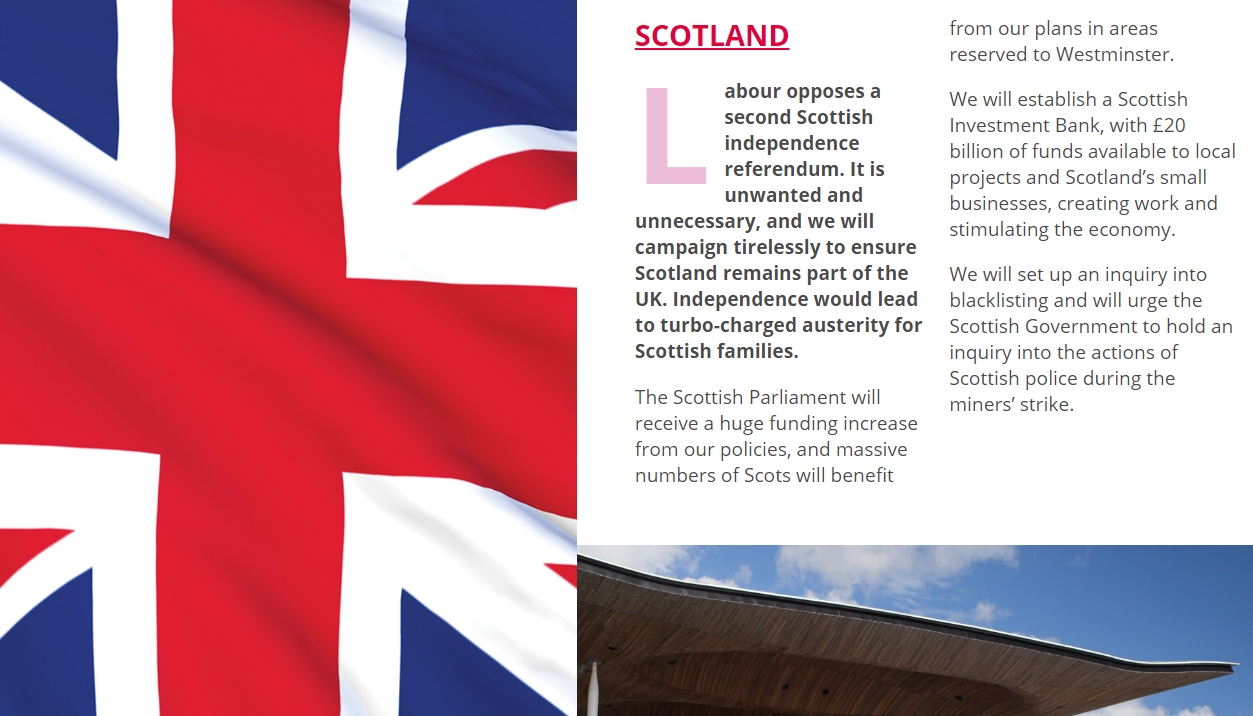 (That's not a fake screenshot, btw. The giant Union Jack is really there.)
So let's take a very quick stroll through them.
"Labour opposes a second Scottish independence referendum. It is unwanted and unnecessary, and we will campaign tirelessly to ensure Scotland remains part of the UK. Independence would lead to turbo-charged austerity for Scottish families."
Translation: our leader's previous statement was a lie.
"The Scottish Parliament will receive a huge funding increase from our policies, and massive numbers of Scots will benefit from our plans in areas reserved to Westminster."
FREE MONEY (amount TBC)! Isn't it great being in the UK?
"We will establish a Scottish Investment Bank, with £20 billion of funds available to local projects and Scotland's small businesses, creating work and stimulating the economy."
Um, we don't know how to break this to you, guys, but… there's already a Scottish Investment Bank. It's part of Scottish Enterprise, which is Scotland's main economic development body. Job done! Congratulations!
"We will set up an inquiry into blacklisting and will urge the Scottish Government to hold an inquiry into the actions of Scottish police during the miners' strike."
This is weird. Firstly, you don't need to win a UK election if you just want to urge the Scottish Government to do something that's within its devolved area of competence. You can urge them to do it right now, so what's it doing in a manifesto?
Secondly, the miners' strike ended in 1985. It had already been over for 12 years when Labour came to power at Westminster, and they stayed in power for 13 years at Westminster and eight years in Scotland – spanning FIVE general elections – without doing anything about it. Why is it suddenly the SNP's problem?
And that's it, folks. That's all you get, perhaps because Labour wants to minimise the embarrassment when Scottish Labour release their own manifesto next week which will flatly contradict the UK one in several areas (such as Trident* and income tax rises), leaving Labour voters in Scotland literally not knowing what they're voting for.
We'll see you then for some fun.
.
*EDIT 11.42am: Surprise twist!