There's a very strange feature in today's Daily Record, and it's not even one of their regular pieces of pioneering and hard-hitting investigative journalism about who's the hottest guest ever to appear on the Jeremy Kyle show.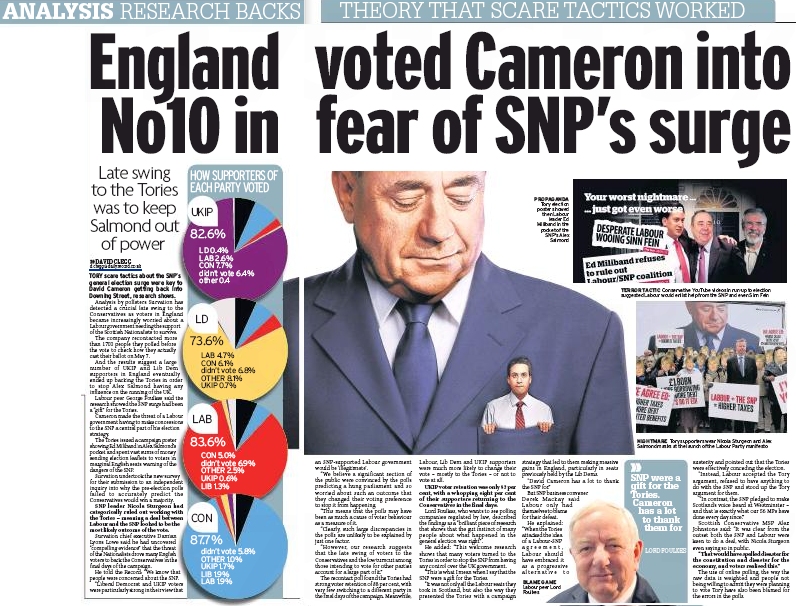 The headline screams unequivocally that according to a new Survation poll, fear of the SNP influencing a Labour government was the reason that English voters swung back to the Conservatives, defying polls that said the Tories would be the largest party but be short of an overall majority.
(Weirdly it says that their goal in doing so was to "keep Salmond out of power", even though (a) Alex Salmond is a humble backbench MP who doesn't even lead the SNP group at Westminster, let alone the party, and (b) he won his seat anyway.)
The article then produces a flurry of graphs and figures showing that various numbers of supporters of the four UK parties switched their votes to various other parties after being polled (as always happens).
But then there's something quite important missing.
The Record goes on to quote the chief executive of pollsters Survation:
"Survation chief executive Damian Lyons Lowe said he had uncovered 'compelling evidence' that the threat of the Nationalists drove many English voters to back the Conservatives in the final days of the campaign.

He told the Record: "We know that people were concerned about the SNP. Liberal Democrat and UKIP voters were particularly strong in their view that an SNP-supported Labour government would be 'illegitimate'.

'We believe a significant section of the public were convinced by the polls predicting a hung parliament and so worried about such an outcome that they changed their voting preference to stop it from happening.'"
Now, "we believe" is unusual language for a polling company to use. The very nature of a poll is that it seeks to establish facts, not suspicions or beliefs or funny little feelings. Survation – as far as we can tell from the data that's been released – didn't actually ASK anyone WHY they changed their vote, just WHETHER they did, and then appear to have arrived at a baseless conclusion about it on a whim.
Number Cruncher Politics, a UK statistical analysis website that predicted the Tory victory in advance and as far as we know has no dog in the Scottish political fight, unequivocally rubbished Survation and the Record's claims within minutes of the piece being published last night: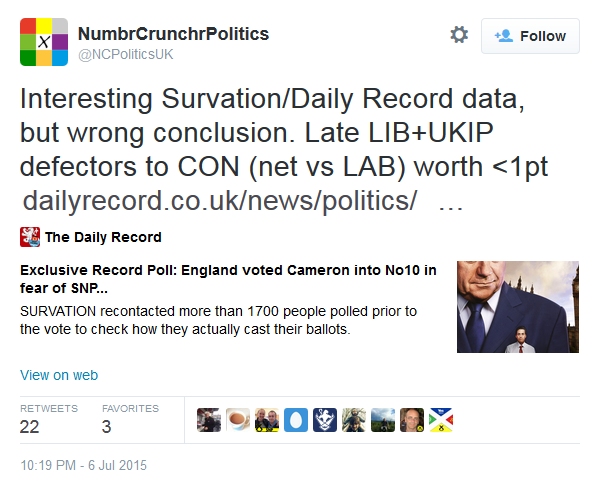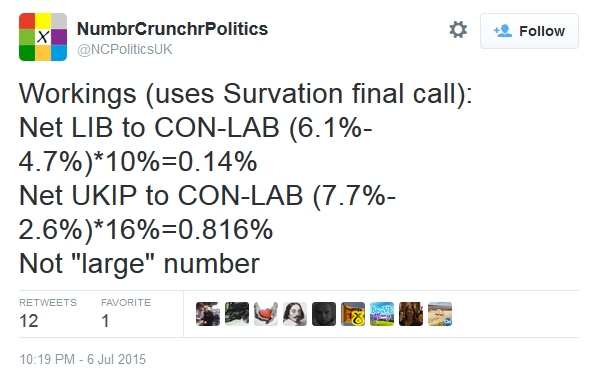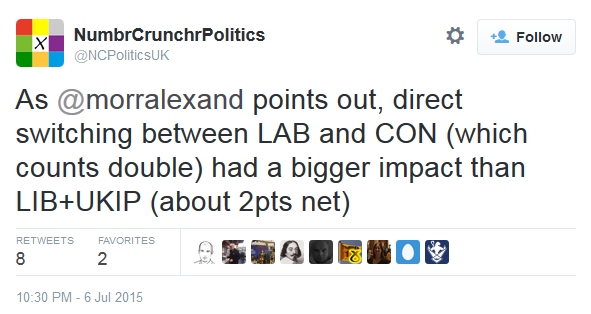 It noted that the net effect of people switching from the Lib Dems and UKIP to the two main parties had a net combined effect of less than 1% of the vote – not enough to have made any significant difference to the outcome of the election, which the Tories won by 6.5% and almost 100 seats.
But that's just the numbers. The Survation poll data makes no findings whatsoever about WHY any of those people might have changed their vote, because it didn't ask them. It discounts seemingly-obvious possible explanations, like UKIP supporters voting Tory to ensure David Cameron remained Prime Minister so they'd get their EU referendum – something this site had been predicting for a year and a half:
As it happened, UKIP's final vote share (12.6%) was indeed almost exactly half the peak (25%) that it achieved in the period between that Wings article and the vote, in a poll by – funnily enough – Survation in October 2014.
(It scored 20% or more on numerous other occasions with the same pollster – 21% in May, 22% in June, 24% in November, 23% in December and 23% in January 2015.)
The staggeringly, blindingly obvious fact is that there are any number of potential explanations for every individual vote change. 5% of Labour voters switched to the Tories, but 9% either switched to "Other" – which could of course include the SNP, since Survation's poll was UK-wide – or stayed at home.
We could be here all day listing possible reasons why Labour supporters might have done that. (We'd also been predicting, accurately, for years that Labour would lose in 2015, for reasons which were nothing to do with the SNP and were backed by acres of soild historical data.)
It seems an incredibly large oversight for Survation not to break down the "Other" vote if it was going to come to conclusions about the SNP – especially when it DID include the Nats as an option when polling people who had previously been undecided, and of whom more broke for Labour than the Tories:

It's also curious when seen in the context of the SNP's leader Nicola Sturgeon being the most popular politician in the entire UK in the weeks leading up to the election:
"In every part of Britain the First Minister is also top of the polling, from +30 in north-east England to +38 in Wales and the West Country and +33 in Greater London."
In short, then, it's simply ridiculous given the available data to arrive at the conclusion that fear of the SNP won David Cameron the election, for a whole hatful of reasons:
1. People weren't asked their reasons for switching.
2. The SNP weren't included as a switching option.
3. The net numbers of Lib Dem and  UKIP switchers were far too low to matter.
4. There are far more plausible reasons for UKIP voters switching.
5. More undecideds went Labour than Tory after the Salmond posters came out.
6. Polling almost always underestimates the Tory vote.
7. Nicola Sturgeon was in fact very popular outside Scotland as well as inside.
…and too many more to list. It's unquestionably true that the idea of the SNP holding influence over Labour generated a lot of hot air, but there's precisely zero evidence that it actually affected anyone's vote (let alone negatively), and elections are decided on votes, not column inches and airtime. People saying "I'm concerned about X" is a very long way from "X actually made me change who I voted for."
(Everyone talked about the Liberal Democrats hysterically for weeks in 2010, but then they all went out and voted for Labour and the Tories as usual. The party's vote share barely budged an inch and they LOST seats. The obsessions of the novelty-seeking commentariat are increasingly disconnected from the priorities of the electorate.)
We recommend reading Survation's own conclusions about the poll results in full, in which the SNP are barely mentioned. The Daily Record's assertions are complete and utter nonsense. "The SNP let the Tories in!" was tedious, mendacious drivel in 1979, and it's tedious, mendacious drivel now.