There's a new hot topic among the Westminster commentariat.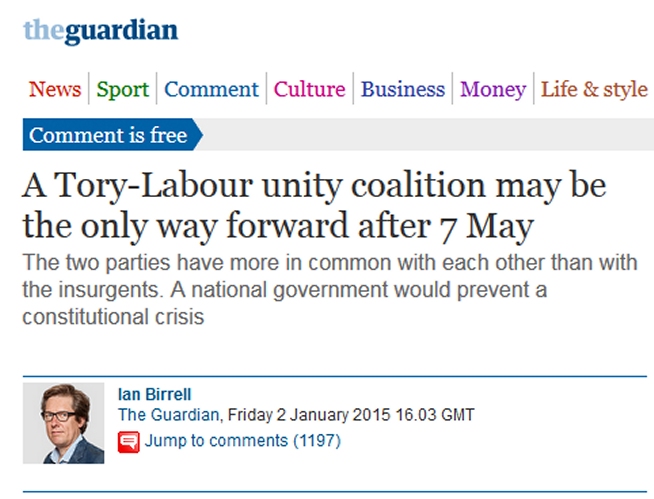 Because desperate times call for desperate measures.
The odd thing about the growing discussion of a Labour-Tory coalition is that it goes right across the media's political spectrum. Not only is the Guardian suggesting it may be "the only way forward" from this year's general election, but the Financial Times is unequivocally predicting it: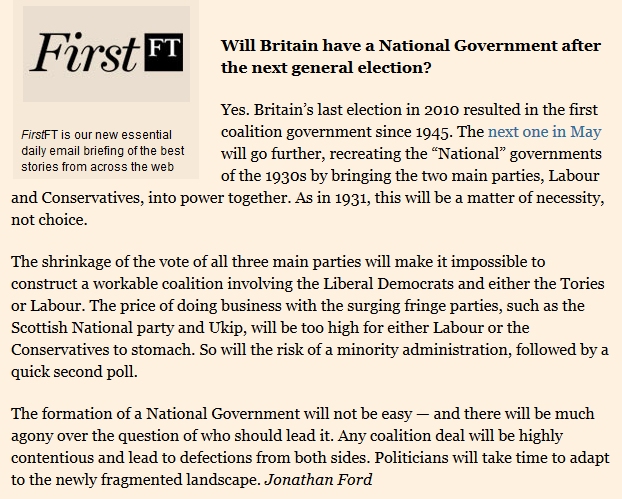 The right-wing Spectator likes the sound of it too:
And back on the left, the New Statesman called it before the referendum:
"Imagine a Tory-Labour tie on 295 seats each, with the Lib Dems reduced to 20, Ukip on ten seats and others 20. Try forming a governing majority out of that with wars raging in the Middle East and eastern Europe. A Tory-Labour grand coalition, anybody? Remember, you read it here first."
It seems a wildly improbable notion. Labour's entire campaign (particularly in Scotland) is based on pretty much nothing other than "Vote for us to get the Tories out!", while the Conservatives are painting a nightmarish picture of a dystopian Marxist future if Labour get back in. Joining forces, without the excuse of a war or even a particularly pressing economic crisis, would make such an open mockery of the electorate as to render democracy meaningless.
Yet neither party has ruled it out. You'd think it would be a no-brainer, as easy as Hibs unambiguously declining a merger with Hearts. A simple dismissive "of course we won't" from Ed Miliband would nip all the speculation in the bud.
But the two big parties who've stitched up power in Britain between them for the last century thanks to the crooked and broken First Past The Post electoral system really don't like the idea of uppity newcomers muscling in on their game, and it seems they're prepared to consider anything that'll keep their grip intact.
We remain doubtful.Labour would be signing a final suicide note in its heartlands north of Birmingham, and if the notion hasn't been comprehensively quashed by April, voters would be likely to punish both the main parties severely at the polls. But the fact that the UK media is even taking it seriously as a possibility throws yet another ingredient into the heady and confusing brew that is the 2015 general election. We wish the odds-makers good luck.