For much of its life, this site has been warning readers that, as their default position, they should always assume newspaper headlines are a lie until proven otherwise.
Today, Britain's biggest-selling newspaper admitted it in public.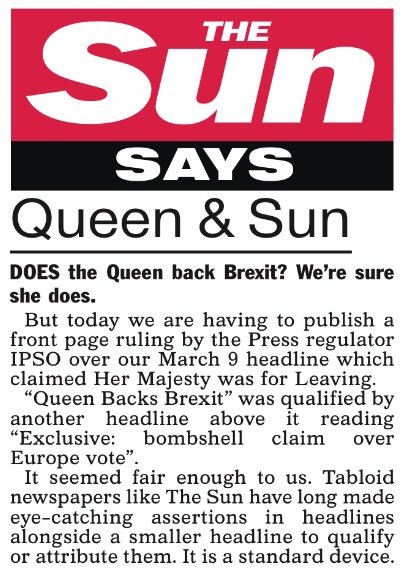 The Sun phrased it slightly more euphemistically, of course, but the meaning was still unmistakeable – "the headline will be eye-catching but bollocks, and you should look at the smaller print for something more akin to the truth".
It's a principle worth bearing in mind when reading the Scottish press today.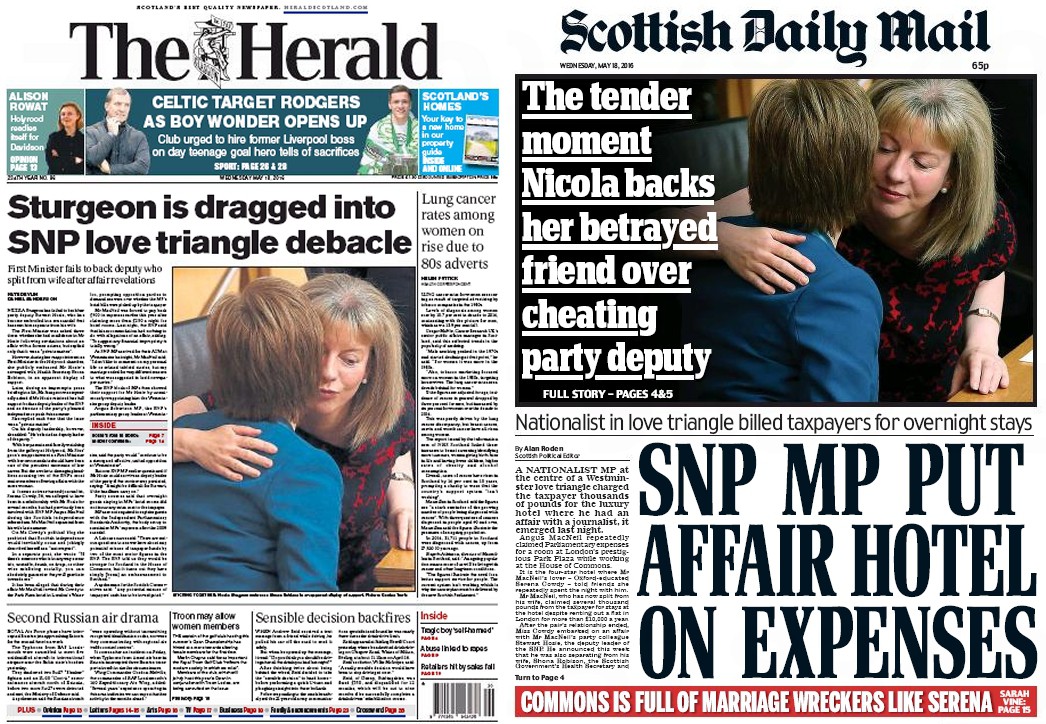 For example, if you read the first story you'll discover that what the Herald means by Nicola Sturgeon having been "dragged into" an alleged "love triangle debacle" involving two SNP MPs is that the Herald itself has asked her for an opinion about it.
She could equally be reported as having been "dragged into" the ongoing FIFA corruption story had the paper asked her about that instead, or implicated in Greggs' decision to stop selling the macaroni pie because Kezia Dugdale mentioned her in a tweet about it.
(We're currently pondering which stories we can drag the Herald's editor into by the cunning expedient of asking him what he thinks about them.)
In amongst the fact-free, innuendo-heavy Herald gossip piece is the aspect the Scottish Daily Mail chooses to lead its front page with – the allegation that the alleged affair between one of the MPs, Angus MacNeil, and the Commons researcher took place in hotel rooms funded by taxpayers' money.
"Mr MacNeil, who has now split from his wife, claimed several thousand pounds from the taxpayer for stays at the hotel despite renting out a flat in London for more than £10,000 a year."
None of that is technically untrue. But the reason MacNeil rents a hotel while owning a flat in London is that he was FORCED to move out of the flat by new Commons rules passed in the wake of the 2009 expenses scandal.
£42,177 over three years is £14,059 a year – saving taxpayers over £6500 a year on the £20,600 Mr MacNeil could claim if he rented another flat rather than using a hotel for London stays. And as any readers who've ever stayed in a hotel will know, the cost of a room is the same whether you're alone in it or not.
Angus MacNeil, then – IF he had an affair at all – did NOT "put it on expenses". His expenses covered his living accommodation, necessary to work in London while representing constituents in the Western Isles.
What he may or may not have got up to privately and legally with other consenting adults within that accommodation is his own business, and didn't cost the taxpayer an extra penny – whatever reporters like Libby Brooks of the Guardian might sneakily insinuate by slyly using the word "when" rather than the word "if".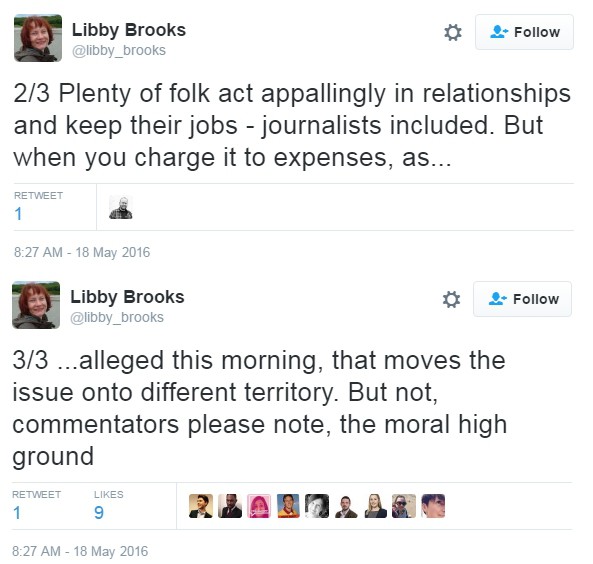 For the record, this site takes the same approach to the personal lives of politicians of all parties. We didn't criticise Gordon Matheson of Labour's sexual morality when he was caught by police cheating on his partner in a parked car.
(Although we did question his generosity and the fact that no charges were brought despite his having been witnessed by both police officers and a member of the public breaking indecency laws.)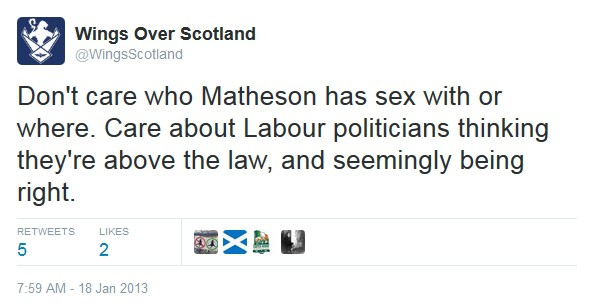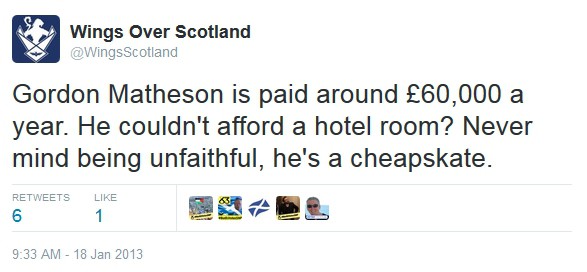 Nor did we run muck-raking stories about Matheson's also-Labour predecessor as leader of Glasgow City Council, Steven Purcell, when he resigned over illegal drug use (which also resulted no charges despite Purcell admitting it openly), and we didn't attack John Whittingdale of the Conservatives over lurid recent tabloid claims of a relationship with a dominatrix.
This site's readers already knew not to trust headlines. But we're grateful to today's papers for both verifying that policy and providing illustrative examples of the creative ways that both the headlines and the text can tell several different kinds of lies.