Referendum polls now seem to be arriving on a daily basis, but this morning sees the appearance of two that offer some rather striking contrasts in more than one sense.
The less interesting, despite showing a remarkable swing of 5% to the No side, is an ICM one for Scotland on Sunday, which the paper gets predictably excited about and illustrates with an extreme close-up of a No activist with his face plastered in "Better Together" stickers (despite the man seeming to be in his 50s) and contorted into a provocative, mocking sneer.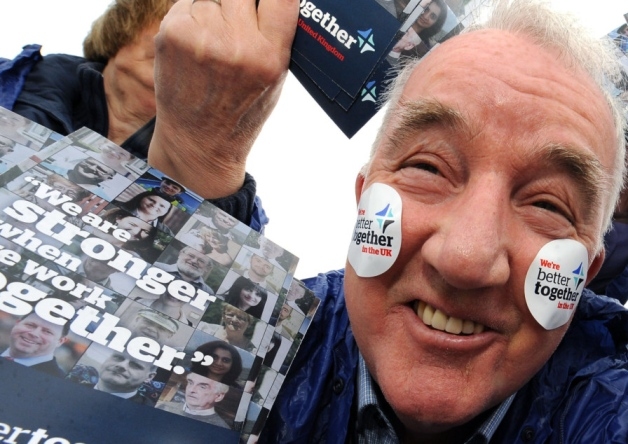 The more unsettling one, however, is in the Sunday Times.
It's got nothing to do with the numbers in the Panelbase-conducted poll, which are essentially identical to the company's last one and show a No lead of just seven points (backing up analyst James Kelly's suggestion that the ICM figures are more likely to be a result of margin-of-error variance than any dramatic shift in opinion).
It's not even the fact that the Sunday Times poll shows a majority of Scottish-born voters backing independence, by 44% to 42%, which may be a first.
Rather, it's the fact that we know that fact at all.
Because the paper goes in heavily on the discovery that it's English-born voters living in Scotland who are responsible for the No camp's lead. While those born in Scotland now narrowly favour Yes, the views of English-born people living in Scotland (and therefore eligible to vote in the referendum) are overwhelmingly No to the extent that even though English-born voters are only around 9% of the Scottish population, they cause a large swing that turns that two-point Yes lead into a seven-point No one.
In case anyone misses it, two separate substantial articles highlight the statistic, under the headlines "English votes may kill off independence" and one even more strikingly titled "English army scents victory", including a picture of Mel Gibson in "Braveheart" which has been altered to paint a St George's Cross on his face.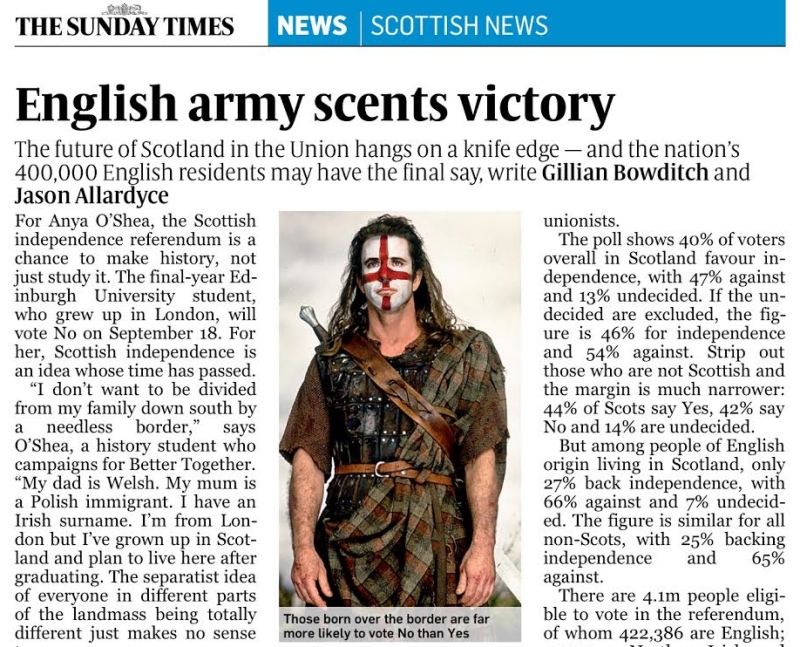 Both articles feature two of the same quotes, both of them curiously ambiguous. Firstly, referendum expert Matt Qvortrup initially appears to say that there WOULDN'T be an increase in ethnic tension were the result to pan out in such a manner, and then seems to immediately contradict himself:
"There are some concerns that the effect of English votes in potentially making the difference between success or failure for the Yes campaign could lead to increased tensions in the event of a narrow No vote.

A similar scenario occurred in Quebec in 1995 when the English-speaking minority helped secure a slender No victory of less than 1%. The Canadian province was riven with bitterness in the aftermath as a result.

However, Matt Qvortrup — author of Referendums and Ethnic Conflict — said that the all-inclusive civic nationalism of the SNP, as opposed to the ethnic nationalism of the Quebecois, is likely to temper any backlash should a minority of English voters swing the vote in favour of the union.

'It's not nasty like that in Scotland and everybody can accept that," he said. 'But even the people who were fair-minded about it in Quebec, when pressed about it, felt cheated. The implications were so great and it divided families and it really turned nasty.'"
Then psephologist Professor John Curtice says something very unfortunate:
"If it were merely about how Scottish people feel, Scotland would have been independent years ago."
Perhaps when spoken down the phone, the meaning of those words was clear. But in print it can be read in two significantly different ways: "if it were merely about how Scottish people feel", and "if it were merely about how Scottish people feel".
We can only guess as to why the Sunday Times bothered to ask the ethnic origin of its respondents, something we're not aware of anyone having done before. Perhaps it was just innocently looking for a new angle in a market that's now stuffed with opinion polls. But the effect, and the focus of the resulting coverage, is rather disturbing.
It's hard to see how the findings could cause anything but resentment. And while the independence debate has thus far been pretty vitriolic, to the evident frustration of the No camp it's been almost entirely bereft of ugly anti-English sentiment, forcing them to constantly try to fabricate it from the slimmest of material.
Any outbreak of anger against English-born voters in Scotland arising from the figures would play right into the hands of "Better Together", and the media could be expected to hype it for all it was worth.
On the other hand, it might backfire and make English-born residents who oppose independence become wary of voting at all, fearing – with justification or otherwise – unpleasant repercussions in the event of a close No result.
(Because the figures are so stark, at 66% against and just 27% for, that there"ll be an assumption that anyone with an English accent voted No whether they did or not.)
Either way, the Sunday Times seems to us to be playing with fire. Even if its intentions were entirely honourable, this site hopes that the ethnic question isn't asked again. No possible good can come of it.