This one, from today's Scottish Daily Mail, might actually be beyond comment.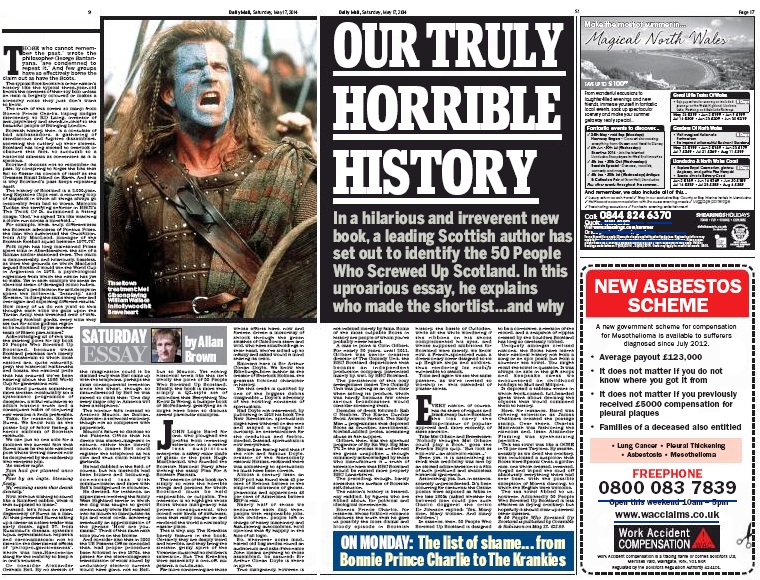 OUR TRULY HORRIBLE HISTORY 
by Allan Brown

In a hilarious and irreverent new book, a leading Scottish author has set out to identify the 50 People Who Screwed Up Scotland. In this uproarious essay, he explains who made the shortlist… and why

"Those who cannot remember the past," wrote the philosopher George Santanyana, "are condemned to repeat it." And few groups have so effectively borne the claim out as have the Scots. The typical Scot knows his or her nation's history like the typical three-year- old knows the contents of their toy box: unless an item is brightly coloured or makes a screechy noise they just don't want to know.

The truth of this covers so many: from Bonnie Prince Charlie, lisping midget mercenary, to RD Laing, inventor of anti-psychiatry and shrink-in-chief to the beautiful people of Swinging London.

Scottish history, then, is a consulate of bad ambassadors, a gathering of mendacious and fugitive dissemblers, secreting the cutlery up their sleeves. Scotland has long elected to overlook or obscure this fact, to succumb to a historical amnesia as convenient as it is specious.

Scotland chooses not to remember its past, by conspiring to forget the bits that fail to flatter its conceit of itself as the Greatest Small Island on Earth. And this is why Scotland's past keeps repeating itself.

The history of Scotland is a 2,000-year-long Keystone Cops reel, a recurring loop of slapstick in which all things always go inexorably from bad to worse. Malcolm Tucker, the terrifying enforcer in BBC2's The Thick Of It, summoned a fitting image: "God," he sighed "It's like watching a clown run across a minefield…"

For example, what, truly, differentiates the Scottish advocates of Pontius Pilate, the man who authorised the Crucifixion, from Ally MacLeod, manager of the Scottish football squad between 1977-78?

Folk myth has long maintained Pilate spent time in Aberdeenshire, the son of a Roman soldier stationed there. The claim is demonstrably, and hilariously, baseless, as were the grounds on which MacLeod argued Scotland would win the World Cup in Argentina in 1978, a psychological nightmare from which the nation has yet to wake. Yet in each example we sense an identical strain of deranged comic hubris.

Scotland's predilection for self-deception spans the millennia. "Insanity," said Einstein, "is doing the same thing over and over again and expecting different results." How many of us do not yield to this thought each time we gaze upon the Tartan Army, that wretched crew of wife-avoiding football gonks, every time they set out for some godless region to be humiliated by yet another team of Slavic part-timers?

Acknowledging all of this was the starting point for my book 50 People Who Screwed Up Scotland, because what Scotland practises isn't merely the boosterism to which most nations are, quite naturally, prey: the historical half-truths and boasts, the national pride that has ensured we've been hearing about the 1966 World Cup for generations now.

Scotland pursues something more sinister, incalculably so; a systematic programme of deception, a wilful reluctance to admit historic truth and a consequent habit of conjuring new versions it finds preferable.

Take, for instance, Robert Burns. We know him as the poster boy of fellow feeling, a heroic emblem of Scottish rectitude.

We can put to one side for a moment the surreal fact that Burns must be the sole national poet whose writing cannot now be deciphered by the readership who venerate him. "Ae market night, Tam had got planted unco right, Fast by an ingle, bleezing finely, Wi' reaming swats that drank divinely."

Now, without wishing to sound like a Romford cabbie, what is that supposed to mean?

Instead, let's focus on moral degeneracy of Burns as a man. All that prevented Burns taking up a career as a slave trader was early death, aged 37, from Kussmaul's disease, systemic lupus, erythematosus, hepatitis and carcinamatosis; not to mention the detrimental effects of ' philo-pro-genitivesness', which was late- Hanoverian slang for the inability to keep it in one's trousers.

Or consider Alexander Graham Bell. By no stretch of the imagination could it be claimed truly that Bell came up with the telephone, perhaps the most consequential invention since the wheel, though so misunderstood by Bell he was moved to claim that: "One day every major city in America will have a telephone."

The honour falls instead to Antonio Meucci, an Italian-American; a technical visionary, though not so competent with paperwork. Meucci's failure to disclose to the Patents Office that his device was electro-magnetic in nature, rather than merely acoustic, meant Bell could register the telephone as his own and thus claim history's garlands.

He had dabbled in the field, of course, but his methods had been bizarre and bemusing, connected less with communication and more with Bell's background in elocution.

He devised, for instance, an experiment involving the family West Highland terrier in which the dog was taught to growl continuously while Bell reached into its mouth to manipulate its lips and vocal cords, achieving eventually an approximation of the phrase "How are you, mama?" Think of this mutt next time you're on the blower.

And consider also that in 2002 the US Patents Office conceded that, had proper procedure been followed in the 1870s, the patent for the electromagnetic transmission of vocal sound by undulatory electric current would have gone, not to Bell, but to Meucci.

Yet noting historical trivia like this isn't wholly the point of 50 People Who Screwed Up Scotland. Ideally, the book is more than simply a QI-style set of reminders that Everything You Know Is Wrong, a bumper book of McPedantry, gratifying as it might have been to discuss several particular examples.

John Logie Baird for one, who ploughed the profits from inventing television into a rather less auspicious enterprise, a safety razor made of glass; or the poet Hugh MacDiarmid, who founded the Scottish National Party after writing the essay Plea For A Scottish Fascism.

The intention of the book isn't simply to note the horrible things and persons for which Scotland must be held responsible, or culpable. The intention is to highlight those Scots whose malignancy has proven consequential, who coined new kinds of awfulness, ones that really caught on and rendered the world a noticeably nastier place.

This is why, say, The Krankies barely feature in the book. Certainly they are deeply weird and horrible, and they bring the sinister, grimy spirit of the Victorian music hall to children's television. But The Krankies were essentially a one-off, sui generis, a cul-de-sac.

Far more concerning are those whose efforts have, now and forever, driven a motorway of shlock through the green swathes of Caledonia stern and wild, who have smallholdings in their head, who've sidled up to infamy and asked would it mind sharing its craic.

Eminent here is Sir Arthur Conan Doyle. We know the Edinburgh-born author as the creator of Sherlock Holmes, the greatest fictional character in history. Yet this credit is qualified by one of the biggest debits imaginable – Doyle's advocacy of the howling nonsense of spiritualism.

Had Doyle not intervened, by publishing in 1918 his book The New Revelation, spiritualism might have withered on the vine and stayed a village hall curiosity, an entertainment for the credulous and feeble-minded. Instead, spiritualism is now everywhere.

Edwardian feeling held that if the rich and famous Doyle, creator of the fearsomely rational Holmes, reckoned there was something to spiritualism he must have been correct.

Almost a century later, an NOP poll has found that 42 per cent of Britons believe in the empirical existence of ghosts, phantoms and apparitions; 48 per cent of Americans believe ESP is real.

Nearly half of those we encounter each day, then, people with responsible jobs, with children, people left in charge of heavy machinery and fast-moving automobiles, hold opinions that fly happily in the face of all logic. So, whenever some madhaired old bag strides round an auditorium and asks if the name John means anything to those assembled, be assured; Sir Arthur Conan Doyle is there in spirit.

True malignancy, however, is not indexed merely by fame. Some of the most culpable Scots in history are people of whom you've probably never heard.

A case in point is Colin Gilbert. For nearly 30 years, until 2011, Gilbert was senior creative director of The Comedy Unit, the BBC Scotland department that became an independent production company, patronised mainly by, well, by BBC Scotland.

The persistence of this cosy arrangement meant The Comedy Unit was pushing at an open door when selling its product, which was handy because few other serious broadcasters would consider screening them.

Decades of dreck followed: Rab C Nesbitt, The Karen Dunbar Show, Atletico Partick, The Baldy Man – programmes that depicted Scots as drunken, sentimental, football-addled proles, screaming abuse at fish suppers.

Gilbert, then, was the spiritual progenitor of By Ra Way, Big Man TV. In the process was underlined the great unspoken – though commonly acknowledged by those who manufacture it – truth of television here: that BBC Scotland should be named more properly BBC Lanarkshire.

The preceding, though, barely scratches the surface of Scottish self-delusion. The nation's history is littered, nay raddled, by figures who are fibbed about, for political and ideological convenience.

Bonnie Prince Charlie, for instance, whose folkloric romance obscures the truth that he gave us possibly the most dismal and bloody episode in Scottish history, the battle of Culloden, while all the while wondering if the ribbons on his shoes complemented his eyes, and whose supposed ambitions for Scotland were merely, we know now, a French-sponsored ruse, a diversionary cover designed to tie up English ships and soldiers, thus rendering les rosbifs vulnerable to attack.

Time and again we see the same pattern, as we're invited to worship in this cathedral of plaster saints.

Every nation, of course, has its share of rogues and black sheep but in Scotland the lies carry the imprimatur of popular approval and, more recently, of state sanction.

Take Mel Gibson and Braveheart: "Nobody thought Mel Gibson could play a Scot," goes the Frankie Boyle quip, "But look at him now – an alcoholic racist…"

Even yet, it is astonishing to think that credibility was lent by an elected administration to a film of such profound and shameless historical ignorance.

Astonishing, yes, but, in essence, scarcely unprecedented. It's been occurring for centuries: the Ossian poems were exposed as fakes in the late 1800s (asked whether he believed men could pen such Gaelic doggerel the critic Dr Johnson replied: "Yes. Many men. Many women. And many children.")

In essence, then, 50 People Who Screwed Up Scotland is designed to be a corrective, a revision of the record, and a snapshot of ripples created by the boulders Scotland has long so carelessly lobbed.

Uniquely amongst civilised nations, the Scots have learnt their national history not from a song or an epic poem but from a souvenir tea towel. You might recall the towel in question. It was always on sale in the gift shops and keepsake caves we encountered on childhood holidays to Mull and Millport.

It depicted a tableau vivant in which frock-coated, full-bearded gents went about devising the objects that would commend them to history.

Here, for instance, Baird was refining television as James Chalmers created the postage stamp. Over there, Charles Macintosh was fashioning the raincoat and, later, Alexander Fleming was synthesising penicillin.

This tea towel was like a GCSE in 75 per cent Terylene. By stealth, sneakily as we dried the crockery, was inculcated a suspicion that Scots were Special Ones, a golden race, one which created, invented, forged and wiped the mud off absolutely everything there had ever been, with the possible exception of Morris dancing, to which the English were welcome.

The tea towel fibbed to us, however. Admittedly 50 People Who Screwed Up Scotland is less effective at drying crockery; but hopefully it should clear up several other matters.