Take a bow, Angela Haggerty of the Sunday Herald:
Yesterday, just eight months after those two tweets, Haggerty took to the social media platform to spitefully reveal the gay partner of SNP MP Mhairi Black.
She had no reason to do so – the comment was in response to a matter that had no specific relevance to either Black or her girlfriend, and it would have been easy to make the point without identifying anyone.
Aghast, many users pointed out that the relationship was not public knowledge and that the couple didn't wish it to be so, and asked Haggerty to delete the tweet. She refused to do for around two hours, ensuring that the information was widely known before she eventually removed it alongside a breezy non-apology, which to many onlookers appeared insincere at best, and sarcastic and provocative at worst.
Even some other Scottish hacks – a breed who normally set aside any differences and circle the wagons whenever one of their peers is in trouble from the great unwashed hordes – were driven to condemnation of both the leak and the "apology".
Yet any even remotely competent journalist working in Scottish politics would have already known the information wasn't public knowledge. Mhairi Black had made a point of emphasising that it wasn't in an interview with the Sunday Post last year:
And in any event Haggerty's atom-thick facade of remorse didn't last long. Within hours she was wailing on social media about being the victim of "harassers" and "bullies" and class discrimination because people had quite reasonably been angered at her outing a young gay woman against her will to attack the SNP.
(Exactly the thing, let's remember, that Haggerty had herself previously described as "journalistically irresponsible" and which rendered the platform a "cesspit").
And today, predictably, she went on the attack again.
That's a cynically disguised reference to a media smear campaign from a few months ago in which political opponents of the SNP had attempted to whip up outrage by smearing Black as an anti-Catholic bigot after comments she made in an interview with Holyrood magazine:
The context of the attacks on Black and her partner was an extraordinary edition of the Sunday Herald at the weekend, which devoted three full pages to an article by editor Neil Mackay responding to criticism of the paper's previous issue, in which it had made untrue allegations about that weekend's pro-independence march in Glasgow.
The piece demanded that the SNP – who had no involvement in organising the march – take action to silence criticism by Yes supporters of the newspaper.
The use of "your cause" rather than "our cause" in the concluding paragraph was an interesting one. In a veiled attack on the previous editor, who'd committed the Sunday Herald to independence in the first place in 2014, Mackay had already noted that the paper was changing its direction in order to appeal more to Unionist voters:
And the paper's Chief Reporter, David Leask, has for literally years been waging an increasingly deranged social media assault on what he calls "Trumpist" "cybernats", particularly focused on this site but more broadly defined as "anyone who disagrees with, or even politely questions, David Leask on any subject".
(Leask is particularly fond of mad conspiracy theories suggesting Wings might secretly be an organ of – variously – the Unionist establishment, the UK security services or Vladimir Putin, but if we start down THAT particular rabbit hole we'd be here all day.)
So let's recap.
The only "pro-independence" Sunday paper in Scotland has a Chief Reporter who thinks Yes supporters are Trumpist loonies and the most popular pro-independence website on Earth is covertly sabotaging the movement for either MI5 or the KGB.
(And a sports reporter making barely-veiled physical threats against its editor.)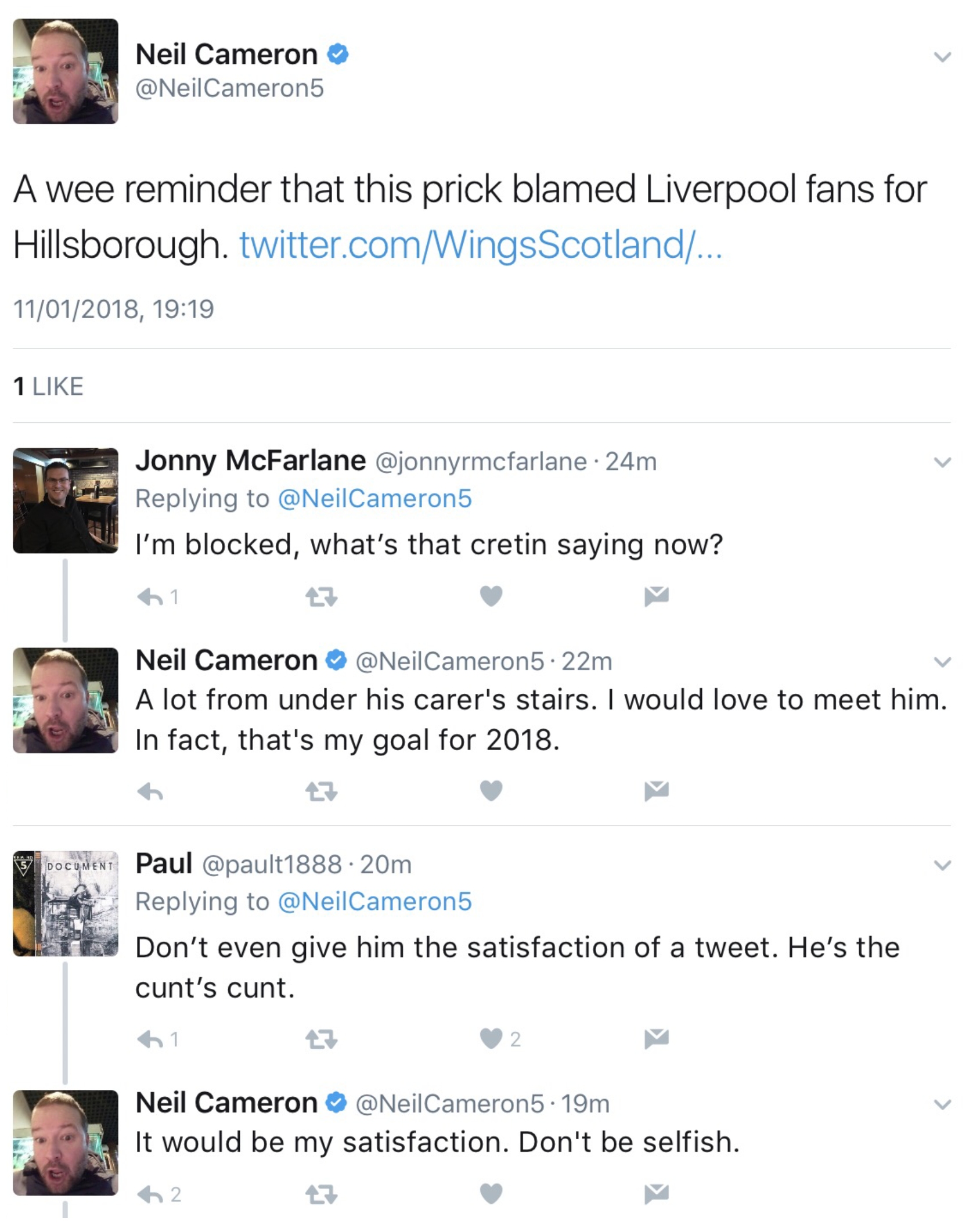 It has a News Editor groundlessly insinuating that one of the SNP's most popular MPs is a bigot and revealing her private life against her will, outing a young gay woman in the process and driving her off Twitter.
Remarkably, less than 48 hours after having said this:
(And who in her previous job at a supposedly pro-independence news outlet ran two separate articles demanding that Yes supporters shun and boycott the website you're reading now, and who urged in the pages of the Sunday Herald that people should heed the words of a "Better Together" activist who claimed the Yes movement was racist – a theme the weekday Herald has recently taken up with enthusiasm again.)
It has two political reporters, Paul Hutcheon and Tom Gordon, who can regularly be found snidely attacking independence supporters and politicians in print. Its former Political Editor now works for the UK government.
It has an Editor demanding that the SNP take action to silence people who are nothing to do with the SNP but have criticised his newspaper, and who admits that he wants to sell more copies to Labour and Tory voters, and who at the 2016 Holyrood election expressly told people not to vote for the SNP on the list based on a seriously distorted misrepresentation of the views of Sir John Curtice.
(Mackay admitted last year that he detests social media, and only uses it to sell product. We can see why, as it has a terribly annoying habit of answering back.)
This post merely presents the facts. Readers can draw whatever conclusions they wish from them about the Sunday Herald and what its true political agenda might be.