As we've explored many times on Wings, one of the many reasons you should never trust a newspaper's headline is that even the ones that are technically true can be painting a highly (and deliberately) misleading picture.
For example, more than two years ago we pointed to a Scotsman story that blared "A THIRD OF SCOTS WOULD BACK EXIT FROM EU", which is a rather curious spin to put on a poll which found a 13-point margin for staying in the EU.
A paper particularly fond of misusing stats in this way is the Daily Mail.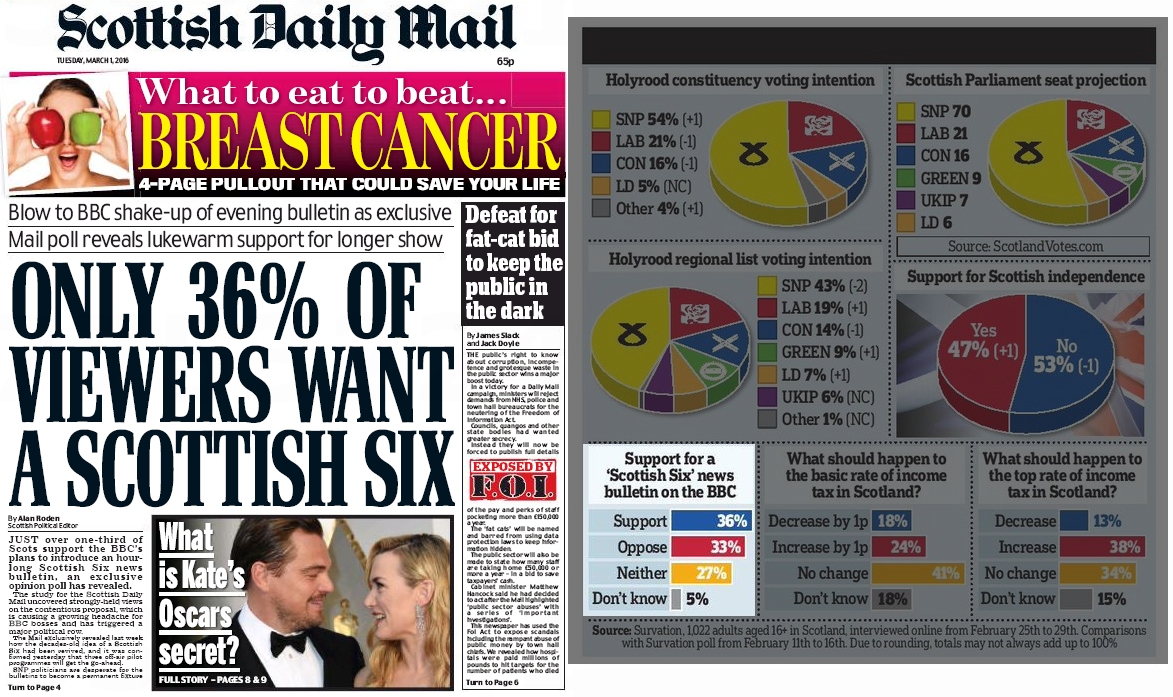 Anyone casually walking past a newsagent's shelves this morning would have found themselves thinking that Scottish voters were firmly opposed to the idea of a main evening news bulletin made in Scotland. 36%, after all, is barely a third, which automatically suggests to the reader's mind that almost two-thirds are opposed.
Yet turn to the detail and you find that if there was a referendum on the subject, the 36% would be the majority. Just 33% are actually opposed to the notion, with everyone else either unsure or not bothered either way. (We suspect turnout in the vote would be low.)
If the Mail's spin had been applied to the 2014 independence referendum, you'd have thought Yes won, because only 47% of the electorate actually voted No.
Opinion polls don't tell lies. But it's the easiest thing in the world to make them appear to, by presenting the numbers very selectively. The especially insidious thing about doing it on your front page is that you can subliminally plant a false message in the brains of people who'd never dream of buying your newspaper.
When you see any poll percentage figure reported by the media, readers, always ask yourself who they're NOT telling you about.