It's our sad duty to report this fact to you, readers: our experience of sending Freedom Of Information requests to the Scottish Government is basically that the more answers you get from them, the less information you end up having.
See below for a case in point.
(Click to enlarge.)
As tempting as it is to simply throw our hands in the air and give up on even trying to decode the above labyrinth of waffle, obfuscation, evasion and pin-dancing into English for you, let's just try to focus on the key point.
The definition of "a record" used by the Scottish Government for FOI purposes is clearly not one which would be recognised by a normal human being. To most of us it simply means "a fact that we've written down or otherwise recorded somewhere".
And unless the Scottish Government employs someone whose job is to sit around keeping certain information in their head without actually "recording" it anywhere, then it clearly DOES have what any normal human would describe as "a record" of the 29 March 2018 meeting between the First Minister and Geoff Aberdein.
SOMEWHERE it has recorded the fact that that meeting took place, and presumably the key details of it, because otherwise John Swinney wouldn't have been able to put it in his instructions to James Hamilton QC. He didn't tell Mr Hamilton to investigate whether the meeting had taken place. He told him that it had taken place, because he knows it took place. It is a fact. It is recorded.
John Swinney must know what happened at that meeting and who was there, because otherwise he wouldn't be able to brief Mr Hamilton about it so that Mr Hamilton could do his job – or indeed whether it was relevant to Mr Hamilton's task at all.
The entire purpose of FOI is supposed to be that if the Deputy First Minister knows something that's Scottish Government business – and an investigation into possible breaches of the Ministerial Code by the First Minister cannot possibly be anything BUT government business – then the people of Scotland are entitled to know it too, unless there are very specific and very limited reasons why they can't. Mr Swinney is the public's employee. He is directly answerable to them.
That also means that this is simply not acceptable:
"the answer to your question is that the Scottish Government does not hold recorded information as this was not a government meeting"
Because if that's true then the Ministerial Code has DEFINITELY been broken, and the public is entitled to know about it:
Astonishingly, the response attempts to flatly deny that fact:
"Also, outwith FOISA, in relation to your assertion that meetings in parliamentary offices not on government business are not permitted, we are not aware of such a rule."
But it's right there on page 1, paragraph 1.3(i). The premises of the Scottish Parliament are plainly a "public resource" and so must not be used to conduct party business. So all of these FOI responses are in fact explicit statements that the First Minister DID breach the Code, by conducting party business on government premises. 
Which of course makes her repeated statements at FMQs this week that she HASN'T broken the Code also deliberate lies to Parliament. Which in themselves are further and even more serious breaches of the Code, which require her to resign.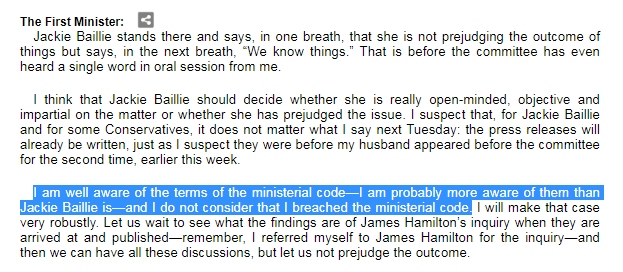 But beyond that, the whole saga of our months-long attempt to simply get the Scottish Government to tell us who the First Minister met on 29 March 2018 is a microcosm of the entire Alex Salmond affair: an original misdeed (the attempt to smear him just enough to keep him out of politics) being magnified and amplified to many times its original size and volume by the panicked, ever-spiralling attempts to cover it up.
And the moral? When the only tool you have is a shovel, better not fall into a hole.