We linked you yesterday to a quite startling display of cognitive dissonance, as a dedicated Labour activist struggled to reconcile his party's position on Trident with his own belief in disarmament, reaching some quite extraordinary contortions of logic in an attempt to convince himself that staying in the Union represented the best way of ridding the United Kingdom of weapons which are enthusiastically supported by every major UK political party and the Lib Dems.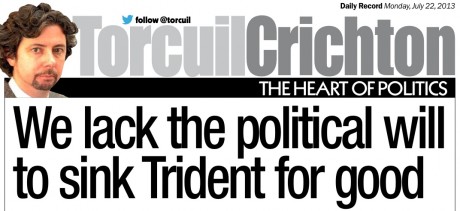 But it's not just mad bloggers who are frantically trying to whip up a sandstorm of spin to obscure Labour's final abject surrender to the nuclear weapons lobby.
Readers will probably already be familiar with the fierce journalistic work of Torcuil Crichton, the political editor of Scotland's second-biggest-selling newspaper. But in addition to his in-depth investigations of just why Anas Sarwar is so brilliant and handsome (sorry, "telegenic"), Crichton pens an opinion column for the Record every Monday, generally dedicated to pointing out that the SNP are beastly. This week, though, he's set himself a stiffer-than-usual challenge. (Click the image to read it.)
"Nuclear weapons are immoral, the deterrent has no practical purpose except to end the world but we are shackled to them as expensive status symbols because politicians cannot defy military convention" sounds like a pretty unequivocal statement of opposition to us. But it's a problem for Torcuil, because he loathes the SNP, the only party of government anywhere in Britain which is committed to getting rid of them.
How to square the circle? The answer is surprising.
"Salmond knows the US would veto Scotland's membership of international fruit trading organisations, never mind NATO or the EU, until it accepted nukes at Faslane."
Into that one small sentence are packed so many bewildering and irrational assertions that it's going to be tricky to catch them all, but we'll have a go.
1. Are there actually any "international fruit trading organisations"? (How does that work? "Swap you 20 grapes for a pineapple"?)
2. The US does not have a veto over EU membership.
3. The vast majority of NATO member nations do not host nuclear weapons on their territory, so the assertion that Scotland would be treated differently is difficult to understand. (Even if acting under US pressure, how could Belgium, say, agree to impose a condition of Scotland being forced to accept nuclear weapons when Belgium doesn't have any?)
4. With or without nuclear weapons, Scotland's strategic location would mean that the US was absolutely desperate to ensure it was in NATO, providing US vessels with unhindered access to its waters. A non-NATO Scotland would be a complete nightmare for US naval forces operating in the North Atlantic.
5. Just a few weeks ago the New York Times reported "The [economic] situation in Britain is so bad that American officials are quietly urging it to drop its expensive nuclear deterrent." (In favour of spending the money on conventional armed forces instead, which unlike Trident actually serve a practical purpose from the US point of view.)
6. Crichton, like the US military, complains that Trident is "expensive". But if an independent Scotland declined to retain any ownership of the weapons, but DID allow them to be stationed in Faslane under UK/US control, that burden would at least be lifted from Scottish taxpayers.
It wouldn't solve the moral problem, but would at least offer a huge financial benefit, because Scotland would not only be freed from paying for Trident, but could extract large sums in rent and concessions in independence negotiations.
7. Alex Salmond knows that NATO membership is popular with the public but unpopular within his own party, adopted as policy only out of grudging pragmatism. If the SNP go into the referendum promising to seek membership of NATO, secure a Yes vote, uphold their promise but are then rebuffed by the US, he wins either way. So why would he cave in on Trident, which would be politically catastrophic in Scotland?
Seven false premises in 25 words. Not bad, Torcuil.
Crichton's claims, then, are clearly cobblers. His schizophrenic column at once bemoans Labour's pro-nuclear policy while also bitterly attacking the only electable political party which offers the one he wants. It's as good an illustration of how Labour's all-consuming tribal hatred of the SNP cripples the party in Scotland and turns its ideology inside-out, back-to-front and upside-down as you could hope to see. It's no wonder its activists tie themselves in knots trying to rationalise it.
Despite all of Labour's attempts to promote the idea of disarmament as unachievable and nuclear weapons as inevitable, neither is the case. There IS political will in Scotland for getting rid of Trident – plenty of it – and a clear practical path by which to make it a reality. The only thing which needs to be abolished in order to make it happen is the political relevance and influence of the Labour Party.