It is with the heaviest of hearts, readers, that we must report to you that Gordon Brown has done an intervention again.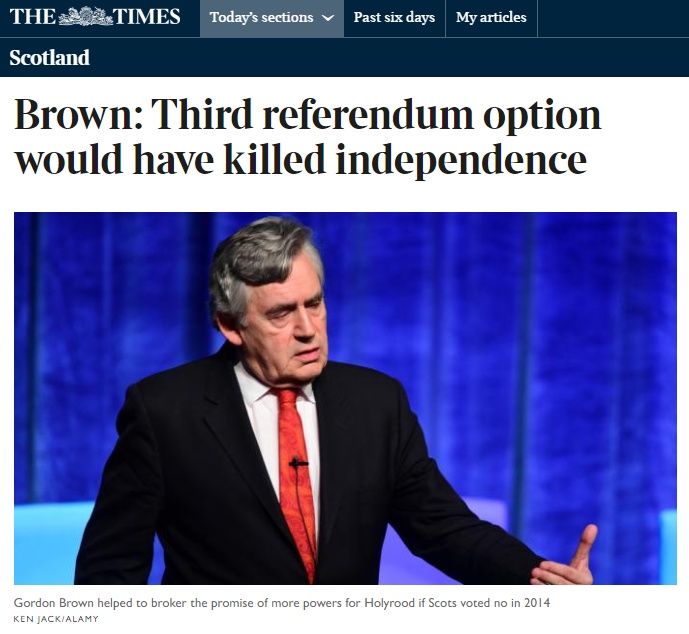 With a new book to sell, the purposeless former Chancellor and Prime Minister who led the UK into a catastrophic financial crisis that's now entering its second decade has put on his hindsight goggles and made a whole series of bewildering proclamations after the event, which have – naturally – been dutifully received and repeated by the fawning Scottish press like God handing down the Ten Commandments to Moses.
It's worth seeing the piece in its entirety (click to enlarge).
A whole series of questions leap immediately to mind, like why Brown – if he felt so strongly about the subject of a third option – kept his mouth shut before the vote. After all, it's not as though he normally waits for an invitation before lumbering into the political arena howling and beating his chest like a silverback gorilla.
But the strangest assertion in the piece is this one:
He doesn't say how much "later" this advice arrived, or who it is who respects these two academics so much, but we're scratching our heads trying to work out how any of them came up with such a figure. Because there's quite a lot of evidence around on this subject, and none of it comes even remotely close to supporting the proposition.
The most multi-optioned research on constitutional issues is the Scottish Social Attitudes Survey, which for the 15 years preceding the referendum asked a very large sample of Scots how they'd prefer to be governed, from full independence down to abolishing Holyrood and being ruled directly from Westminster. The results are below.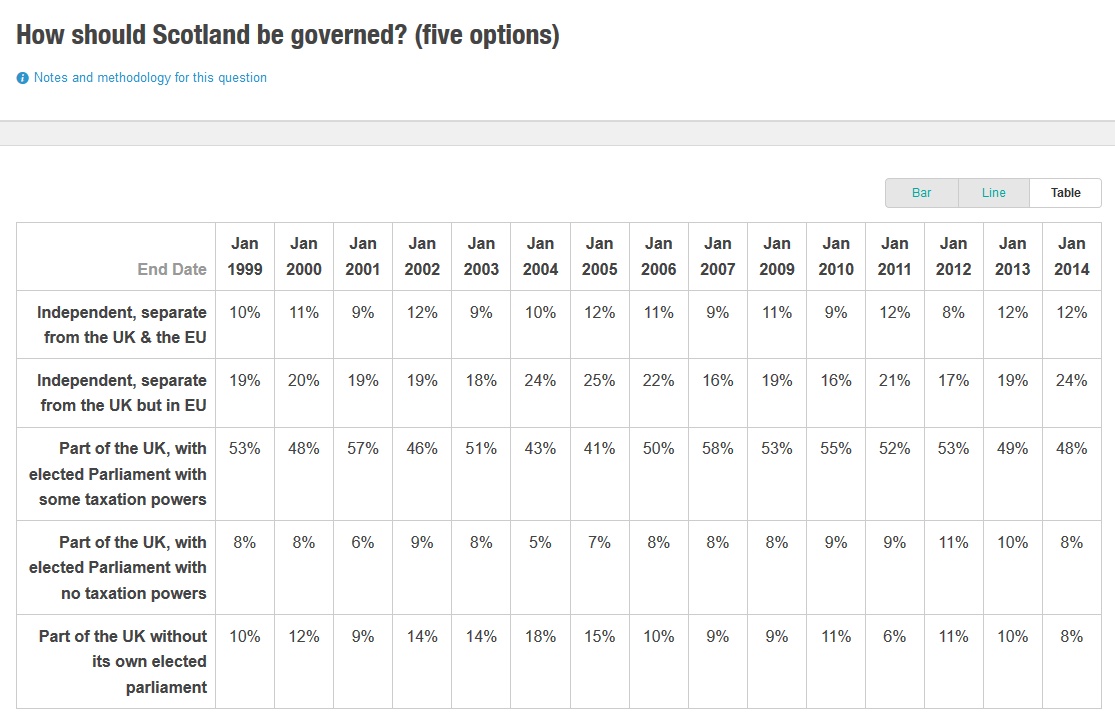 The central "devolution with tax powers" option has never recorded support above 58%, and has averaged just 50.5% with Don't Knows excluded. (Or 44.7% including DKs.) In the last survey before the indyref the figure was 48% – fully 30 points short of Brown's claimed figure.
Of the rest, just over a third wanted independence and one sixth wanted Holyrood to have either FEWER powers or none at all. It seems self-evidently true that people who want less power for Holyrood would not have voted to give it any MORE powers in a three-option referendum where the straight status quo was an available choice, so we can pretty confidently rule out adding any of them to the 48%.
And so to get that number up to 78%, we're left – or rather, Gordon Brown And The Respected Academics are – in the ludicrous, laughable, mad position of asserting that out of the 36% of voters who said they wanted independence, five-sixths would have rather voted for more devolution had it been available. Or put another way, 83% of the people who said they wanted independence didn't really mean it.
The farcical insanity of this position is revealed by the fact, emphasised in the Times article, that Brown himself was the figurehead of The Vow, the infamous pledge that insisted a No vote actually DID mean lots more devolution, rather than the status quo.
Yet having been promised that voting No would give them what they secretly really wanted (which by Brown's reasoning should therefore have led to a flood of extra No votes), the 36% of Scots who the SSAS found in favour of independence instead leapt by a quarter to 45% by the day of the actual vote.
And still the Times (and the rest) run this dribbling lunacy without a word of doubt or challenge, because the Scottish media simply NEVER questions Gordon Brown. Even fearsome inquisitors like Bernard Ponsonby inexplicably turn into deferential poodles when faced with the Great Clunking Fist.
We'd quite like to see the incriminating photographs Brown surely has of all of them.