The tl;dr is that Martin Keatings has lost his case over the Scottish Parliament's right or otherwise to hold an independence referendum. Lady Carmichael in essence declined to make a decision over Holyrood's authority to order any future vote, agreeing with the defenders in deeming the matter to be "hypothetical, academic and premature".
We obviously haven't yet had time to digest the full 72-page judgement, issued about an hour ago, and in any event aren't really equipped to understand its dense legalese.
But there's one thing we do understand.
Keatings was opposed by an alliance of the Advocate General for Scotland (despite his title, a representative of the UK government) and the Lord Advocate OF Scotland, who is a minister in Nicola Sturgeon's government.
It was therefore the Scottish Government, alongside the one in Westminster, who were opposing the court even attempting to establish whether Scotland has the right to determine its own constitutional future.
We don't believe that's what a million people voted SNP for in 2016, nor 1.2 million in the UK election just over a year ago. We believe the Scottish Goverment's actions in the case have been a shameful dereliction of their promises to pursue Scotland's right to choose. Indeed, worse than a mere dereliction – an active betrayal.
This is a matter that should have been an urgent priority for the First Minister from the day after the Brexit vote. It being clearly in the interests of the Scottish people – on both sides of the constitutional divide – to determine the legal position with clarity and certainty, it should have been a task undertaken with the full resources of government, not left to a member of the public funded by the grassroots Yes movement.
Instead, the supposed party of Scottish independence threw obstacle after obstacle (and no small amount of abuse) in Keatings' path, gobbling up time and money that could have been better spent. Its courtroom alliance with the UK government against the independence movement is no less shaming than that of Labour and the Tories in the 2014 referendum.
Today's decision was widely anticipated, and it's unlikely to be the end of the matter. There will, we're sure, be an appeal, and the whole argument will continue to consume both time and money long into the future, whereas if it had been started years ago by a government which had a crystal-clear electoral mandate to do so – as this site urged – it would have been long settled by now. Instead of which, the prospects of a second independence referendum have once more receded into the distance, almost certainly for a significant number of years.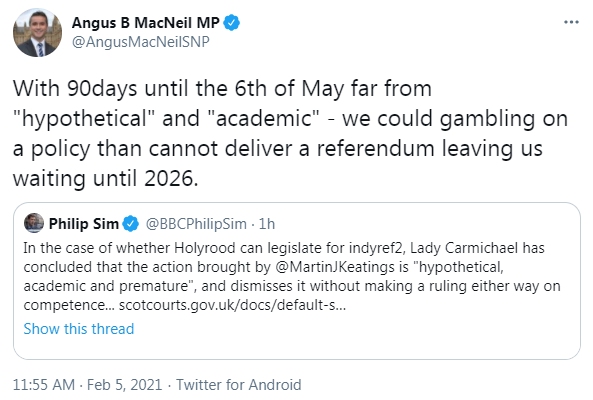 The Scottish Government have stabbed the people of Scotland in the back.