Alert readers will probably already be familiar with the philosophical proposition of Schrödinger's cat. (The less alert can click the link for a short and easy primer.) The hypothetical experiment posited by 20th-century Austrian physicist Erwin Schrödinger has entered into popular culture. But increasingly and disturbingly, it's also becoming the guiding principle of mainstream media journalism.
Certain viewers should steel themselves at this point, because we're about to briefly talk about football before moving on to other things later in the article. You can consider that your trigger warning. We'll let you know when it's over.

The lines above were issued to the press yesterday by The Rangers International Football Club plc, a football club (the clue's in the name) formed in 2012, yet which lays claim to the history and achievements of a previous club of a similar name which was liquidated for bankruptcy the same year, having been formed in 1872.
And eagle-eyed logic fans may have spotted something of a contradiction.
The statement was an attempt to pre-empt the possibility that honours won by the first Rangers might be retrospectively removed by the Scottish football authorities after that club was found guilty by Scotland's highest court of systematically cheating not only the taxman but its on-field opponents for the first decade of the 21st century.
The normal practice in sport is that titles won by such cheating are stripped from the culprit(s). Lance Armstrong is no longer deemed by cycling's governing bodies to have been the winner of seven Tour de France crowns after he was found guilty of doping offences. (There are now no official winners for the years in which he came first.)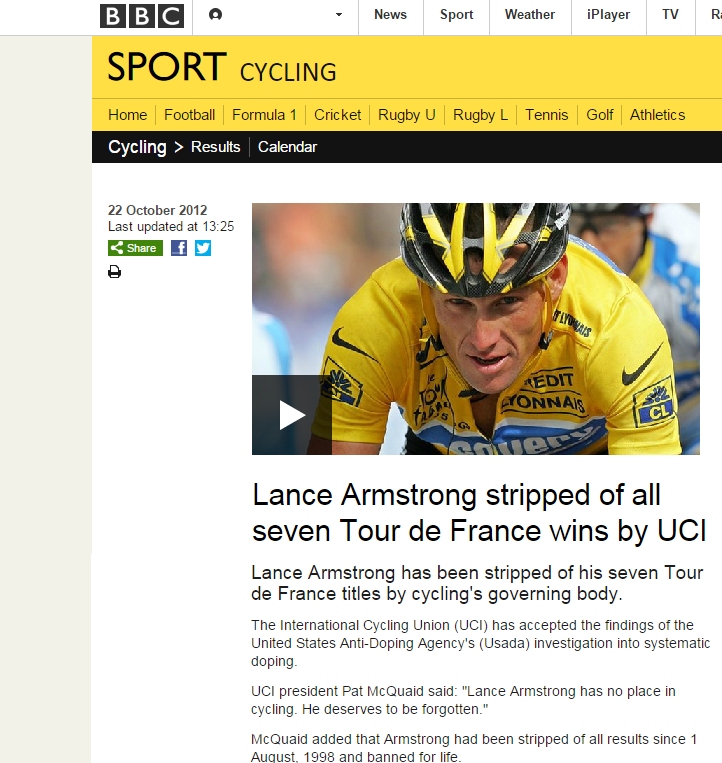 And in football, Juventus FC were stripped of two Italian league titles in 2006 (as well as being demoted and given a points handicap) after a match-fixing scandal.
Anyone familiar with the Scottish football authorities won't be expecting any similar action to be taken regarding the 13 trophies won in those 10 years by Rangers, thanks to players the club could only afford to field by breaking both tax laws and SFA rules. But that's rather aside from the point.
The point is that the new "Rangers" strenuously and constantly insists (to the point of emblazoning "Rangers Then, Rangers Now, Rangers Forever, Est. 1872" across its stands) to actually be the same football club as the one formed 143 years ago which failed to exit administration in 2012 and entered liquidation.
That is, right up to the point where it has to take responsibility for any of the old club's negative baggage or liabilities, at which point it shrieks at the top of its voice that it has nothing to do with any of it. The very "history" that the club fought tooth and nail to attach itself to is now someone else's problem.
In other words, the new "Rangers" is Schrödinger's Football Club – it simultaneously both is and isn't the same club as the old Rangers.
To try to resolve the paradox the club and many of its fans desperately cling to belief in a legally-nonsensical separation between the "club" and the "holding company", but even aside from the absurd nature of the claim in itself, any such distinction shatters when you're talking specifically about titles won on the pitch. Holding companies don't contest the Scottish Cup, football clubs do.
And yet almost without exception, the print and broadcast media plays along with the charade, constantly referring to the club's history as if it were unbroken and liquidation was merely a minor bureaucratic hiccup. It pretends that a football club is both alive and dead at the same time, when all it needs do is open the box and see for sure.
END OF FOOTBALL SECTION
But what we should perhaps call Schrödinger's Syndrome is spreading. Readers will probably recall that we've spent much of the past few days debunking Scottish Labour's astonishing assertion that it can compensate victims of the tax-credit cuts planned by the UK government using money saved by not cutting Air Passenger Duty, as the Scottish Government intends to do in 2018 when it's given control of the tax.
Observers who've grasped the basic principles of arithmetic have tried and failed to get Labour to explain how NOT cutting a tax can possibly magic extra money into the Scottish Government's coffers. (After all, the whole point of not changing something is, by definition, to keep it the same, not to make it bigger or smaller.)
Remarkably, even the few normally-intelligent journalists covering Scottish politics have lapped up the plans unquestioningly. We, meanwhile, have doggedly pursued all sorts of party representatives trying to get to the bottom of it. Yesterday we spoke to South Lanarkshire Labour councillor Gerard Killen, and made some modest progress.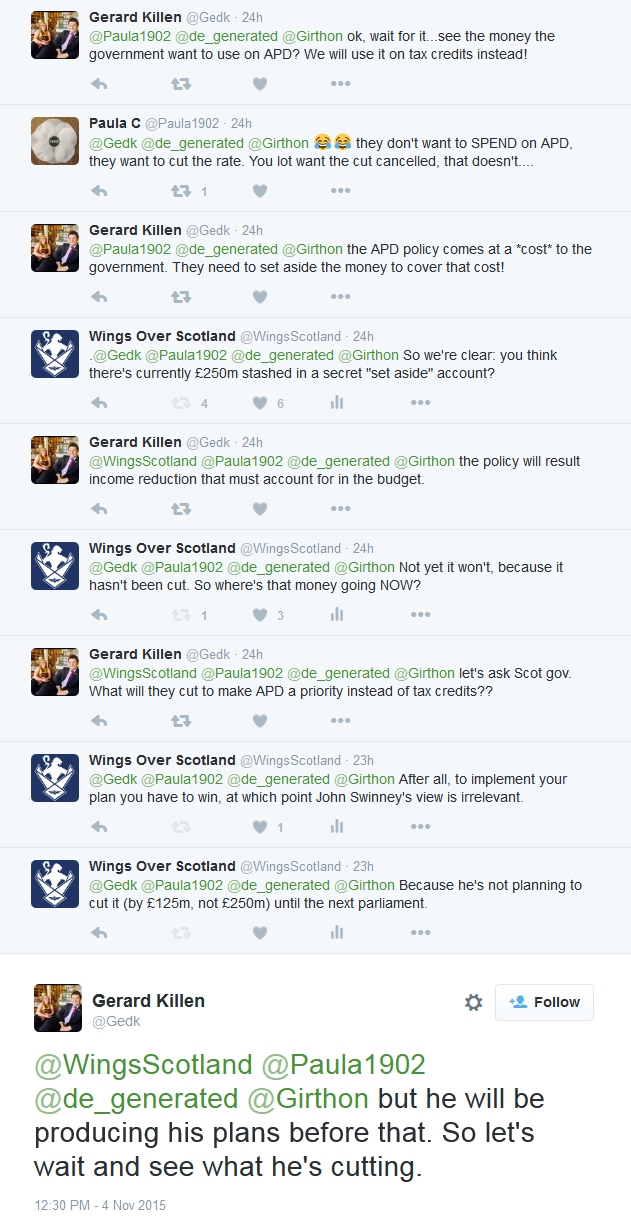 If you couldn't be bothered reading all that, the summary is this:
"We're going to wait and see what John Swinney says he'd cut to fund reducing APD, then whatever he'd cut, we'll use the money for our tax-credits policy instead."
We got much the same answer from unemployed tuba enthusiast Blair McDougall.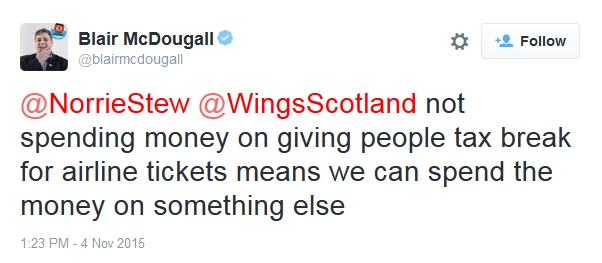 And anyone with an IQ above room temperature will have immediately spotted the enormous logic chasm in both responses, which is this: for Labour's plan to work, the SNP have to be in power.
If Labour are to implement their scheme, they have to win the election. But if they win the election, John Swinney won't be the finance minister. If John Swinney isn't the finance minister, APD won't be cut. If it hasn't been cut, it can't be restored. So where will Labour find the £500m they need for the tax-credits policy?
Swinney's case, in any event, is that he won't have to make savings elsewhere to pay for the APD cut at all, because it'll pay for itself by attracting more flights, business, tourists and jobs to Scottish airports. A report by Edinburgh Airport in March this year claimed that initially halving the tax at a cost of £125m a year (which is Swinney's plan) would bring about £200m of economic benefits to Scotland, a net GAIN of £75m.
That argument may or may not hold up in reality. But what we know for sure is that Labour can't both win and lose the 2016 election. To implement their own plan, they can't just wait to see what John Swinney does with the budget in 2018 and then react to it, because if Labour are in power John Swinney won't be doing anything.
Swinney, in other words, is Schrödinger's Finance Secretary. Labour need him to be in power to find their savings for them, but they simultaneously need him NOT to be in power so they can use those savings to carry out their policy.
It's causing us considerable mental pain to type these words, because the gigantic, colossal, gaping, abyssal hole in Labour's plan (or to be more precise, the biggest of many such holes) is so obvious an averagely-smart Cocker Spaniel could spot it. Yet it has evaded the nation's press as deftly as Rangers' tax payments evaded HMRC.
Journalism's only job is to inform people, by analysing events and presenting them in context. It would have no purpose if the media existed solely to "report what people have said" (as one Herald staffer said this morning regarding the "Rangers" statement, before deleting his tweet), because in that case parties could just send their press releases to newspapers to be printed directly without any journalistic intervention.
Just as with the cowardly treatment of Schrödinger's FC, the absence of the slightest scrutiny of Scottish Labour's ridiculous fag-packet scam – which spends money that doesn't exist, and can never exist if Labour are in power, several times over – is an appalling indictment of both the press and Scotland's educational system. Maybe that's one thing Kezia Dugdale was right about after all.