An alert reader conveniently located in the Aberdeen area pointed us to an "SNP BAD" story in the ever-willing Press & Journal today.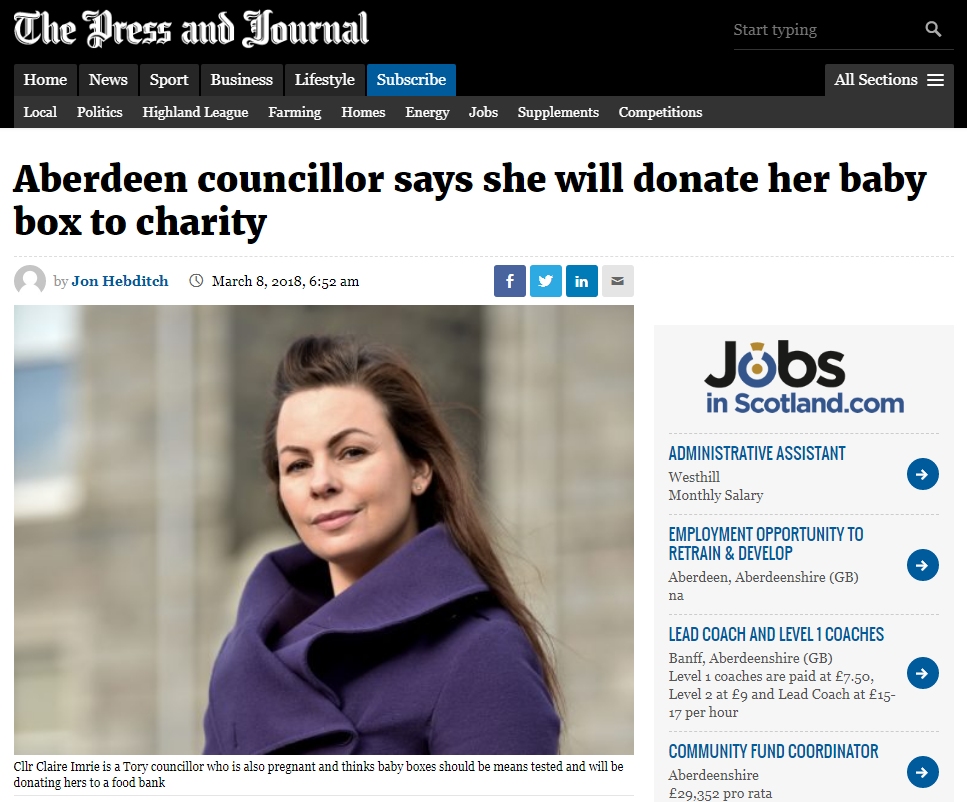 And it raised an awful lot of questions the P&J didn't seem to want to ask.
"A pregnant Conservative councillor has said she will donate her baby box to charity – and called for the scheme to be means tested.

Ms Imrie said: '(The council administration) have budgeted to the best we can on a low budget, unlike the SNP with regards to unnecessary provisions that should be mean tested such as the baby box. I will be donating mine to (foodbank) CFINE.'

She was backed by independent administration councillor Jennifer Stewart who called the boxes a 'vanity project.' She added: 'Most people I know wouldn't want to put their baby in a box and neither would I.'"
So let's quickly go through them.
1. Nobody is FORCED to take a baby box, and you don't get them by default. You have to fill out an application, and have it signed by a healthcare professional.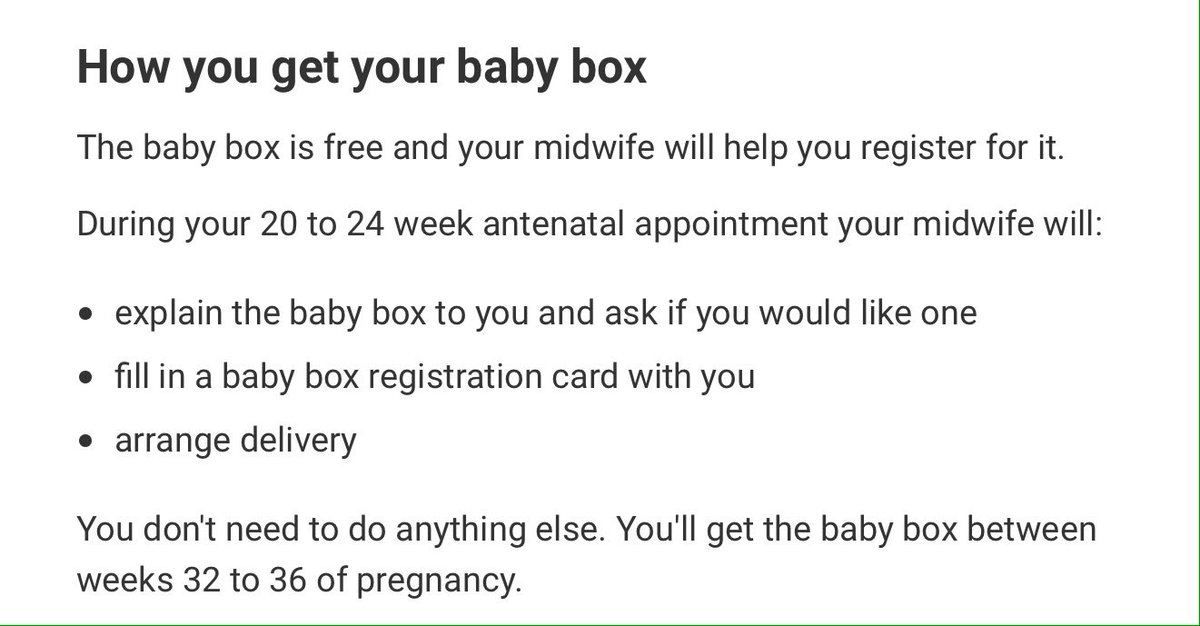 So if Cllr Imrie didn't need one she could just have not bothered asking for it, rather than needlessly wasting a hard-pressed midwife or nurse's time (and therefore public money) on form-filling as well as that of administrative staff.
2. The former Labour leader of Aberdeen council, Willie Young, immediately leapt to his Tory friend's defence, claiming that Cllr Imrie hadn't claimed the box at all, but that a midwife had done it without her permission.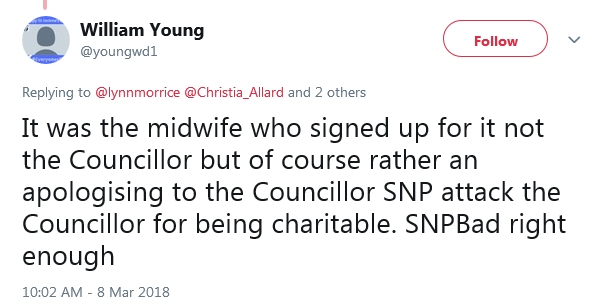 As did another Tory councillor: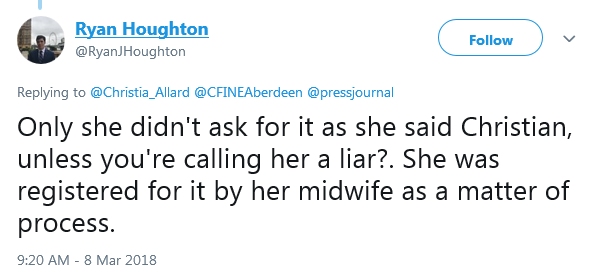 But as both the healthcare professional and the mother have to sign the form, either that's a lie or the application will be rejected and there will be no baby box to donate, instantly solving the problem.
3. Since all new mothers are entitled to a box for free, we're not sure what the point of giving it to a foodbank would be in the first place. Anybody who needs one already gets one and there's not much point in having two boxes when you've only got one baby to sleep in them. You can't eat the other one.
4. The box does of course contain other useful items. But if Cllr Imrie feels that foodbanks need extra assistance and that it should come from those like her who can afford it rather than from taxpayers, why is she taking and passing on a baby box that's been paid for by the taxpayer, rather than just handing the foodbank some of her OWN money?
5. We'd also quite like to have a look at Cllr Imrie's in-depth study (we're sure she must have done one) on the costs and consequences of means-testing compared to universal provision. Because most research suggests that means-testing is a highly inefficient delivery method, and does more damage than any minor savings after the cost of administration are worth, because you end up with people not claiming things that they're entitled to and need because of the hassle/stigma.
Those are just the obvious ones. We'll bring you answers as we find them.