Our feather-ruffling Panelbase poll of SNP voters is now almost at an end, with only one further revelation to come tomorrow. So we thought it was worth taking a moment for a little bit of closer examination of just who the respondents were.
We know, of course, that the criteria for the sample was people who said they currently intend to vote for the SNP with their constituency vote at the next Scottish Parliament election in 2021. But what else do we know about them?
We found, for example, that 64% were in employment, with 15% retired, 6% describing themselves as a housewife/househusband, 4% students, and 10% either unemployed or off work through ill-health or disability.
57% owned their home, with 41% in rented accommodation.
83% were born in Scotland, 9% in England (which means that there are over 100,000 English-born SNP voters who are presumably going to be pretty shocked when they find out from angry Unionists on the internet that the party they vote for hates them), 3% from European nations outside the UK and 3% from the rest of the world.
(83% is incidentally also the proportion of those English-born SNP voters who say they'd vote Yes in a new indyref, with 8% planning to vote No and 9% undecided. The figures for those born in Scotland aren't too different at 5% No and 4% undecided.)
51% of them felt like they understood the Scottish Parliament's electoral system "fairly well", with another 23% saying "very well", while 20% said their understanding was "fairly poor" and 6% said "very poor". We think we've been hearing quite a bit from the last two groups recently [eye roll].
But there were two especially interesting categories.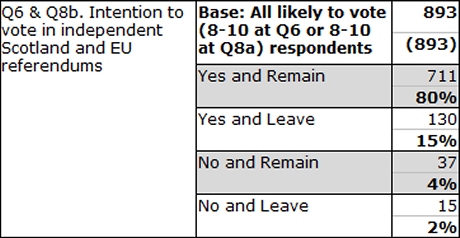 We can't begin to imagine what's going through the minds of the 2% of SNP voters who want to stay in the UK but leave the EU. All we can say is they must be REALLY impressed with the party's domestic record.
The substantial minority who want independence but also Brexit remain a headache for the party. But there was one finding we found particularly surprising.
Of SNP voters who want independence in the EU, almost one in five prioritise the latter over the former. This of course more or less tallies with the overall figures we revealed earlier in the week, but to see it specifically in the Yes+Remain group is quite startling.
Equally weirdly, the figures were exactly reversed in the No+Remain group. Among those who want to stay in BOTH unions, almost 20% said they would would sacrifice the UK to keep Scotland alone in the EU, even though the alternative option was to stay in both, which is the outcome they prefer.
The only explanation that makes any sense is that while those people do want to stay in the EU, they don't believe it should be forced on the people of England and Wales, who voted Leave. That's a sentiment we've seen before, and it's an admirable one.
(We should perhaps point out that it's less admirable on the other side of the equation, where 19% of Yes/Remainers are willing to sacrifice independence in order to forcibly impose something on England and Wales that England and Wales voted against.)
That takes us to our final question (apart from tomorrow's), and one to which the SNP perhaps ought to pay particularly close attention.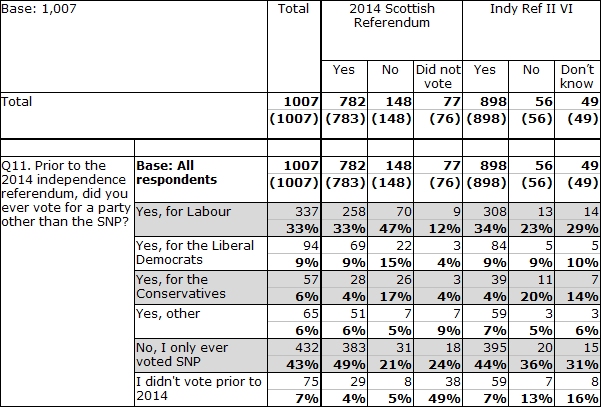 Exactly half of our sample of SNP voters – 50% – voted for a different party prior to the 2014 indyref. Indeed, when you exclude the number who didn't vote at all previously, they comfortably outnumber lifelong SNP supporters.
Fully a third of SNP voters were formerly Labour. That includes significant numbers who voted No in 2014, but possibly more surprisingly a substantial cohort who still plan to vote No should there be a second referendum, or haven't made up their minds.
There's also a perhaps unexpectedly large faction within the SNP support (15% in total) that used to vote Lib Dem or Tory, most of which is still firmly No.
In other words, more than half of the SNP's voters are people who have changed party in the last few years. It follows logically that they might be prepared to do so again – or to simply stay at home, as one-third of 2015 SNP voters did in 2017.
In politics in general – and doubly so when you appear to be hell-bent on forcing through policies which are opposed by most of your own voters – it's rarely wise to take your support for granted.