It's been quite the week so far. For the vile and sickening crime of [check notes] finding out what SNP voters were thinking about the important political issues of the moment, we've had (especially on Facebook) a two-day barrage of stuff like this, and worse:

So, y'know, on with what we always do: reporting the facts.
Yikes. We should probably have given you a bit of warning for that one. Remember, this is a poll of SNP VOTERS ONLY, but almost a quarter are willing to give up on independence "for the foreseeable future" if it saves England and Wales from the Brexit they voted for three and a half years ago and still want to happen. To be honest, we weren't expecting that.
Interestingly, the figure is a third higher than the percentage of SNP voters who say they'd vote Leave in a future referendum:
(Presumably representing the "fair play" faction in the previous link.) And perhaps unsurprisingly, it's the young who are most willing to wait a long time for independence:
27% of the youngest demographic prioritised avoiding Brexit over getting Scotland out of the UK, compared to just 18% of older people and 24.5% of the middle group.
And equally predictably, those who voted No in 2014 but have now switched to the SNP were heavily in favour of stopping Brexit instead.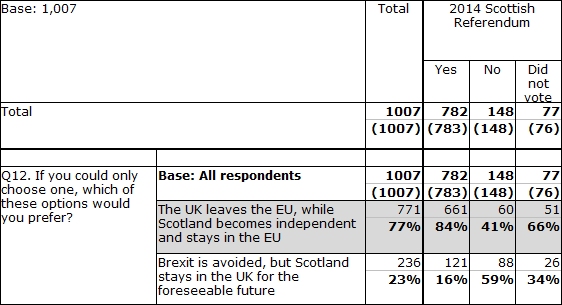 (On that subject, incidentally, we also asked SNP voters if they'd always been SNP voters or had moved to the party since 2014. A remarkable 50% voted for other parties prior to the indyref, by far the largest group being former Labour supporters.)
So there we have it. While the number of SNP voters prepared to sacrifice the party's primary goal to stop Brexit was rather higher than we expected, the SNP's current policy of focusing all its energies on stopping Brexit – even at the risk of invalidating its 2016 election mandate – still puts it at odds with 77% of its own supporters.
It'd be quite interesting to know how many of the people currently furiously screaming "TRAITOR!" and "YOON PLANT!" at us are in the 23%.