From an interview with Mike Russell in today's Sunday National: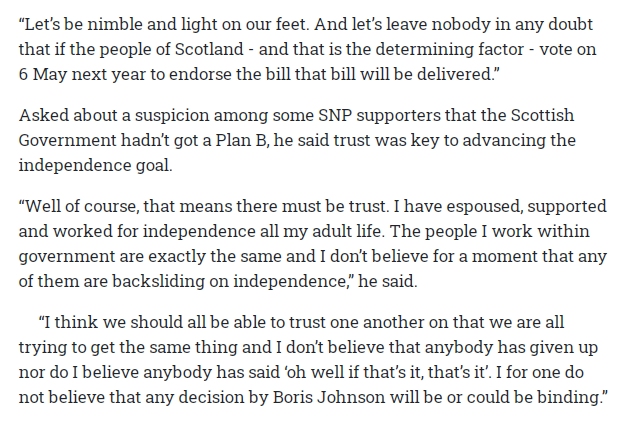 Just a couple of quick questions.
(1) The people of Scotland voted in 2016 to have a second referendum if Scotland was forced out of the EU against its will. The Parliament then voted twice in favour of that policy, and yet Scotland was indeed forced out of the EU on 31 January this year. So why hasn't THAT policy been delivered?
Why on Earth should anyone believe you can deliver it this time when you've failed to deliver it in the last five years despite having a mandate and a Parliamentary majority for it? What, in meaningful practical terms, are you going to have next May that you haven't had since May 2016 and achieved nothing with?
(2) How do you expect anyone to have "trust" in those circumstances? How can we accept at face value your "belief" that Boris Johnson will abandon his own electoral mandate to refuse a second indyref, when you can't or won't tell us anything you can do to make him, given that he can command 600 votes in the Commons against your 50?
The patience of the wider Yes movement is wearing very thin. The NEC elections this week bought you and your SNP colleagues a short period of grace. We respectfully ask you not to stretch their tolerance any further with cheap intelligence-insulting drivel like that published in the Sunday National today.
You're not asking for "trust". Trust is earned and you've done absolutely nothing since 2016 to earn it. Not one single step has been taken towards independence in almost five years of opportunity. What you're asking for is faith, something that can only ever exist in the absence of evidence. At this point, frankly, we'd rather see some evidence.