So a few things need said about the events of the weekend.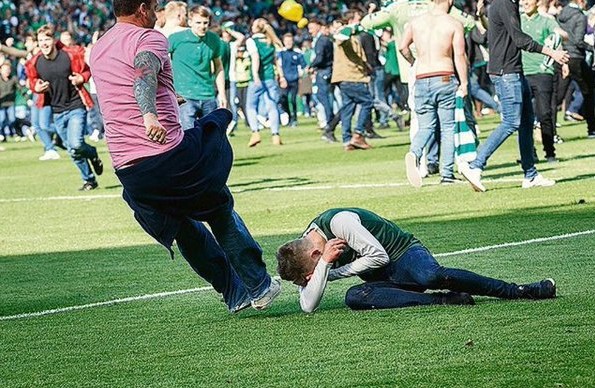 1. Hibs fans had no business invading the pitch. They'd waited 114 years to win the cup, but in those 114 years no other club's fans had felt the need to take to the Hampden turf when they won, other than (as far as we can tell) in three incidents, all involving Celtic and Rangers.
In 1909 the Scottish Cup was actually not won by anyone – after two draws between the Old Firm the crowd invaded the pitch and rioted (allegedly suspecting a fix to increase revenue from having more replays), and no second replay was ever held.
In 1965 a Celtic victory over Rangers in the League Cup final ended like this:
And most recently, another Celtic win over Rangers in 1980 sparked an infamous riot:
The incident led to the banning of alcohol from all Scottish football matches, which the Scottish Labour leader Jim Murphy recently tried unsuccessfully to overturn, backed by then-deputy Kezia Dugdale. (We can only fearfully imagine the scenes yesterday had everyone also been tanked up on a few half-time pints. Scottish Labour have rather conspicuously declined to comment, understandably.)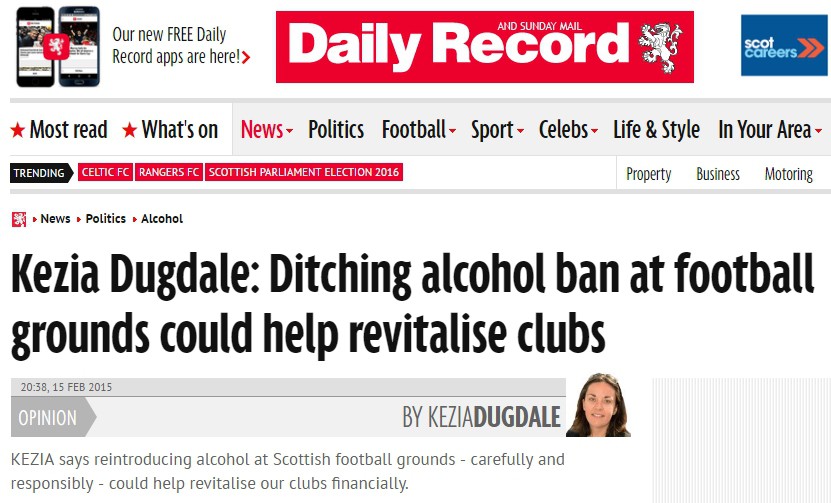 Every precedent of fans invading the Hampden pitch has ended in violent disorder and it was always bound to do so again, particularly with the other end being occupied by fans of the new "Rangers", people who have never reacted well to opposing supporters celebrating on the turf.
(Though they deserved credit for not taking the bait at Fir Park last year.)
Whatever else happened, had Hibs fans stayed in their seats at the final whistle they could have celebrated, their players could have enjoyed their moment on the field, and all anyone would be talking about would be football.
2. Some Hibs fans actively provoked trouble. There are countless examples in football and other sports of exuberant fans invading the pitch after a victory and causing no harm – including most of the playoffs this month in the English leagues – but while the vast majority of Hibs fans appeared to be simply overcome with joy, a significant minority went up to the other end and goaded the "Rangers" support.
Smashing up the goals and ripping up the turf are also violent, provocative acts that can't be brushed away as "high spirits".
3. Some Hibs fans definitely attacked "Rangers" players. Despite conflicting rumours and counter-rumours ("Rangers" striker Kenny Miller was at one point said to have been knocked out cold in the centre circle, but his wife later tweeted that nobody had touched him), we've seen with our own eyes conclusive footage of attacks on Lee Wallace and goalkeeper Wes Foderingham.
Neither was particularly serious in terms of physical harm, but were also a step beyond mere jostling (still unacceptable in itself) and must have been extremely frightening in the circumstances. Anyone identified must be banned from all Scottish football grounds for life, in addition to prosecution. There can be zero tolerance for assaulting opposing players in any circumstances.
4. "Rangers" fans had no business on the pitch either. They were provoked, but nobody has to react to provocation. They could have walked away, retaining the moral high ground and leaving Hibs alone to bear responsibility and punishment.
Instead, thousands of them struck up another chorus of sectarian anthem "The Billy Boys" (which had also been sung during the match) and hundreds took the excuse to enter the field seeking violent confrontation.
Dealing with a pitch invasion is the police's job, not vigilante ned mobs who did much to wind up and antagonise the Hibs fans in the first place.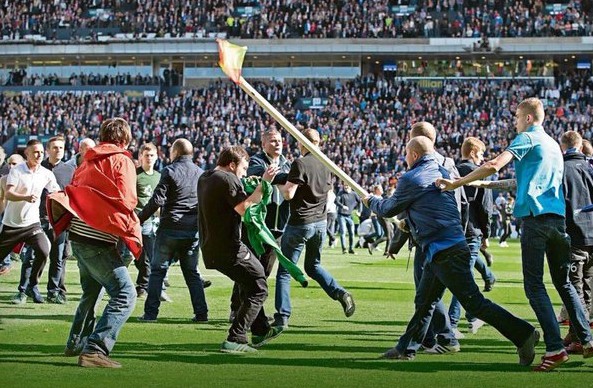 (Oh, and the lack of self-awareness it takes to set up a petition demanding Hibs be banned from European competition, just a few short years after the same "Rangers" supporters smashed up the city of Manchester before and after losing the UEFA Cup final, is quite breathtaking.)
5. All "Rangers" fans are responsible for sectarian singing. The notion that only a tiny minority participate in songs about wading "up to the knees in Fenian blood" is a farcical lie, proven countless times by incontrovertible video evidence, often filmed by the club's own supporters and tweeted or uploaded in unrepentant triumphalism.
If, as is continually protested, there exists a "decent majority" of fans at Ibrox, they have the solution within their hands. Don't join in. Boo down the songs when they start, which involves no individual confrontation. Make them socially unacceptable. "It's nothing to do with us" is no longer an excuse. If you're the majority, prove it.
The Tartan Army had a terrible reputation for drunken, boorish hooliganism, but then it took responsibility for policing itself and is now loved across the world. You don't ever get to play the injured innocents if you've been singing about wading in people's blood because they're a different religion to you. Those are the rules.
6. The club itself is also culpable. Extraordinary official press releases like the one put out on Sunday afternoon, almost certainly penned by the demented former Daily Record hack turned PR man Jim Traynor and blaming everyone from Nicola Sturgeon down while totally exonerating "Rangers" fans, fuel the persecution and victimhood complex of the more loathsome elements of the support, storing up toxic resentment and hatred – not least with the use of religiously-charged words like "parish". Having Traynor as your PR is like putting Katie Hopkins in charge of negotiating the return of your kidnapped child.
The singling out of individual journalists for vilification puts their safety at risk and is as criminally irresponsible as the claims that "Rangers" fans only invaded the pitch to "protect" their players are laughably insane. Whoever wrote and approved the release should also face police investigation for inciting violence.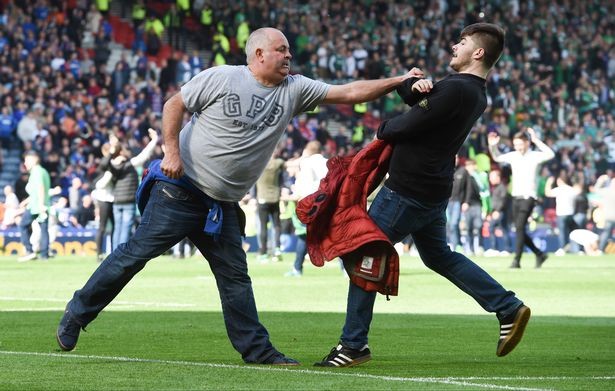 7. The Scottish football authorities' cowardice is another factor. For decades they've failed to take the only meaningful action that might deter sectarian singing – the deduction of points – out of fear of the reaction (or worse).
They've also cravenly bowed to pressure from the "Rangers" support over the events surrounding the liquidation of the original Rangers and its replacement with a new club, something else which has only fuelled the fans' unjustified and poisonous sense of bitterness, grievance and injustice.
8. The same goes for the Scottish media. We can't help but be reminded of the parable of the frog and the scorpion. Four years of craven appeasement have brought the succulent lamb brigade no gratitude. For as long as the press are too terrified of the financial or physical consequences of standing up to the bullying of the club's thug fans, they'll create an angry dog which will turn round and bite them.
The Daily Record's pious condemnation of the violence even as it gleefully stokes the hatred with atrocious ultra-partisan regular "fan blogger" columns and lurid, unsourced incendiary allegations is as hypocritical and cynical as it is reckless.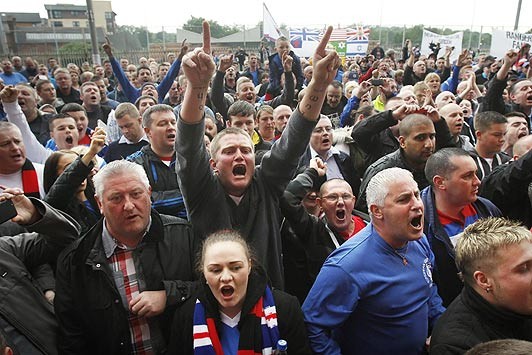 9. The police handled the situation extremely well. A few hundred police and stewards can't possibly stop 10,000+ fans getting onto a pitch if they really want to. There was no reason to expect a pitch invasion (see 1), and when it happened it was dealt with in a careful manner that didn't make things worse. There appear to have been no serious injuries and a more heavy-handed approach could have been bloody.
Anyone can be wise after the event and demand a heavier presence, and we suspect future finals for some time will see more visible police lines in front of the stands as the final whistle approaches, but nobody wants fences back or thousands of cops in the ground at showpiece occasions.
10. Almost nothing on Earth could be stupider than repealing the OBFA at this point. The message it would send would be catastrophic. Endless articles about it have bleated "Why are football fans alone singled out?" Well, ye ken noo.
——————————————————————————-
A thrilling football match on Saturday that was a credit to the Scottish game (it's been all but forgotten that both teams contesting the final were from the lower divisions – possibly the first time, and certainly the first in the modern era, that such a thing has ever happened) has since been overshadowed by utter idiocy on the part of just about everyone involved – supporters, clubs and media.
The extent of the disorder has been massively exaggerated to suit various agendas, but nobody comes out with any credit, although Hibs (in refusing to be drawn into the shouting match since the immediate aftermath, in sharp contrast to several hysterical, swivel-eyed and borderline threatening press statements from "Rangers") and Kenny Miller have conducted themselves with the most dignity.
As ever, what the events tell us encompasses far more than football, revealing truths about Scottish society, culture and politics that are often unpalatable. Imbeciles like Tory MSPs Adam Tomkins and Murdo Fraser, at least one of whom should know better, in stoking up the fires of bigotry with inflammatory language, bear as much responsibility in the long run as the idiots who ran onto the pitch.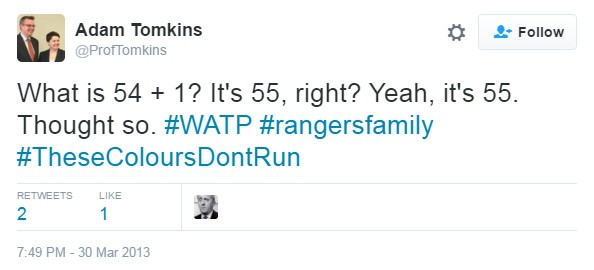 (Both, of course, are pontificating sanctimoniously about it regardless.)
We wait, entirely without bated breath, to see if any lessons are learned.