From today's Daily Mail: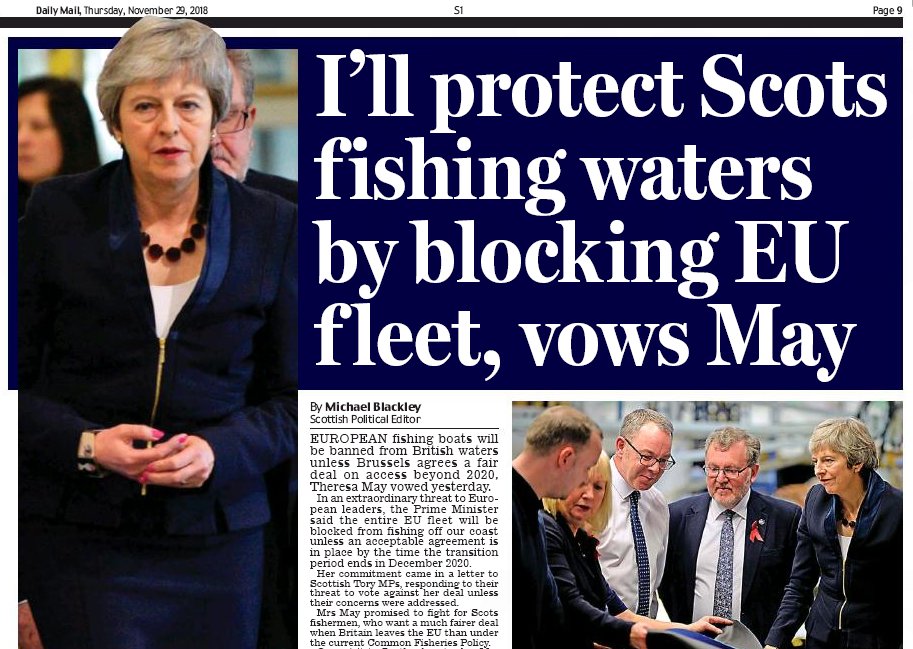 The headline is, of course, a lie.
The Herald and Scotsman were barely any less dishonest.
Because what the Prime Minister actually "vowed" to do was literally nothing.
Only the Mail, several paragraphs down the story, carries her full revealing quote. We've highlighted the key words in red.
"Mrs May said she had rejected EU demands for access to waters to be linked to access to markets during negotiations on the withdrawal agreement and political declaration.

'It remains our resolute position that there should be no such link. If we cannot reach a new and fair agreement by the end of 2020 then the default is that EU vessels would have no access to our waters, so they have a strong incentive to reach one.'"
In other words, her "tough line" is simply a factual description of the intrinsic, inevitable consequences of failure. If no deal is reached, then without anyone doing anything the UK's fishing waters will automatically be off-limits to foreign vessels. No "block" will be required, and no action from the PM – it'll happen all by itself.
Job done, then? Except that such an outcome would be an absolute catastrophe for Scottish fishermen, because the EU would impose brutal export tariffs on all the fish caught there, and most of the fish caught in Scottish waters are sold to the EU.
If the UK wanted that to happen, it wouldn't be bothering to negotiate over fishing at all, it'd just be telling the EU to take a running jump. But it knows it would be an utter disaster that would wreak carnage not only in the fishing industry but in the entire UK economy – because it would also mean that talks to access the wider EU market, on which UK business depends, had failed.
Theresa May knows fine well that the EU has the UK over a barrel and she has no option but to eventually concede fishing rights – effectively as they are now, or worse – like she's conceded pretty much everything else. Scotland's fishermen, having failed to learn the lessons of all the previous times, will be sold out by the Tories again.
And to be fair, May hasn't told any lies on this occasion (because if nothing else, telling lies requires you to actually answer questions). She merely stated a true fact about a theoretical scenario, knowing that it's a scenario she can never allow to happen. In enormously misrepresenting what she said, on the other hand, the Scottish media has no such excuse.