On one level you have to feel a bit sorry for Scottish Unionists. Having believed until very late in the day that they'd win a crushing victory in the 2014 indyref and put the matter to bed for a century, they've never been able to relax since.
And this week the fear has them well and truly in its grip.
The hapless Scottish Secretary demonstrated the lack of self-awareness for which he's famous when he said at the weekend that the thing he warned would threaten the Union (a defeat for the PM's Brexit deal) was going to happen on Tuesday, at which point – having said he'd resign if the Union was threatened – he's made it absolutely clear that he ISN'T going to resign.
And he wasn't alone in the panic room.
The paper's Chief Gammon Correspondent also had a dire warning about how Nicola Sturgeon's eminently rational plan to moderate the impact of Brexit concealed a secret timebomb. Hold onto your hats, readers, but it seems that the dastardly underhanded nationalist still wants independence!
Who knew? But Linklater's line of thinking is starkly illogical. The FM's proposal does not require a general election and specifically seeks to AVOID a no-deal Brexit, so his suspicion of her plan is without reason. Outwardly, indeed, Sturgeon's suggestion would inescapably damage the cause of independence, which is undeniably served by a disastrous hard Brexit.
(We needn't concern ourselves here with the broader strategic positioning of the SNP – the party's stance in so actively putting forward positive and constructive Brexit options has rendered its would-be critics impotent, to the point where, as in this case, they have to behave completely nonsensically in order to push an SNP BAD narrative on the subject. The party will of course happily – and quite properly – leverage any hard Brexit in pursuance of its core goal, but in the meantime has behaved in a manner impossible for Unionists to credibly attack.)
But why are Linklater and his ilk so terrified now? The answer is revealed in the next paragraph, where he abandons any loose hold on reality altogether.

Is it, though? Is it "doubtful"? If only we had some data on that.
Oh. In fact, just 24 hours earlier, a poll commissioned by Linklater's own paper found that Scots faced with a no-deal Brexit would in fact support independence by almost a 20-point margin. That sounds quite a lot like "greater enthusiasm" to us.
And you definitely know support for independence is on the rise when the Union's greatest pretend economist says it isn't: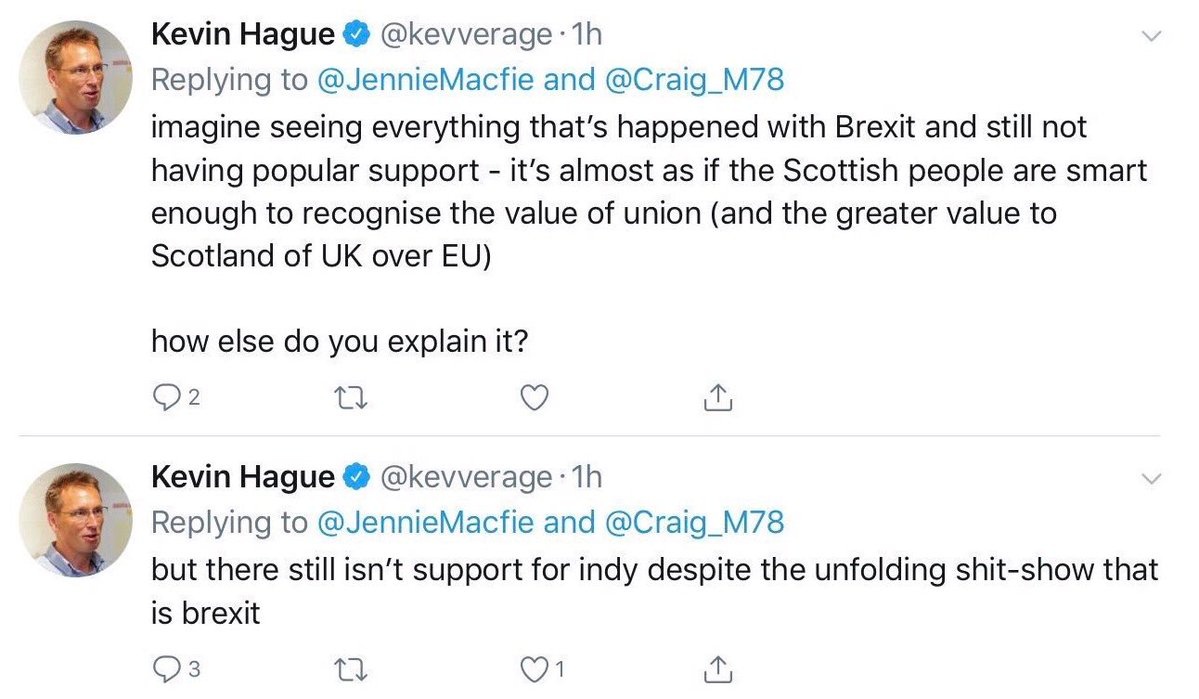 Just like Linklater, the brittle businessman has been forced to flatly deny the reality in front of him to try to keep a lid on his anxiety. The poll literally demonstrates the exact opposite of Scots valuing the UK over the EU – it unarguably and empirically shows that if they can't be in both the EU and in the UK, they'd prefer the former to the latter, even if the Brexit were to be of the soft variety rather than a catastrophic no-deal.
The fact that the Panelbase poll showed current Yes-No numbers of 47-53 (still the firm's highest Yes figure for more than two years) plainly indicates only that Scots are still clinging to the hope that Brexit can be avoided entirely at the 11th hour. But that's a slim hope. The tipping point is almost upon us.
So perhaps it's shock. Perhaps the Unionists had genuinely succeeded in convincing themselves that support for independence was in freefall despite polls barely budging since 2014. But whatever the reason, the dawning realisation that Scottish voters will react to Brexit if and when it finally happens by switching to independence in serious numbers has them visibly quaking in their Union Jack slacks.
For those of us near the end of our tether with boredom after a two-year-long phoney war with nothing to do but wait for the world's slowest-motion trainwreck to unfold, it's an invigorating sight. But we suspect that things are going to get a lot worse for the frightened Unionists before they get better.