Let's start with a nice simple flat-out lie, from the Daily Record: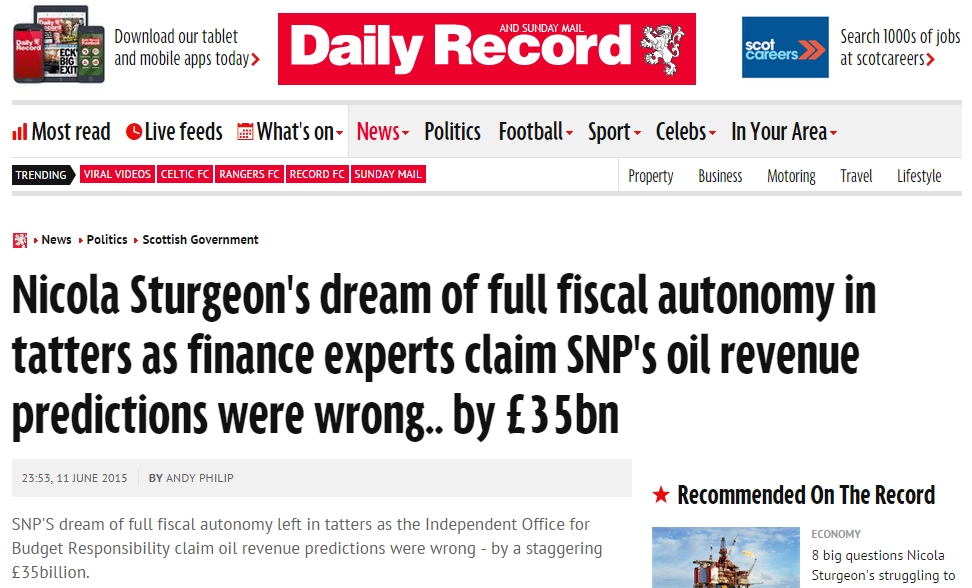 The imaginary figures for future UK oil revenues released yesterday by the Office for Budget Responsibility (which is amusingly pretending it has some sort of idea what the proceeds from the world's most infamously volatile industry will be 25 years from now when it can't get anywhere close to accurate three-MONTH predictions) saw the OBR downgrade its OWN previous figure of £37bn – not the SNP's – to just £2bn.
Let's just say that again – despite the lie in the Record's headline that the SNP had been predicting a figure of £37bn, that number was actually a projection by the OBR.
(In fairness to the UK government-funded organisation, at least the report does include a disclaimer saying basically "Look, nobody can actually predict oil revenues, we're essentially just pulling figures out of our arse here".)
A reasonable person might at this point wonder why anyone would still bother listening to a body that had just slashed its own previous guess by an eye-watering 94% in the space of a year, when you could simply buy a dartboard and a blindfold, get drunk and produce your own "projections" that were every bit as likely to be accurate, but that's not even the half of it.
Since its creation in 2010, the OBR has projected long-term oil revenue figures of £131bn (2011), around £65bn (2012), £56bn (2013), £37bn (2014) and £2bn (2015).
Even these estimates, however, are subject to huge amounts of variance depending on circumstances. In 2013, for example, while the "central" figure was £55.6bn, the OBR actually said that projected long-term revenues could be anywhere from £40bn to £81.5bn, which is a heck of a margin for error.
(It's perhaps worth noting that that margin for error in a single year's forecast, at £41.5bn, is bigger than the £35bn change the Record is shrieking about.)
The OBR regularly points out the futility of predicting oil and gas receipts:
"It is important to note that oil and gas receipts are the most volatile revenue streams in the UK public finances and forecasting them over even short horizons is extremely difficult. The same factors that make North Sea receipts volatile on a year-to-year basis make it very hard to predict the pace of the long-term trend decline with any confidence."
It even produces graphs showing how wildly predictions have been wrong in the past: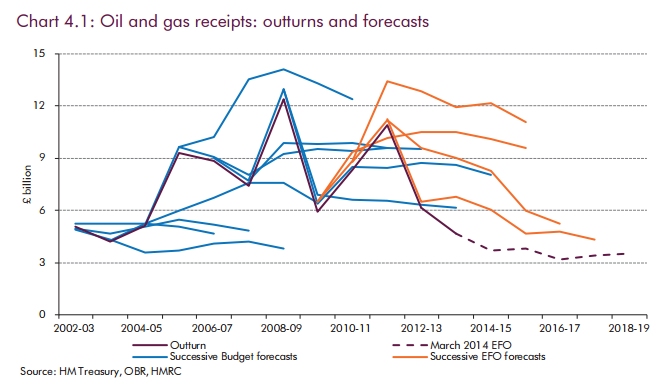 …and how absolutely nobody has any clue how even a single factor like the barrel price will develop over even the short term. The 2014 report shows that the US Energy Information Administration wasn't prepared to narrow its own forecast for 2018 down any more than "Um, somewhere between $75 and $162", and how a whole slew of organisations from the OBR and the EIA to the IMF, the OECD and the World Bank all totally failed to predict last year's crash:
But in the Scottish press, none of this matters. It's not just that the SNP alone is held to be bad at predicting the oil price, and it's not even that the OBR's wildly-wrong forecasts get falsely blamed on the Scottish Government – we're told that the Nats actually somehow KNOW what the price will be, but then deliberately LIE about it.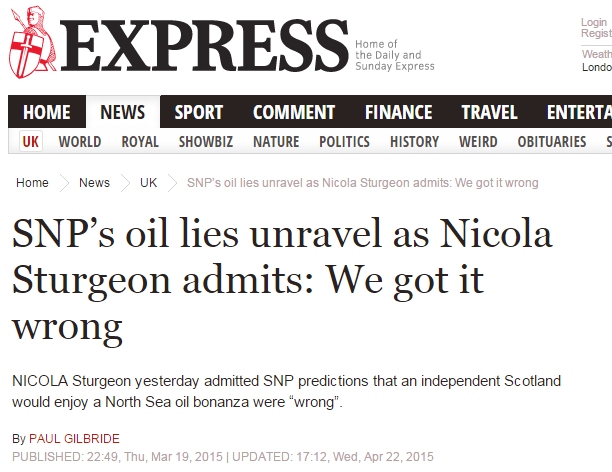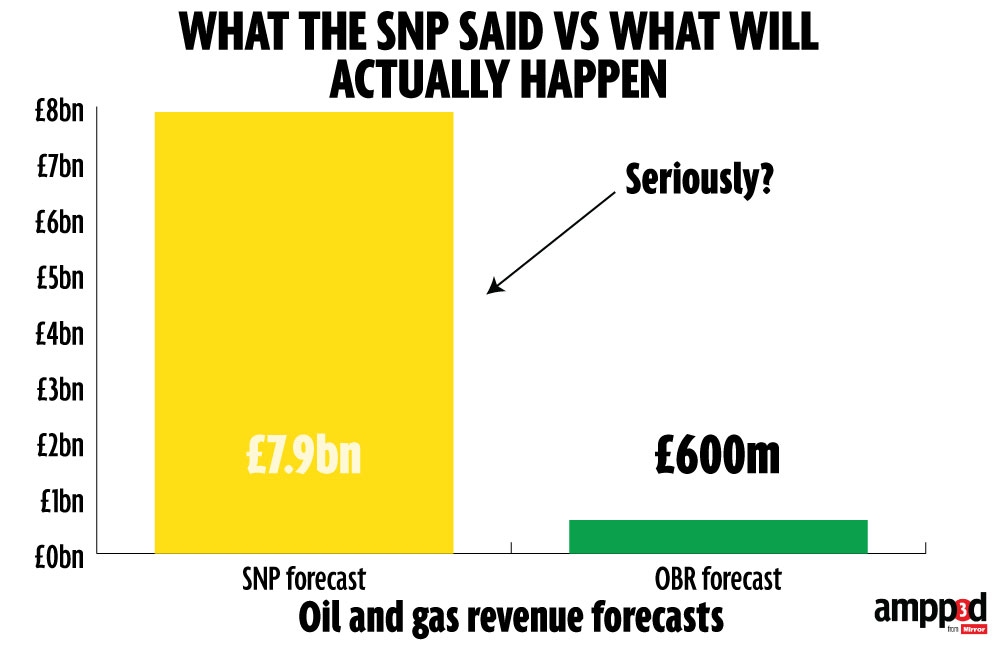 Like the endless succession of gullible saps who date Calum Best or Katie Price in the apparent belief that they'll be their one true love, the newspapers lap up every new OBR forecast as a gospel truth, despite an unbroken record of comically spectacular failure on every level. The 2015 OBR long-term oil-revenue forecast is now, staggeringly, just 1.6% of the sum it predicted four short years ago, yet we're told to believe that its blind stab at how things will be in 2040 is in any way meaningful.
(The other curious thing is that all of the OBR's Fiscal Sustainability Reports back to 2011 claim to already factor in things like the cost of North Sea decommissioning. So we're not sure why the organisation appears to have suddenly just realised this year that decommissioning is a reason to downgrade its previous projection by 94%.)
These mad fantasies are then extrapolated into wild assumptions about how income tax will have to go up to 3,000% and the entire NHS will have to be broken up and burned for fuel, all of it based on figures that are – by a vast distance – less reliable than Dave King's claims about how much money he's going to put into "Rangers".
It really is a mystery why people don't trust the media any more.