As if we hadn't had enough controversy this week, it's time to tackle the big issues.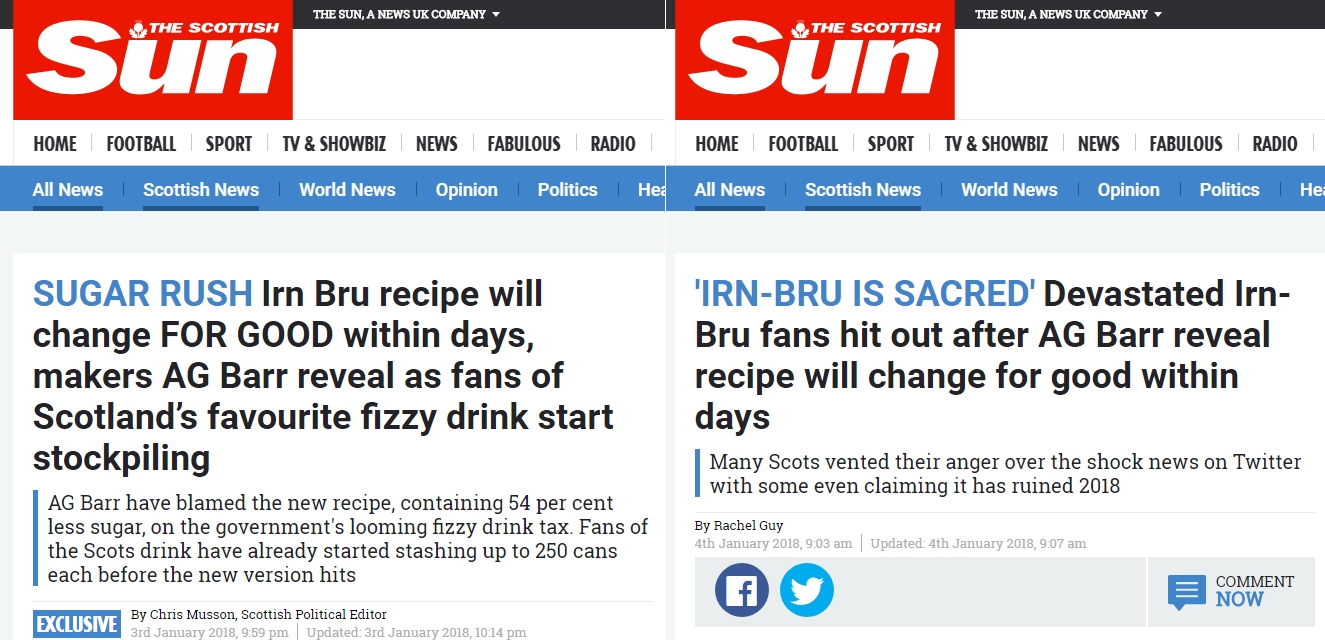 The Scottish Sun's been running stories for the last couple of days about the heresy that's shortly going to be committed against Scotland's most legendary iconic brand.
Penny-pinching Cumbernauld drinks giant AG Barr – which carefully avoided getting involved in the independence referendum so as not to upset anyone – is about to slash most of the sugar out of Irn-Bru despite there already being two low-sugar versions of it available, and the paper has called in a few consumers to decry the move.
But how does the wider public feel? Well, as it happens we've got poll data on that too.
"The UK government will introduce a 'sugar tax' next year in an attempt to tackle health issues like growing obesity and diabetes. In order to avoid the tax, drinks manufacturers have responded by reducing the amount of sugar in drinks like Irn-Bru and 7-Up and replacing it with cheaper artificial sweeteners which alter the flavour.

Which of these is closest to your view of the companies' decision?"
– It's the right thing to do. These health issues are serious and worth sacrificing some taste for: 43%
 – It's the wrong thing to do. Diet versions of drinks already exist for those who are concerned about sugar, and everyone else should be able to choose the sugary versions if they want: 57%
The full data tables, including Don't Know responses, are below.
By a wider margin than the "decisive" indyref, Scots wanted Irn-Bru left the hell alone. And the demographic breakdowns were fascinating.
MEN VS WOMEN
Women were, perhaps surprisingly, significantly more opposed to messing with the classic recipe than men. They wanted Irn-Bru kept as it was by a 16-point margin (52 to 36), twice as big a gap as the 8 points of the menfolk (47-39).
AGE GROUPS
Also unexpectedly, there was very little difference across the age ranges. Young people backed the beloved all-sugar recipe by 10 points, the middle-aged by 12 points and older voters by 10 points again.
BY INCOME
The wealthier ABC1 group was quite closely split, with just an 8-point margin for Real Bru, whereas the working classes rejected chemical sweetener poisoning by a resounding 18 points.
BY COUNTRY OF BIRTH
Native-born Scots wanted to keep the drink they grew up with by a clear 15-point margin, while for those born in England it was just 9 points. Those born outside the UK were one of very few groups in the poll to support Barr, by 16 points.
BY INDYREF VOTE
Yes voters recorded a thumping 19-point majority for Classic Bru, with No voters oddly more in favour of change, though still backing the status quo by 9 points.
BY EU REFERENDUM VOTE
A pretty spectacular difference here, though both sides ultimately went the same way – Remain voters only just edged in favour of the traditional all-sugar version by 3 points, while Leavers wanted to keep Original Bru by a crushing 25 points.
BY PARTY AFFILIATION
Proper old-school Bru was favoured by Tory voters (10 points), Labour voters (5 points) and SNP voters (20 points), with only lily-livered nanny-state Lib Dems supporting the move to fake sugar – which they did by an enormous 33 points.
BY FOOTBALL AFFILIATION
Celtic fans wanted their Bru to stay the way it is now by 5 points, "Rangers" fans by a comprehensive 18 points, and those uninterested in the sport by 16 points. Oddly, fans of clubs outside the Glasgow monsters backed artificial sweetening by 6 points, which we're putting down to Partick Thistle hipsters.
We don't expect this outpouring of public opposition will touch the hearts of Barr's cold-hearted bean-counters, but the people of Scotland have registered their protest.