There was a minor kerfuffle on the STV leaders debate tonight.
The revelation that Kezia Dugdale may once have changed her mind about a second referendum on independence won't have come as a particularly great shock to Wings readers, who just a week ago read a detailed account of the party's countless U-turns and contradictions on the issue.
And what was notable was that Dugdale didn't deny it. To anyone's face, at least.
Because as soon as she'd scurried out of the STV studio and couldn't be challenged by anyone who could look her in the eye, the Scottish Labour branch manager changed her tune rapidly.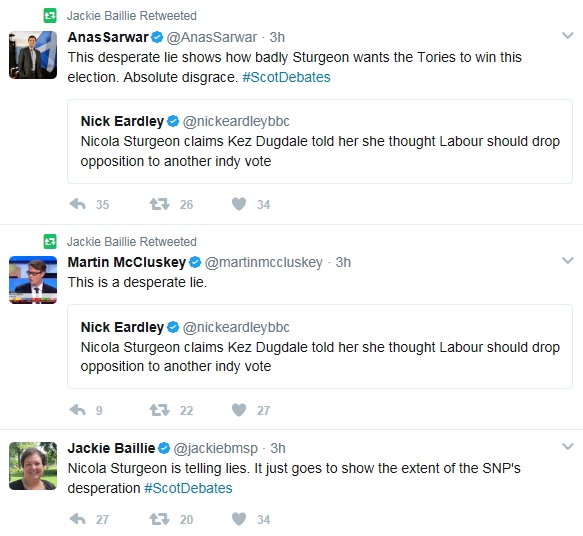 It was nice to see Labour all reading from the same script ("desperate", check, "lie", check) for a change – even if it wasn't clear what a party currently winning by a mile in the polls while Labour look set to come FOURTH would have to be desperate about. But a very obvious question leapt to the lips of the watching media.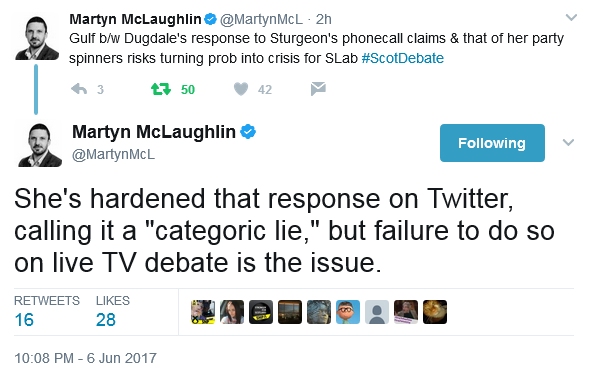 Dugdale had THREE opportunities to directly deny what Nicola Sturgeon said. She took none of them. Let's look at them in turn.
—————————————————————————————————–
OPPORTUNITY 1 – NICOLA STURGEON
Dugdale says "I always said I would support anything you would do to build a relationship with Europe as long as it didn't come at the expense of our relationship with the rest of the United Kingdom."
Is that a denial? No, it's not. "Our relationship with the rest of the United Kingdom" is a very flexible term which doesn't necessarily mean "remaining in the Union". What Dugdale said at the time was that she would consider, in her own words, ALL options: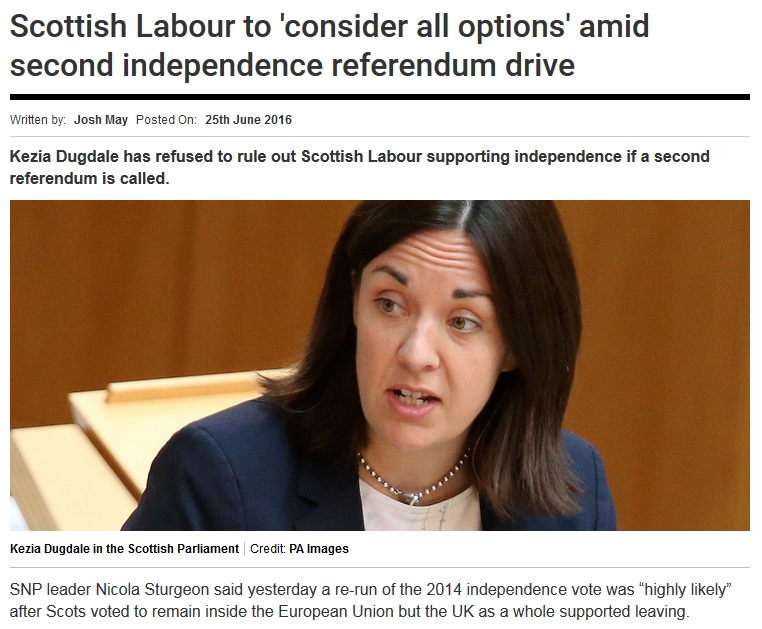 Pretty clear – Dugdale still wants to be in the EU and the UK, but accepts that has become no longer possible and all options to resolve the matter in the best way for Scotland must be considered. A second referendum is plainly one of the options.
And in case that still somehow wasn't crystal clear, the Daily Record – not a noted SNP mouthpiece – explicitly quoted Dugdale's only MP, Ian Murray, two days later saying that while Labour had previously opposed a second indyref, the Leave vote meant that "nothing is off the table":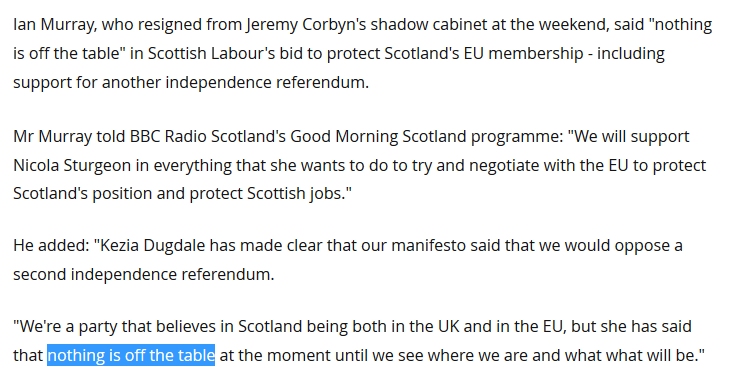 That would appear entirely in keeping with Nicola Sturgeon's statement.
—————————————————————————————————–
OPPORTUNITY 2 – RUTH DAVIDSON
When Davidson asks if she's heard correctly and if Dugdale had said she'd "drop Labour's opposition to independence", Dugdale mumbles "not true, not true". And indeed that's NOT true – opposition to a referendum and opposition to independence are not the same thing.
When Sturgeon clarifies that she was talking about a referendum, not independence itself, Dugdale doesn't say anything to contradict her account of events.
—————————————————————————————————–
OPPORTUNITY 3 – BERNARD PONSONBY
At the end of the show, Ponsonby offers Dugdale a THIRD chance to deny the claim. She admits the conversation took place, but says:
"The idea that I would do anything other than protect the United Kingdom and fight for us to remain within the UK is an absolute nonsense."
Is that a denial? No. Again, nobody had alleged that Dugdale would campaign FOR independence in a second referendum. The claim was that she'd said she wouldn't object to one taking place, and nothing she said to Ponsonby disputes that fact.
(Although of course, we also know that she DID later suggest that the thought of her voting Yes a second time round wasn't inconceivable.)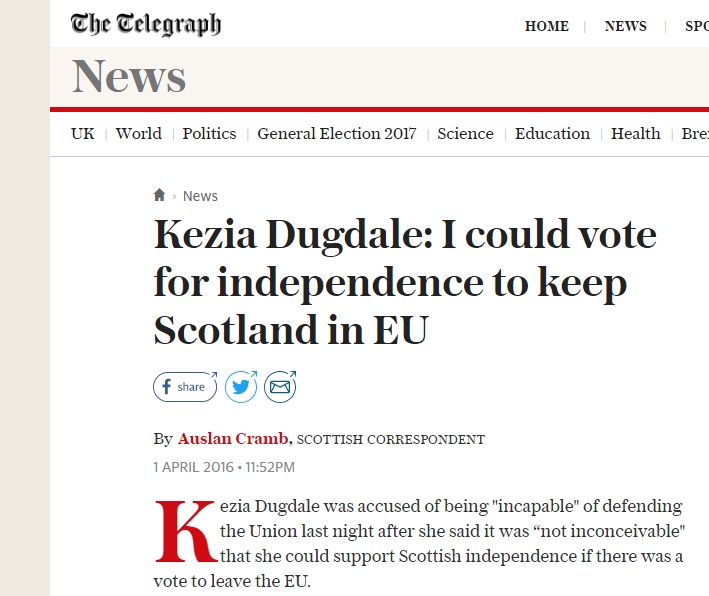 —————————————————————————————————–
So: at no point during the debate did Kezia Dugdale contradict Nicola Sturgeon's claim, although she had three separate opportunities to do so. Were it not true, it seems an astonishing thing to pass up those chances.
Had it been us and someone had told a lie about us during a hugely important live TV debate we'd have wrestled the mic physically out of Bernard Ponsonby's hands if need be to set the record straight.
But Dugdale didn't. She waited until the show was over and then tried to cover herself from behind the shield of social media where she wouldn't have to answer any tricky questions. We've drawn our conclusions from that, and we're sure viewers will too.