Yesterday we mentioned an SNP election leaflet that someone had posted on social media. It turns out that either deliberately or accidentally (probably the latter, while taking out the bit with their name and address on it) they'd cropped off part of it containing a logo that does passingly refer to independence. You can see it down at the bottom-right corner.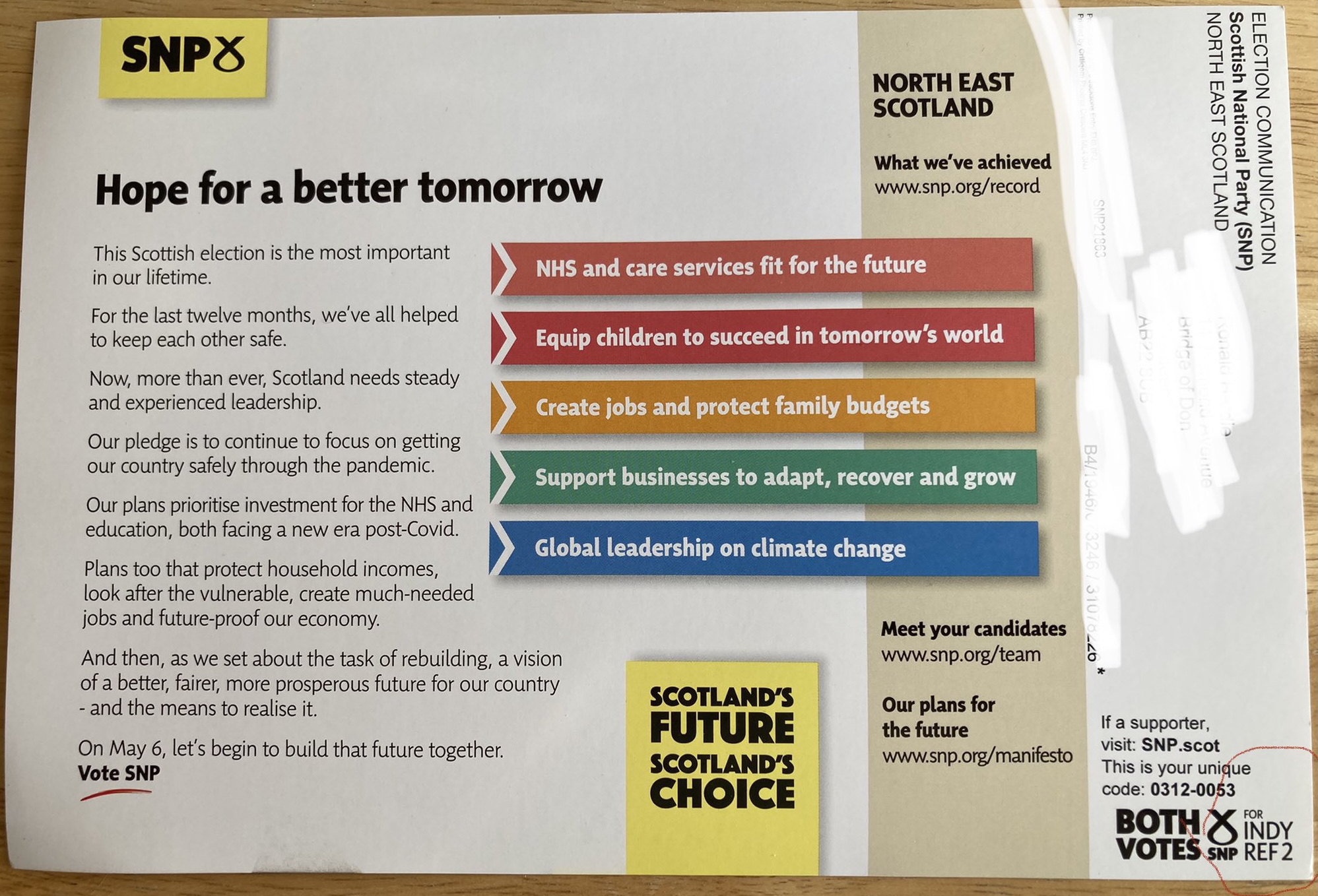 So we should note that by way of clarification. But what's more interesting about the rest of the leaflet is that if you took the logos off it, it could be from literally ANY of the parties contesting the election. It contains no policies whatsoever, just some general feelgood sloganeering. Which parties, do you suppose, are campaigning AGAINST "equipping children to succeed" or "supporting businesses" or "creating jobs"?
The deeper truth is that the leaflet demonstrates how completely pointless this election actually is, because nothing you do with your vote next month is going to affect anything that happens in the subsequent five years. Only one party is going to win, and once they do it won't matter what's in the 76-page "manifesto" they released today. The manifesto is a fake – in reality it amounts to a single line: "keep us in power so we can fill our pockets and do whatever we like for another half a decade, suckers".
Allow us to illustrate.
This week Wings jointly commissioned a Panelbase poll with another organisation. Let's take a look at a few of its findings.
Firstly we asked about the aftermath of the two inquiries into the shambolic botched stitch-up of Alex Salmond by the Scottish Government. The views of voters were stark.

Just one in six voters thought it was acceptable that nobody had resigned or been fired over the fiasco. Even among SNP voters only 28% found the outcome acceptable against 48% who didn't. But it doesn't matter, because Nicola Sturgeon has already given her unequivocal support to everyone involved. Nobody cares what you think.

Of the two thirds of voters who found it unacceptable, two thirds of those (or 44% of the total electorate) wanted Permanent Secretary Leslie Evans to get her marching orders. 36% of all voters, meanwhile, thought Nicola Sturgeon should stand down, and 26% wanted the head of the Lord Advocate to roll too – and if you're thinking these numbers are all minorities, remember they're set against just 17% who thought they should all keep their jobs.
(34% of SNP voters wanted Evans gone, and 12% Sturgeon.)
But none of it will happen, because nobody cares what you think.
On a separate question, just one in 10 Scottish voters thought the Lord Advocate should have survived his equally incompetent handling of a prosecution regarding the 2012 administration of the now-dead Rangers Football Club.

But James Wolffe, too, has the First Minister's confidence, so he isn't going anywhere. Nobody cares what you think.
The SNP manifesto makes it clear that it intends to continue with its massively unpopular policies around "hate crime" and transgender ideology. Once again, in our poll the Scottish public expressed its opposition to both policies in extremely strong terms, as it always does every time they're raised.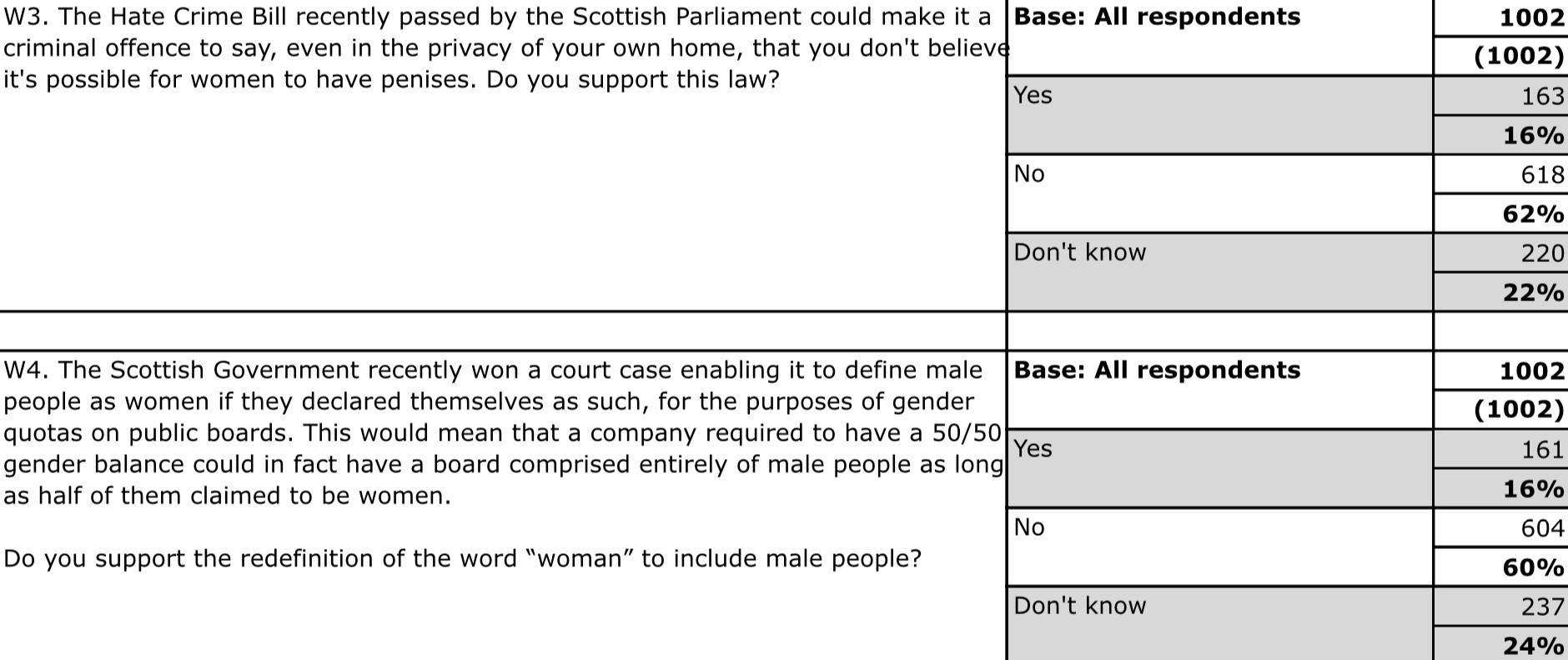 But it won't make any difference. The SNP will hijack people's votes for independence and use them to push ahead with policies almost nobody wants. (SNP voters opposed both propositions by more than two to one: 51-24 and 51-23 respectively.) Because nobody cares what you think.
In terms of the governance of Scotland for the next five years, this election is a sham. The party that's going to win entirely because it has a monopoly on Yes voters will claim its victory as a mandate for all its other policies, even though its own voters strongly oppose them.
Yet those policies WILL be carried out, and independence WON'T be – because the SNP will have no more power to do so than it has done for the last five years, when it failed to take a single step towards independence despite a clear manifesto mandate and despite the Parliament having a majority for it and voting for it twice.
The extract below is from the new 2021 manifesto. But every single word of it is something that could have been done at any point between 2016 and now, yet wasn't. Fool us once, shame on you. Fool us twice, shame on us.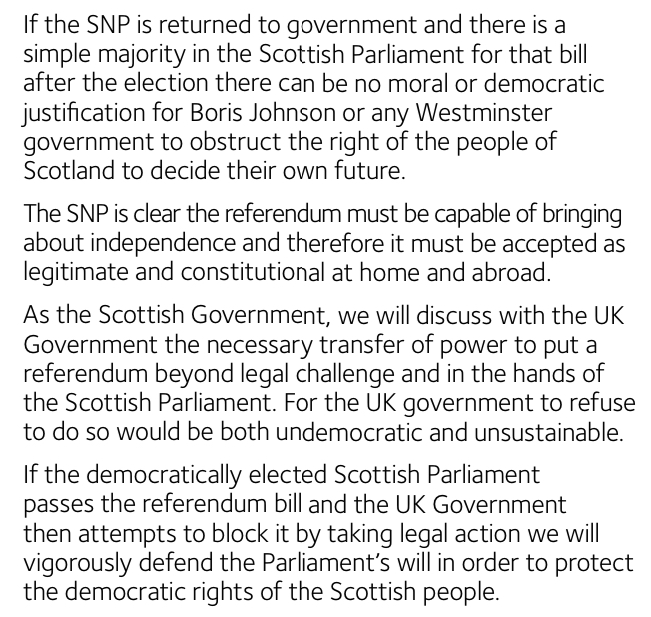 And there's nothing you can do about it. 57% of the seats in Holyrood are elected in the constituency vote, which Alba – the only party committed to actually moving on independence and the only one standing on a platform of protecting civil liberties, freedom of speech and women's rights – isn't contesting. The very best Alba can realistically hope for is to build a base for the NEXT election.
But between now and 2026, there's not a thing that Scottish voters can do to meaningfully influence the politics of the country they live in. If you're a Unionist, you're going to lose the election and have no say in anything. If you want independence, OR if you want women's rights and free speech, you have nobody to vote for who can have any material impact on those issues. For the next five years, they're all dead in the water.
(If you still think the SNP will deliver another referendum in that time, we can only assume you're having this article read to you by a nursing professional using glove puppets to act out the long words.)
And that's because nobody, and least of all the SNP, cares what you think.