It was nice to get a wee plug this morning on Radio Scotland's always-interesting "Headlines" programme. Their online round-up talked about our piece on Scandinavian taxation, and contrasted it with one written by Scottish Conservative MSP Murdo Fraser for the right-wing "ThinkScotland" blog, in which he disputed the widely-held, and oft-decried by Yes supporters, notion that the UK was one of the most unequal countries in the civilised world.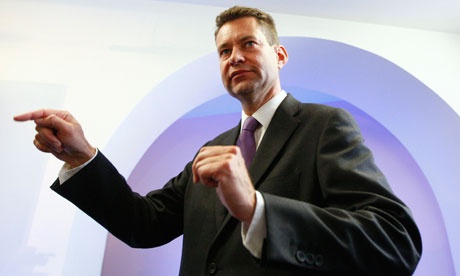 Now, anyone who'd also read Wings columnist Julie McDowall's superb, blood-boiling article on foodbanks in today's Sunday Herald might naturally be rather sceptical of Fraser's claim that the UK was an egalitarian paradise of wealth distribution, but he provided a link, so we had a look.
Fraser asserts that analysis by international banking group Credit Suisse proves that the UK is in fact significantly more equal, using the "Gini coefficient" measure, than Norway, Sweden or Denmark. And sure enough, a table in the report published by the multinational giant (annual revenues £16.5 billion) does indeed make that statement.
But what neither Fraser nor Credit Suisse makes any attempt to explain is why this calculation of Gini should differ so wildly from just about everyone else on Earth's version. Let's look at some inequality rankings for the countries in question, including the CIA's version of Gini, and the United Nations' rich/poor ratios, which compare the wealth of a country's richest 10% and 20% to that of its poorest 10% and 20%.
WORLD INEQUALITY RATINGS  (higher numbers = more inequality) 
(countries ranked least-equal to most-equal)
Credit Suisse Gini
Denmark 107.7
Sweden 80.3
Norway 77.8
UK 67.7
CIA World Factbook Gini
UK 40.0
Norway 25.0
Denmark 24.8
Sweden 23.0
UNITED NATIONS RP10
UK 13.8
Denmark 8.1
Sweden 6.2
Norway 6.1
UNITED NATIONS RP20
UK 7.2
Denmark 4.3
Sweden 4.0
Norway 3.9
So, that's curious. With the exception of Credit Suisse, pretty much every organisation in the world that calculates such things reckons that wealth distribution in the UK is far less equal than in any of the Scandinavian countries.
(It also comes up with a "Gini" figure for Denmark that makes no sense under any recognised definition of the term, where the maximum possible score is 1.0 or 100%.)
Murdo Fraser was happy just to leap on any claim that supported his political ideology and leave it at that, but here at Wings we're a little more intellectually rigorous, so we kept digging, and alighted on something that might provide at least part of the answer.
When you hear people talking about "OECD countries", they're referring to the Organisation for Economic Co-operation and Development, a group of 34 developed nations which includes most EU members alongside major international economies like the USA, Japan and Australia, as well as non-EU nations like Norway.
The OECD's website includes a library where you can look up various stats, and if you browse through that you can locate some interesting data. "Tax and transfers" is a term used basically to describe a country's attempts at wealth redistribution, by taxing the rich and spending the money on public services, benefits etc. And the before-and-after comparison is somewhat revealing.
Gini inequality coefficients BEFORE tax and transfers
UK 0.456
Sweden 0.426
Denmark 0.416
Norway 0.410
Gini inequality coefficients AFTER tax and transfers
UK 0.345
Sweden 0.259
Norway 0.250
Denmark 0.248
The "raw" figures show that the four nations are actually very close together in terms of earnings inequality. We're not economists, but we'd imagine it wouldn't be terribly hard to jiggle the data producing those numbers around, even completely innocently, in such a way as to change the order of the four countries.
Where they really diverge is in the respective attempts to address the imbalance. The simple fact is that Sweden, Norway and Denmark all try much harder than the UK to redistribute wealth among their people. On the first set of figures, the UK is just 11% more unequal than Norway. But by the time the governments of the various nations have finished, that gap has rocketed to just shy of 40%.
As we noted yesterday, then, the UK's problem isn't a shortage of wealth. There IS enough money to go around. What the UK lacks is the will to tackle inequality. The Scandinavian nations show that from very similar starting points, governments can make a big difference if they choose to.
The Nordic model aspired to by many Scots does exactly that. The free-market neoliberalism of all three UK parties instead espouses greed for the rich and austerity for the poor. We thank Murdo Fraser for helping us to illustrate that point, and within it the real choice between Yes and No.