Right, let's wrap this up and hope some actual politics happens soon. By now readers will presumably be aware of our successful fight against the BBC's shutting down of our YouTube channel last week. The channel is now fully back in service, including all 13 of the clips the BBC complained about.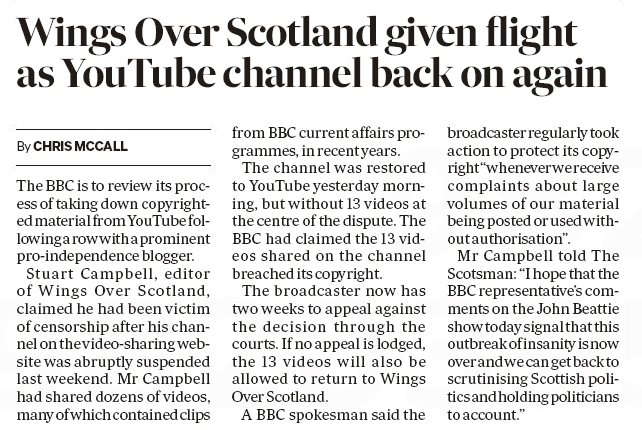 But the job's by no means all done. Technically the restoration is only temporary while the BBC conducts a "review" of its attitude towards copyright of news clips, and Peter "Moridura" Curran's large YouTube archive remains terminated (although we're not sure to what extent he's pursuing its return).
And quite a few questions are still hanging unanswered in the air.
Several of them concern Edinburgh Labour councillor and social media troll Cllr Dr Professor Scott Arthur. The BBC yesterday fairly unambiguously identified him on-air as the complainant who led them to file the original takedown notice against Wings.
Ian Small, the head of public policy for BBC Scotland, told host John Beattie (3m 16s into the clip below) that the BBC had acted in response to "a Labour councillor" – identified by Beattie a few moments later as Arthur – citing Wings as a large user of BBC clips after Arthur himself had supposedly received a notification of complaint about his large YouTube library of BBC video (almost invariably titled "SNP car crash").
(John Beattie, BBC Radio Scotland, 2 August 2018)

Small noted that "What we can't do – it would be absolutely impossible for us to do – is to patrol the web every single day, and every single website. So we have to wait until we're alerted to material being there which potentially infringes copyright".
So he emphatically and repeatedly insisted that the takedown was initiated in response to this Labour councillor complaining about Wings. We've heard nothing of any other Labour councillor receiving a notice, and don't know of any who host lots of BBC clips on YouTube, and Arthur has already admitted being contacted by the BBC, so there doesn't seem to be a lot of doubt about his identity.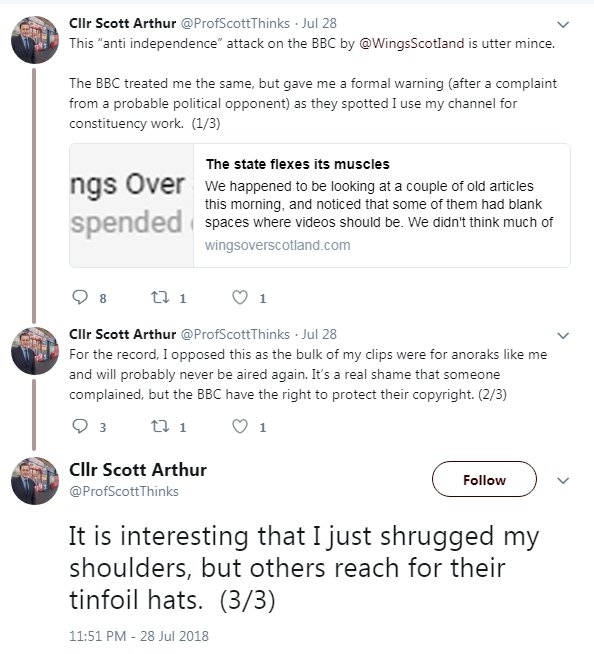 Yet Arthur is now hotly denying the claim.
We're just going to take a few moments here to pause and enjoy the irony of that last paragraph seen in the context of Cllr Dr Professor Arthur's own murky Twitter history, which involves multiple anonymous abusive Twitter accounts including one called "BrigadoonGent" (which is now locked down away from public view) and one called "EdinSaysNaw", which had all of its old abusive tweets wiped and was rebranded as Arthur's current official account when he became a councillor.
(Because while wanting to look like a respectable politician, he also didn't want to lose all the followers he'd built up as an abusive Unionist troll, which he would do if he'd started a new account from scratch.)

But Arthur's comments invite the question of why he was seemingly contacted directly by the BBC and given the chance to mark the offending videos as "Private", rather than having to go through the YouTube takedown process like we and Peter Curran did, which would have automatically resulted in his account being closed down?
(Ian Small claimed on the Beattie show that the Corporation had contacted Wings with its copyright complaints, but this is absolutely not the case. Neither we nor Peter Curran heard anything from the BBC before our channels vanished, and as far as we know Curran still hasn't.)
Arthur refuses to reveal any of the supposed communications between himself and the BBC, so it's impossible to verify the truth or otherwise of his claims, which appear to be at odds with both the observable empirical evidence and Occam's Razor.
Because what appears to have happened, and still hasn't been refuted or explained by either Scott Arthur or the BBC, is that the BBC gave a Scottish Labour politician preferential treatment over copyright, and allowed him – instead of losing his own channel – to have the supposedly impartial state-funded broadcaster target two pro-independence sites instead.
—————————————————————————————————–
[EDIT 12.50pm: This appears to have been confirmed by Arthur on today's edition of the Beattie show, who said that the BBC had approached him directly specifically because they knew his YouTube channel would be closed down if they filed a complaint about multiple clips, and that they engaged in five days of "constructive discussion" with him on the subject.
More implausibly, he then claimed that he'd only mentioned Wings and Peter Curran as examples of GOOD copyright practice, yet inexplicably the BBC then decided to file multiple complaints that they explicitly knew would have both of them taken down, without contacting us or engaging in prior discussion.
(So even if we accept Arthur's frankly unconvincing account of what he said at face value, that still means that his intervention was the direct trigger for the BBC to take action. It also blows apart Ian Small's claim yesterday that what happened to us and Peter Curran was an unavoidable mandatory process, because we now know that someone at the BBC does have discretion over the procedure.)
Arthur was given a remarkable 14 minutes on air, during which he made several derogatory and unchallenged jibes about Wings. At the end the show read out a statement from the BBC saying that they would indeed make exceptions and contact some infringers directly if they were involved in "public service", which presumably makes us and Peter Curran chopped liver.]
(John Beattie, BBC Radio Scotland, 3 August 2018)


.
—————————————————————————————————–
It's still also not at all clear what process the BBC went through in order to file the takedowns, and who knew or didn't know about them. The belated letter we received from the Corporation (as referred to on the radio by Small yeterday) was signed only "BBC Intellectual Property", which is either a quite astounding example of nominative determinism or a little on the evasive side:
And it came from an unidentified, unmonitored address, as we found when we tried to send a short note of reply responding to a couple of issues raised in the letter: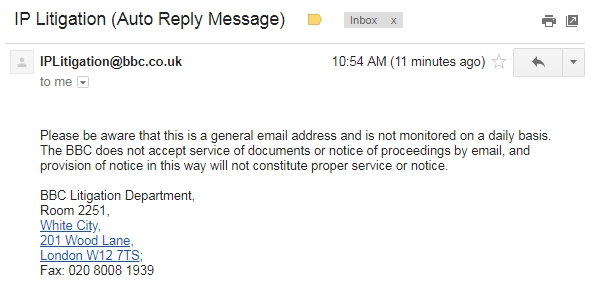 There's still no named person we can email or phone to discuss the subject, because we're not a Scottish Labour councillor.
Ian Small is still the only person at the BBC to have stuck his head above the parapet and take any responsibility for the incident, and reading between the lines of his comments we strongly suspect that he had nothing to do with it and was simply running to catch up live on air. Those who actually made all the key decisions remain anonymous and unaccountable, in the BBC's trademark style.
Several BBC Scotland presenters and producers deserve credit for attempting to grasp the thistle and get to the bottom of the matter. We don't think they've suddenly become pro-independence or fans of Wings, but they've been professionally embarrassed at the events that have unfolded over their heads and want some answers.
We do too.