Several papers today report that "Better Together" are filing a complaint with the BBC about the audience at Monday's debate between Alex Salmond and Alistair Darling, alleging bias in both audience composition and question selection – claiming that 10 questions favoured the Yes side to only three favouring No.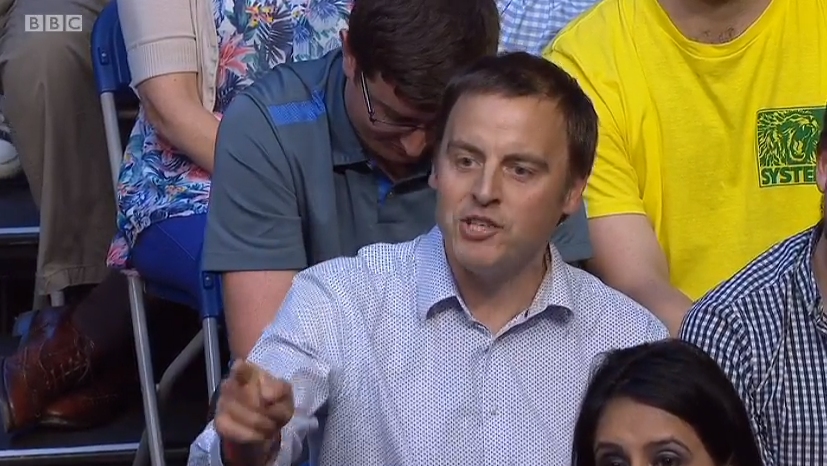 We're not really sure how a question can favour either side, but the sour-grapes move does raise an interesting issue, which we're going to illustrate with an example from the debate the BBC ran the following evening in Edinburgh.
The man in the picture above is Dr Scott Arthur, a lecturer in Civil Engineering at the city's Heriot-Watt University. He was a prominent feature of the debate, heckling the Scottish Government finance minister John Swinney (as well as Yes audience members, eg at 27m 10s) loudly throughout the programme, and being given several minutes of airtime to make a variety of accusations against him. He takes up the bulk of a five-minute section from 11m to 16m on the iPlayer recording, for example.
His comments, however, weren't part of a scheduled "question" (presenter James Cook doesn't appear to know his name, unlike that of those asking a scripted one), and so wouldn't have been counted in any tally of how many questions came from each side. Levelling complaints of bias purely on the number of questions, therefore – rather than the amount of airtime given to each side's views – is a useless measurement.
But there's something else. Scott Arthur has a Twitter account under the name "Edinburgh Says Naw". There's nothing unusual about that, and it makes his political allegiance very clear. But an alert reader spotted that the "Edinburgh Says Naw" account uncannily mirrors that of another user – one who will be more familiar to social-media referendum followers and who goes by the name of "BrigadoonGent".
Above are two unedited sequences of tweets taken from the two accounts this morning. By a quite remarkable coincidence, both accounts have tweeted the exact same stories in the same order at the same time.
What's more, they've both been appended in the exact same way, in every case. For example, if you click the bottom story, it takes you to a BBC page. But if you click the Twitter "share" button on that page, you get a prefilled tweet box that doesn't include the #indyref hashtag. Both accounts have had to add that hashtag manually before tweeting the link. Similarly, the one above it has had THREE hashtags manually added, and an @ credit to the source (the Guardian) manually removed.
Dr Arthur also raised issues on the debate programme which Twitter observers will recognise as obsessions of the "BrigadoonGent" account, including the oddly-specific claim (at 11m 15s on iPlayer) of a "£12.1 billion" deficit.
So it seems a pretty safe bet to suggest that Dr Arthur is both "Edinburgh Says Naw" and "BrigadoonGent" – particularly as the blog that you're directed to from the "BrigadoonGent" account identifies its author as a "University Lecturer" from Edinburgh.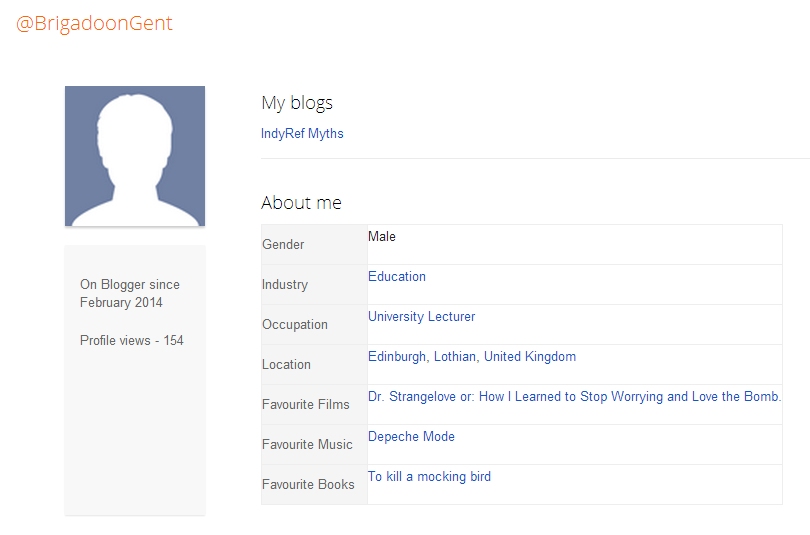 But then, so what? There's no law against having two Twitter accounts. The problem, though, is that "BrigadoonGent" poses as something of a Don't Know. The Twitter account's name is "Yes No Maybe", its avatar is a dice showing those three words, and the bio is an exhortation to "ask questions, then decide". The blog professes to provide facts, which are heavily one-sided, but makes no actual declaration of support.
We can't be sure which of Dr Arthur's split personalities applied to the BBC to be on the debate – the out-and-out No campaigner or the pseudo-undecided. But if it was the latter, that's a clear distortion and subversion of the programme's attempts to provide a balanced audience. Dr Arthur's frequent shouted interruptions made the most of the opportunity he was afforded by taking a seat under possibly false pretences.
Of course, we don't know that any of that is the case. He may well have disclosed his No allegiance openly on the application. And we wouldn't be surprised if supporters of both sides undertook such shenanigans, in this debate and/or in others. But it does demonstrate just how fatuous it is to file sulky complaints of audience "bias" just because your man got a hounding on the stage.