We weren't going to dignify the utterly absurd media stushie over a tweet by Glasgow MSP John Mason yesterday with any coverage because it was too cretinous to even bear thinking about, but this from today's Daily Record was just too good.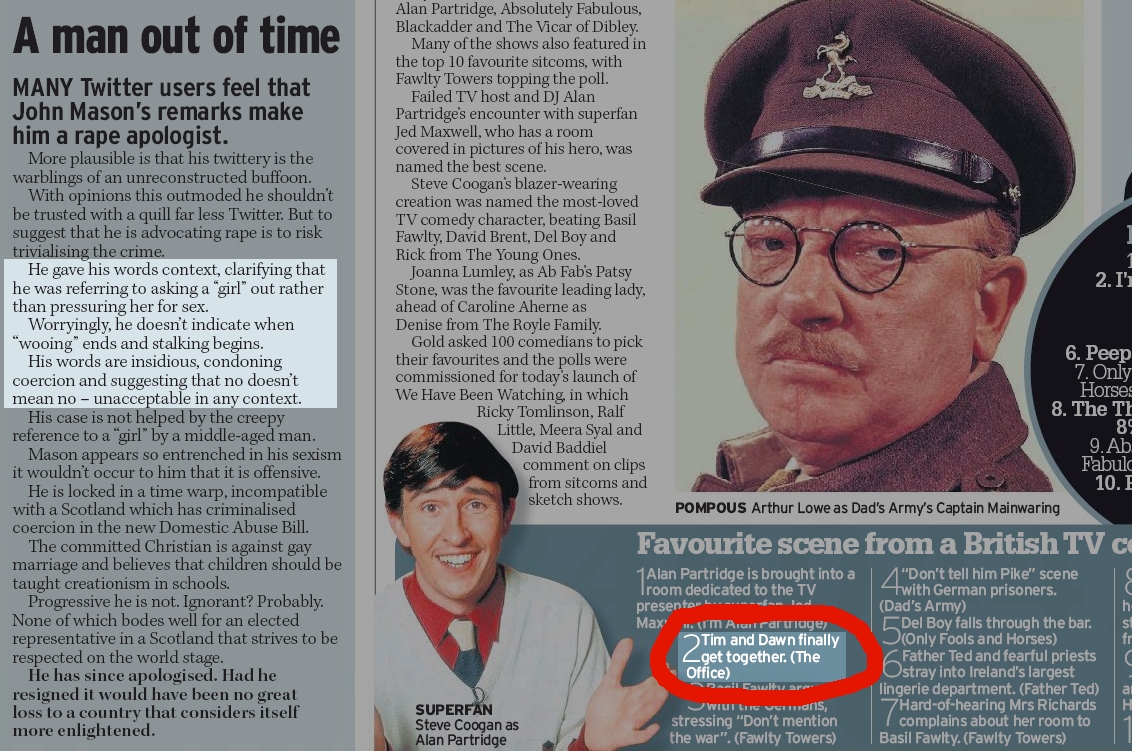 In addition to putting the "story" on the front cover and giving it the whole of page 7 inside, the Record also indulged in an indignant "no means no" editorial leader on page 8. The only problem was that page 8 was also where the paper had chosen to feature a polled list of all-time favourite scenes from British TV comedies.

The second most-beloved comic scene of the nation's TV viewers, as celebrated by the Record, was one from wildly popular Ricky Gervais vehicle The Office in which two characters who'd had a will-they-won't-they relationship over a number of years, including several rejected advances from the male protagonist, "finally get together".
Alert readers will of course already have recognised "boy is repeatedly rejected by girl but through persistence eventually succeeds in wooing her" as the plotline to roughly a billion TV series, plays, operas and movies, including pretty much the entire recorded works of both John Hughes and Richard Curtis, whose (awful) 2003 box-office smash Love, Actually was just last month voted Britain's favourite ever Christmas movie.
But while that's enough to illustrate the stupendous idiocy of the general coverage of the MSP's tweet, we had to take a moment to salute the Record for going above and beyond the call of duty, by actually highlighting its clanging idiocy on the very same page as it chose to excoriate the hapless Mason for an innocent metaphor.
It's going to be a heck of a year, readers.