Well, that was odd. No sooner had we posted a rather lightweight little piece this morning, revealing that the fake-grassroots "Vote No Borders" campaign had been in development since June 2012, than the story got a whole lot more interesting.
At first it seemed that the profile of a former internee and research assistant at Acanchi, the London PR firm behind the VNB campaign, had been deleted. We'd consciously avoided identifying the employee so as not to give the press an excuse for another "vile cybernat bullies" orgy, but the page now returned a "does not exist" error: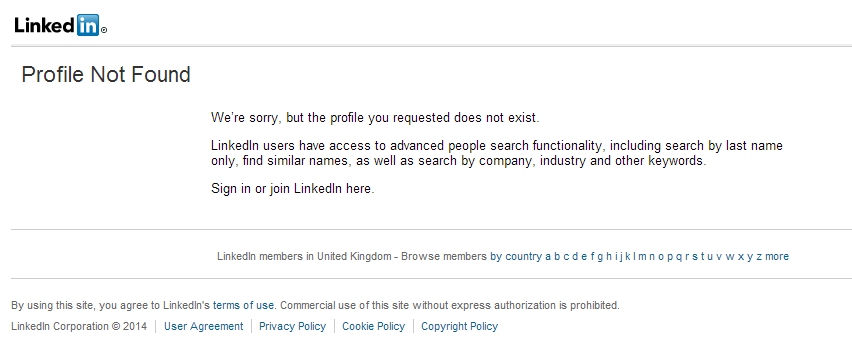 However, our shadowy agents swiftly managed to establish that in fact it wasn't gone but simply hiding. The person had changed the name on the profile and removed their picture, but if you knew the full name on the old profile you could still find it.
But that wasn't the strange part.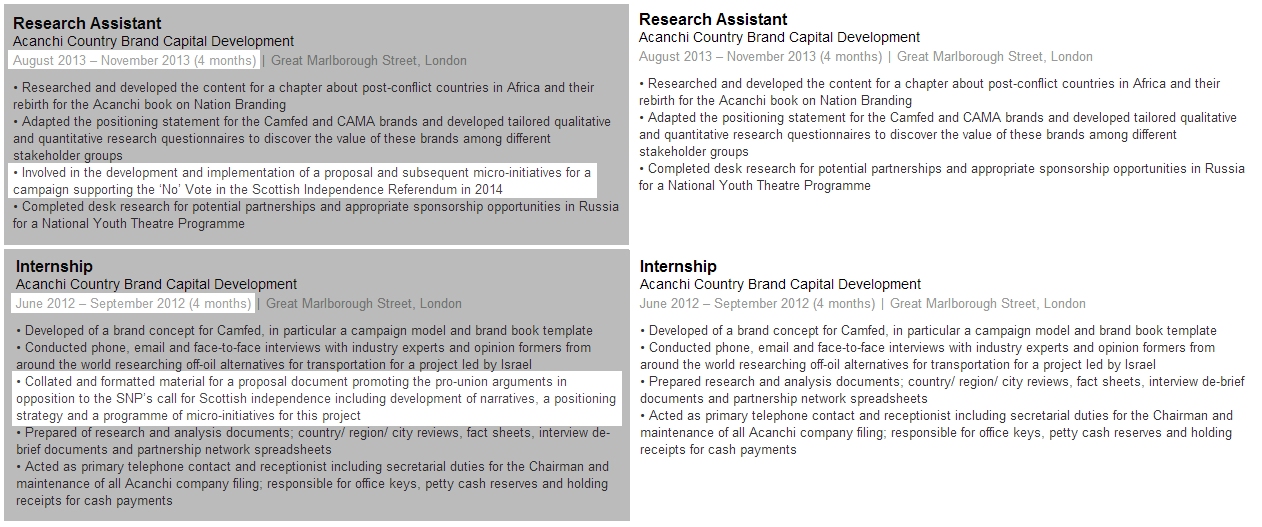 Because the new entry was otherwise identical to the old one, right down to the bit about being a Grade 5 tuba player, except in one respect – all mention of working on the campaign that would become "Vote No Borders" has been removed.
Now that's just weird. Making your profile harder to find is entirely understandable, if you fear that you might attract some unpleasant internet attention (even though your identity's been protected). But having done that, to ALSO airbrush a perfectly legitimate and legal piece of your career out of history looks a little more suspicious.
The attempted rewriting of reality has been something of a theme of the No side in the referendum campaign. It's a difficult thing to pull off in the internet age, but for some reason people keep trying, usually with the exact opposite outcome.
(In a previous life I documented a striking example of the so-called "Streisand Effect", coincidentally also involving LinkedIn, at around the same time our internee left their first period of work with Acanchi.)
While we've happily highlighted the media hypocrisy around "Vote No Borders", we also completely acknowledge its right to campaign. We've attempted to engage respectfully with its voters' arguments. Its organisers might be millionaire Tory donors, but there's no law against that. We disagree with its position on independence, but being on the other side isn't something to be ashamed of.
So we're not sure why anyone would be trying to cover up its history, unless there was something in there that someone wanted to hide. Rest assured that we'll be looking.