The fact that the millionaire-backed fake-grassroots "Vote No Borders" group arrived on the referendum scene with so little warning got a bit stranger yesterday with the news that the "unpolished voters" campaign has been gestating for almost two years.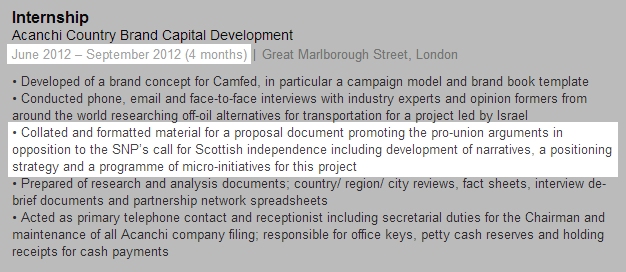 Alert readers will recall that Acanchi is the London PR company run by Malcolm Offord and Fiona Gilmore, the directors of VNB. And it seems they've been busy.
The image above (and the one below) is taken from the LinkedIn profile of someone we're not going to name – the profile has now been deleted – because as an intern and then a junior researcher it's not actually possible to be sure they support a No vote. They may have just been doing what they were told as part of their job.
(We know OUR readers wouldn't abuse them either way, but we don't want to make it easy for either the more wild-eyed fringes of nationalism or any Unionist false-flaggers.)

The pictures show that over two separate periods of employment, separated by almost a year and dating right back to the formation of the official No campaign group, "Better Together", in June 2012, Acanchi was working on an anti-independence strategy.
From the wording, it's possible to speculate that they may have originally intended just to help the official campaign, but grew disillusioned with its conduct and decided in 2013 to strike out on their own, planning for months before launching in a blaze of friendly media publicity a couple of weeks ago.
Readers could be forgiven for thinking that in all that time they could at least have learned how to spell "Pollok", found more than one voter outside Glasgow, or come up with some better lines than Mel Gibson chasing a haggis.