The other day we highlighted a really good piece in the Scottish Sun, which while not perfect was a pretty decent stab at the sort of evidence-based journalism Scotland's media should have been doing throughout the referendum campaign.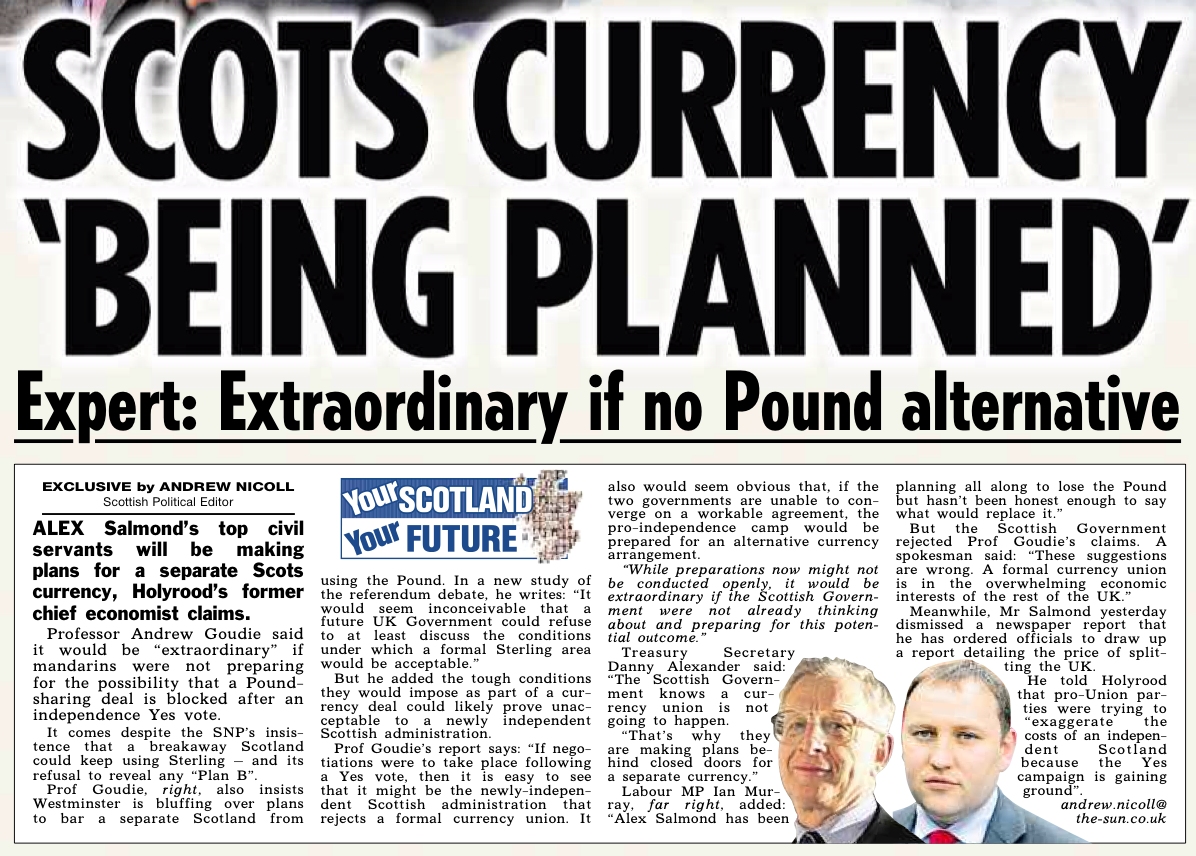 Today, not so much.
Since taking out a subscription to Scotland's biggest-selling tabloid (because it came with a free Android tablet worth well over twice the cost of the sub) we've been surprised at how little political coverage it actually has – half a page a day seems to be pretty good going. We assume that's because the Sun feels its readers are only interested in a few aspects of the debate, which makes it doubly important that when there IS coverage, it isn't as appallingly wrong as today's story.
"Alex Salmond's top civil servants will be making plans for a separate Scots currency, Holyrood's former chief economist claims.

Professor Andrew Goudie said it would be 'extraordinary' if mandarins were not preparing for the possibility that a Pound-sharing deal is blocked after an independence Yes vote.

It comes despite the SNP's insistence that a breakaway Scotland could keep using Sterling — and its refusal to reveal any 'Plan B'."
Hang on. Those things don't follow from each other. If Scotland is refused a "Pound-sharing deal", ie a currency union, by the UK government after a Yes vote, that doesn't mean it needs a "separate Scots currency", and Professor Gouldie didn't say it did.
Sterling is a fully-tradeable currency that any country on Earth can use without permission if it chooses to, and many prominent economists and organisations have said that using it "unofficially" would be not just a viable option for Scotland but a preferable one, for a number of entirely sensible and logical reasons.
That option is implicit in the SNP's position on currency. It IS "Plan B". The party has been unambiguous and unequivocal in its insistence that Scotland will use the pound as its currency after independence, and there's no force on the planet that can prevent it from doing so.
In a debate which is of necessity short on concrete facts – because so much depends on unknowable factors like future oil prices and the outcome of various sets of negotiations – Scotland's ability to keep Sterling no matter what is one of the few about which there is absolutely no dispute, and it's wildly irresponsible to misinform the Scottish public by pretending otherwise.
The Sun then quotes the good Professor extensively (before padding the rest of the feature out with the usual boilerplate quote waffle from both sides):
All of that is indeed perfectly plausible. But "an alternative currency ARRANGEMENT" is not the same thing as "an alternative CURRENCY". Using Sterling outside of a formal union is an arrangement. Not for the first time in the debate, the eye-catching headline and strapline of an article have turned out to bear no relation to the actual words below. But by then, as we know, much of the damage is already done.
The lie that an independent Scotland couldn't use the pound is the most brazen and indisputable falsehood of the entire referendum debate. Even though there's no chance in any sane reality of Scotland being kicked out of the EU or NATO even temporarily, it's nevertheless not possible to state as an absolute 100% certainty that neither thing would happen.
But currency is different. It's an unarguable fact that Scotland could keep using Sterling with or without an official currency union. Everybody knows it. If you put it directly to any No-camp politician (as almost no journalist ever does), they'll harrumph and grump and say why it's a bad idea and try to change the subject, but eventually they'll admit that yes, it's true – Scotland COULD keep the pound.
And then they'll put out another leaflet maintaining the lie that it couldn't.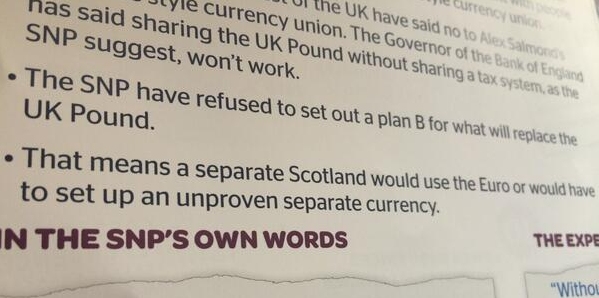 Above is part of a new booklet just put out by Better Together Glasgow. Almost every word in it is untrue, for the reasons we've just detailed. But while people are naturally sceptical of propaganda documents from either side, when they're backed up by newspapers the lie gains weight and credibility.
We don't think the Scottish Sun did that out of malice – the paper's been as close to neutral in the debate as anyone, and we honestly couldn't judge at this stage which way, if any, it will jump – but what it HAS done is seriously distort and misrepresent the words of an academic expert for the sake of a punchy headline, and in doing so has misled hundreds of thousands of working-class Scottish voters about a subject that could be a significant factor in people's decision in September.
And when that's just about the BEST political journalism Scots can hope to find on their newsagents' shelves, that's a pretty serious problem for everyone.