The Scottish and UK press has been more and more careless about disguising its bias as the referendum nears. Almost every paper, for example, reported without question the recent "Better Together" press release about being "inundated" with small donations after the first TV debate between Alex Salmond and Alistair Darling.
Normally headlines would put the statement – which was completely unsubstantiated by the slightest scrap of evidence – inside quote marks or accompanied by qualifiers like "No camp claims", but instead it was almost universally presented as fact.
"Better Together inundated with cash after debate" (The Guardian)

"Flood of donations sees Better Together hit campaign limit" (Daily Express)

"The official pro-UK campaign has publicly called for Scots to stop giving it money after a flurry of donations following Alex Salmond's TV debate defeat." (The Telegraph, slipping a sneaky wee bit of editorialising in too)
Calling for people to stop sending money was nothing more than a moderately clever PR stunt – the official No campaign already has more cash from millionaire Tory donors than it's actually allowed to spend by September 18th, so there's little point in continuing to accumulate it – but the papers obediently played along anyway.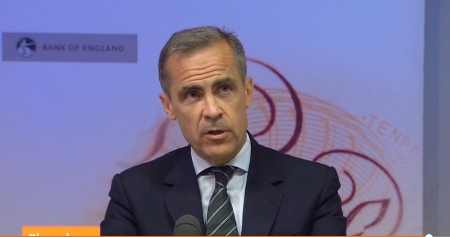 The donations story, though, was essentially a piece of trivia. A much more serious matter was the Bank of England's inflation report yesterday, and the embellishment and exaggeration applied to it by certain outlets revealed a great deal about publications which still officially claim to be neutral.
The entire report can be read on the BoE website. We'll save you a bit of time, though, because we've already done the search – you won't find the word "emergency" in it anywhere. Indeed, it makes no reference to the independence referendum at all.
The transcript of the press conference with the bank's governor Mark Carney can also be found on the website. The word "emergency" doesn't appear in that either. Having been fed a lurid, leading question about sterlingisation and "deposit flights" by the BBC's Kamal Ahmed, the governor's reply was very brief and characteristically careful and undramatic.
"Uncertainty about the currency arrangements could raise financial stability issues. We will, as you would expect us to have contingency plans for various possibilities.

It's never a good idea to talk about contingency plans in public other than to assure people that we have contingency plans. And I'd just underscore that in terms of our responsibilities for financial stability, we do have a wide range of tools and plans."
It's interesting to note that response – "It's never a good idea to talk about contingency plans in public" – in the light of the No campaign and media's constant screaming that the First Minister must discuss his "Plan B" for currency.
A press that was as biased in favour of independence as the actual one is against it might have chosen to spin that as a coded criticism of the Unionist side. But we're not going to do that. Instead we're going to look at how the comments were reported.
You get the idea – DOOM! PANIC! APOCALYPSE! Yet Carney's actual words couldn't have been calmer. He repeated that the BoE would implement whatever it was told to by politicians. The closest he came to expressing an opinion was to note that "uncertainty" over currency might cause "financial stability issues", after which he said something quite interesting:
"We are not the only authority that has responsibility for financial stability, and some of the things that we – some of the powers that we have are held jointly with Her Majesty's Treasury, so we're not the sole decision maker in these areas."
Again, a differently-aligned media might put an entirely different spin on those remarks. They could quite plausibly be interpreted as "in the event of a Yes vote, the Treasury is jointly responsible for financial stability and better stop playing games with the UK's economy by rejecting the idea of a currency union, because that would cause uncertainty and chaos on both sides of the border".
But of course, they'd be putting words in the governor's mouth, just as surely as the actual media has done today. Mark Carney didn't talk about an "emergency". He certainly didn't say that a Yes vote would be the cause of one.
What he actually said was that if the referendum went a particular way, the only people who COULD be responsible for instability were the Bank and the UK Treasury. He noted – one might say "pointedly", were the governor's deadpan poker face not so expertly disciplined – that of those two entities the Bank was prepared for any eventuality, but that it was dependent on the Treasury acting sensibly and responsibly.
But "Bank Of England Chief Warns UK Government Not To Do Anything Stupid And Irresponsible If Scotland Votes For Independence" isn't the headline the Scottish media wants to write, so instead we get "Voting Yes Will Cause An Emergency".
Scotland stubbornly still refuses to be quite scared enough for the No camp's liking, so the bombardment of fear never lets up. But it's running out of time.