As our Twitter followers will know, we've experimentally decided to reserve Saturdays for light-hearted comic banter, as a bit of relief from the serious business of politics.
Of course, this week politics has been so absurd – from "Better Together" deciding it was Better Apart to Gordon Brown promising Scots that if they vote No he'd increase their taxes and send the money to England, and the still-ongoing Faragemageddon – that it hardly seems necessary, but we'll stick with the plan.
With that in mind, then, it's time for… British Loony Of The Week!
There have been some truly ridiculous stories in the media trying to somehow smear the SNP, Alex Salmond and the Yes movement in general over Nigel Farage's farcical trip to Edinburgh this week, but two pieces from the right-wing UK press this morning had us rubbing our eyes and then standing up to salute a serious raising of the insanity stakes.
They're so extraordinary we simply have to reprint both of them in full (one isn't available online), so that you can vote in our poll to decide who's the most completely and utterly batshit mental. Think of it as a warm-up for the Eurovision Song Contest.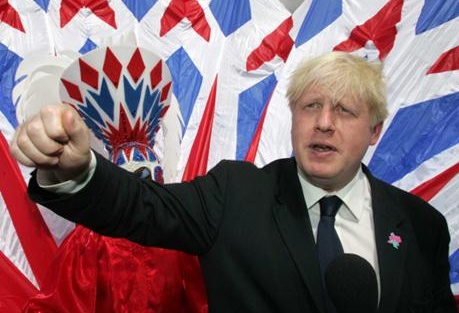 Firstly we've got this magnificent Scottish Daily Mail editorial, author unknown:
—————————————————————————————
Signs that the Yes campaign is fading

THE mobbing and intimidation of UKIP leader Nigel Farage by Left-wing nationalist extremists in Edinburgh has done nothing for Scotland's reputation as a forum for democratic discourse and civilized debate.

Whether separatists like it or not, UKIP is rapidly becoming a mainstream – and completely democratic – political party which has as much right to bring its message to Scottish voters as they have to hear it.

The notion that 50 loud-mouthed youths have the right to determine who may or may not communicate with the Scottish public is as dictatorial as it is absurd. The demonstration was allegedly ' anti-racist' and, to illustrate that fact, the thugs involved bawled anti-English abuse.

On the face of it, this bullying intervention by members of an extremist minority group was no different from scenes frequently enacted on the streets of English cities when far-Right or leftist organisations attempt to compensate by violence and intimidation for their lack of electoral support. The bullies in this instance were drawn from Radical Independence, the significance of which is that it is an official participant in the Yes campaign.

So official and acknowledged is its participation that, at the launch of the Yes campaign in Glasgow on January 16, Deputy First Minister Nicola Sturgeon shared a platform with Cat Boyd, of Radical Independence, who went on Twitter to spread the word about the anti-Farage demonstration. Those are the kind of allies the SNP has cultivated at Yes campaign launches from which the Scottish business community was conspicuously absent.

Apparently the SNP's drive to break up the United Kingdom is now trailing so badly it cannot afford even to alienate such unsavoury supporters as Radical Independence. That would explain why Alex Salmond, when invited to condemn the violent silencing of another party leader on Scottish soil, used such weasel words:

'If there's been any law-breaking – and that's yet to be established – then obviously we condemn that, as we always do in Scotland, but you've got to get things into context.'

What context would that be, First Minister? The context of free speech in a parliamentary democracy, or the context of silencing political opponents by force as an apparently acceptable tactic? Which would be the norm in the context of an independent Scotland? How would Alex Salmond and his colleagues react if a First Minister's press conference was broken up violently by political opponents? One can imagine the outraged condemnations.

From the start of the referendum campaign, the SNP has kept strange company. The Yes campaign launches featured such icons of dinosaur socialism as former Ravenscraig trade union militant Tommy Brennan, Dennis Canavan, the Scottish Socialist Party, Solidarity and, of course, Radical Independence. With no counterbalancing presence from the business community, any claim by the SNP to be a party representative of Scottish society lacked credibility.

Historically, devolution was seen by the Scottish Left as an opportunity to ringfence Scotland against Thatcherite reforms and market realities. Today, independence is regarded as a chance to subvert Britain's unity, expel its nuclear deterrent, reinforce the public sector and dependency culture and turn a small nation into a socialist theme park in which all the economic and social experiments that have consistently failed in the past century can be imposed again.

If Alex Salmond does not want voters to view his crusade in that light, he should be more fastidious about his political bedfellows. As for UKIP, it can reasonably regard last Thursday's events as a backhanded compliment. Only a rising political party attracts such attacks: would those thugs have bothered with the Tories? Their emergence from the woodwork, however, suggests the Yes campaign is imploding fast.
—————————————————————————————
The entire Yes campaign is imploding because a few students shouted at someone from a fringe party that's opposed by 99.1% (or more) of the Scottish electorate? That's going to be pretty hard to beat, right?
Well, don't rush to judgement, because we've also got this spectacularly heroic effort from Tom Gallagher in the Telegraph for you to cast your disbelieving eyes over:
—————————————————————————————
Nigel Farage and Scotland's Left-wing media mafia

Nigel Farage has been discovering the hard way that politics in Scotland is often a rough business. He put the phone down on the BBC Good Morning Scotland programme on Friday morning, believing the reporter's line of questioning displayed the xenophobia that had led to him being barricaded in an Edinburgh pub just around the corner from the Scottish parliament, the evening before.

It might be some consolation for the British nationalist to know that he is in step with a lot of Scots. Radio 4's Today has at least as many listeners in Scotland as Good Morning Scotland. Shrill presenters and amateur programme-making has led to a mass desertion of listeners despite the quickening pace of politics as Scotland decides whether to opt for a post-British future.

Scottish broadcasting recoils from free-wheeling debate. Not a few of its top managers and interviewers have been recruited from the world of Left student activism which provided part of the flash mob that bore down on Farage in central Edinburgh. Nostrums about more Europe, the necessity for a big state, and the joys of untrammelled multiculturalism shape the contours of discussion. A Scottish David Starkey or a Jeremy Clarkson would soon be wanted men if they broke through the tartan media curtain.

The Scottish broadsheets produced from Glasgow and Edinburgh, the Herald and the Scotsman, are in an even sorrier state than the local BBC. Their circulation has nosedived in the last 20 years. Tiny numbers of Scots have access to them on a daily basis. Both rely on a core Left readership, especially the Herald, once the voice of the West of Scotland bourgeoisie. Iain MacWhirter is the Herald's chief political columnist. This former BBC correspondent was until recently Rector of Edinburgh University. He has devoted much ink to painting Ukip and its Eurosceptic cause in lurid colours ever since it broke into front-rank British politics on 2 May.

The Scottish Daily Mail exceeds the combined circulation of these two newspapers, which may have to merge if they are to survive much longer. This ascendancy is not a cause for unbroken joy. The newspaper's conservatism does not extend much beyond strictures about state profligacy, mollycoddling of violent criminals, and crushing red tape.

On issues like same-sex marriage, abortion, or radical feminism its stance is often low-key. It has no real wish to challenge the Left on the cultural terrain where it is dominant. The day before Farage turned up, its main opinion piece was extolling Gordon Brown as someone who had not lost his mojo, al least when confronting the SNP.

The BBC in Scotland used to be like the Mail – Protestant, insular and cautious. But since the 1980s it has cast off its petit-bourgeois trappings to become resolutely Left-orientated. The mainstream Left and its radical Marxist cousin shared the spoils. The glory years for Left journalism came after 1999 and the arrival of devolved government. There is a vast budget for special advisers and spin doctors and they made hay.

The SNP turned these media arms into shock troops after forming the government in 2007 and winning an outright majority four years later. Instead of creating a brains trust meant to devise policies for a new self-reliant nation, the army of spin doctors and advisers have been mobilised for special operations and dirty tricks. No other party in the English-speaking world devotes as much attention to online propaganda as the SNP.

It is quite likely that a portion of the 'cybernat' storm and fury that regularly greets articles from the doughty Alan Cochrane comes from the offices of MSPs at the Holyrood Parliament. Last October, 230 people engaged in media and public relations work on behalf of the Scottish state were grouped into a new Communications Directorate. it is widely seen as the propaganda division for the two-year offensive meant to bounce Scots into voting to quit the United Kingdom.

Labour and the SNP are essentially campaigning outfits with no ideas for transforming the country. Depicting themselves as liberation movements, neither really desire genuinely independent-minded people to make their voices heard. Labour is content to operate within a tightly regulated British sphere while the SNP is infatuated by managing a Scottish theme park for the commisars building a new European order on the continent.

The poor old BBC is stuck in the middle as the warfare between these two inauthentic change parties gathers pace. The dilemma of its staff is that of a great many Scots. They rely on core UK funding for their jobs but too many are stirred by tunes of nationalist glory.

News stories where a common Left narrative can be devised are understandably swooped upon. One of these was the Israeli interception of the flotilla to Gaza carrying Turkish Islamists and European Leftists in May 2011. Minuscule protests by scattered groups of Trotskyites were transformed by BBC Scotland News into dozen of demonstrations that had spontaneously erupted across Scotland.

Nigel Farage's arrival in Scotland was manna from heaven of a similar sort. BBC Scotland's Glenn Campbell described the action which led to his political meeting being cancelled in light-hearted terms. The student angle was emphasised even though it was clear others were involved and a 20 foot-banner was unfurled proclaiming 'Vote Yes For Scotland'.

The next day Alex Salmond who, in the absence of any big idea, has been passing laws restricting personal behaviour in numerous ways, was nonchalant. Nigel Farage coudn't take a bit of argy-bargy and besides since his policies are 'obnoxious' what's the surprise.

He went on to say: 'We are dealing with someone who actually says on radio that the BBC are part of a hate campaign against him. Now it would be a great mistake to take somebody with that mentality with any degree of seriousness.'

This is the same laid-back Alex who in February 2012 rounded on Ric Bailey, the BBC's chief political adviser, for refusing to allow him to be a BBC commentator at a Scotland-England rugby match:

'The political Gauleiter we shall call him now. He's lost the plot. That's what you get in a tin-pot dictatorship.'

Watching how the SNP and its leader operate, many Scots are increasingly nervous about the future. Nigel Farage and Ukip could be the beneficiaries, provided they realise that different tactics and rhetoric are needed to keep this disorientated northern realm within the British family.
—————————————————————————————
The Scotsman relies on "a core Left readership"? The SCOTSMAN? Blimey, that's nice work, Tom. If you've managed to get paid for sneaking satire like that into the Telegraph, we well and truly doff our caps to you. But does it manage to surpass the Mail's awesomely demented effort? Only you can judge, readers.
Who's the maddest?
The Telegraph (66%, 330 Votes)
Scottish Daily Mail (34%, 172 Votes)
Total Voters: 501
Loading ...
Polls close at midnight on Sunday.