Editorial in today's Scottish Sun:

The Scottish Sun is around 80% the same newspaper as the English edition (with the bulk of the difference being accounted for by football coverage) so presumably the south-of-the-border version has a broadly similar view, right?

Ah, not quite so much, then.
It's worth taking a moment to examine that paragraph. "Informally propping up a minority administration" actually just means voting with the government. (Because if there was any kind of deal in place, it wouldn't be "informal".)
So if the UK was invaded by giant space monsters and MPs supported a motion saying "this House condemns the unprovoked attack from Zlargon 7", technically that would count as "informally propping up a minority administration".
What the Sun is openly saying (in England), then, is that if Scotland democratically returns SNP MPs, those MPs should either not be allowed to vote in Parliament at all, or their votes should be discounted. It's saying that MPs from UK constituencies participating in the government of the UK is "madness".
The Sun is the biggest-selling newspaper in the UK by a considerable distance (the only serious challenger is the Daily Mail). Its favour is sought by all parties – including Labour, however furiously they protest otherwise.
The idea that Scottish Labour MPs would be able to stand up for Scotland in the face of such hostility, even if they wanted to, is a wildly delusional one. They would be whipped unfailingly by the UK party into the service of English public opinion, as expressed in England's media. (The notionally left-wing Mirror, remember, is no less antagonistic towards the idea of Scottish influence.)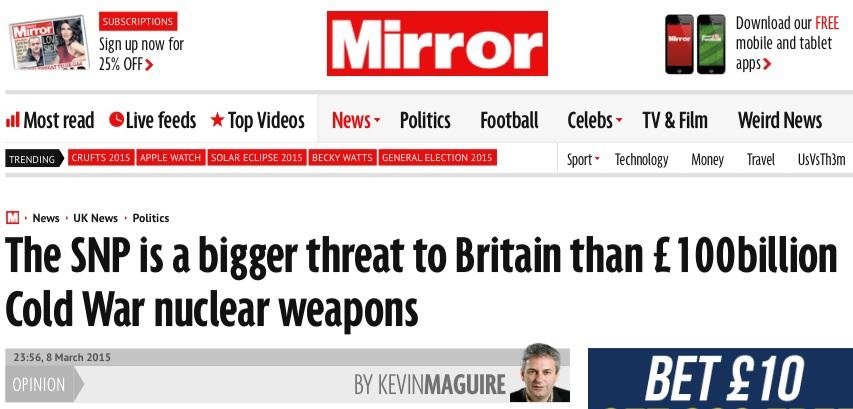 It's not this site's job to tell readers who to vote for. All we can do is note what (and who) it is that the entire UK establishment is absolutely terrified of.