The Yes movement, like almost all movements, is plagued with a small but incredibly loud faction of intolerant, destructive extremists. Alert readers will have noticed that this site has again been the victim of them this week, but we're not alone. They've also gone after two print publications – The National and iScot – over their "transgressions" against the beliefs of these self-appointed arbiters of what people are allowed to think.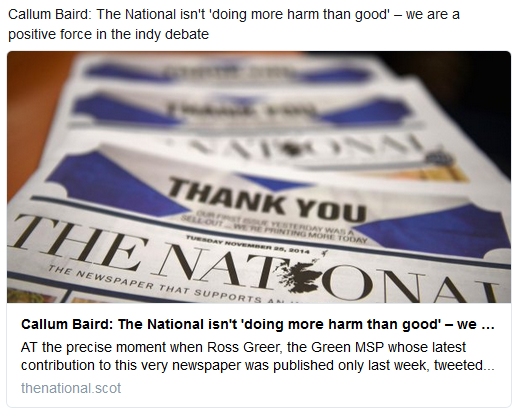 What those two outlets and Wings have in common is achievement.
This site is by a huge margin the biggest pro-independence voice on the internet. The National is the only pro-independence voice on daily newsstands. And iScot is the only pro-indy magazine, taking the message to places no other medium can reach.
The last of those was the most difficult challenge by far. Wings built itself up online and is fairly easy to maintain, being essentially one bloke with a computer. The National, while on a shoestring budget, has a major international publishing corporation behind it which helped it get up and running without many logistical/financial obstacles.
But to produce a monthly glossy magazine with high production values and quality content and distribute it all the way across the country is a monumental task that's all but inconceivable for a tiny team starting from nothing. It just doesn't happen. And yet somehow editor Ken McDonald has made it happen, and kept it running for years.
It's now being viciously savaged for insanely petty reasons by the same worthless clique of sniping, carping, bedwetting wannabe-media-careerist whiners who are also attacking Wings and The National – people who've done nothing more difficult in their lives than get themselves into positions in a minor party and become a list MSP off the back of a tiny handful of votes, and most of whom have managed even less than that.
The silent majority of good and decent Yes supporters have generously put their hands in their pockets a fair bit already this month, supporting the splendid Wee Ginger Dug and our own fundraiser for court action to defend Yes campaigners from the endless smears of Unionist politicians and media – little knowing that the most bitter attacks would be coming from our own side.
But supporting iScot is different. You're not making a charitable donation, you're buying something that's worth the money. It's a great magazine, and well worth the piffling £3 a month that the digital edition costs. (The print edition, including delivery to your door every month, is just £5.99 and there's no year-long commitment.)
They need a modest £10,000 or so in subs to survive another year. If some kind of arsehole-seeking virus wiped out half of the squealing indy bedwetters overnight, the truth is that nobody would notice or care and no harm would be done to the Yes cause (probably the reverse). But iScot would be an irreplaceable loss. Nobody would step up to fill that gap. Winning independence would get a little bit harder.
We really hope it isn't allowed to die. Click the pic above to help save it.