We're rather kicking ourselves for not having spotted this one when it was staring us in the face, so kudos to Welsh professor of political science Roger Scully for the catch.
In the 2009 European elections, UKIP got 16.5% of the vote in the UK as a whole, and 5.2% in Scotland – a gap of 11.3%. In this year's election the tallies were 27.5% in the UK and 10.5% in Scotland – a gap of 17%.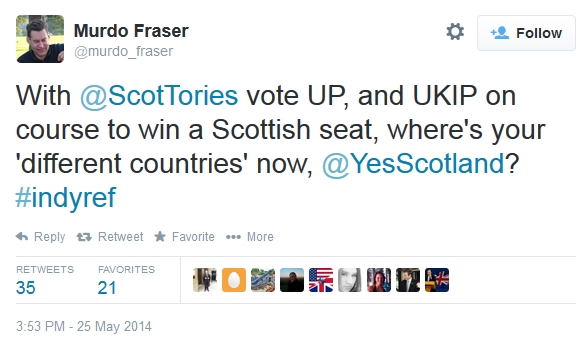 In other words, despite all the bluster from Unionists about how Scotland can no longer claim to be different to the rest of the UK in terms of supporting Nigel Farage's party, in fact the degree of difference has substantially increased, by a whopping 55%.
It just seems worth pointing out.