We've noted a few times in the past that one of the challenges of highlighting media bias is that you rarely get a chance to directly compare like with like. If a Labour MP is caught up in some sort of scandal and the media soft-pedal it, say, it's all very well claiming "It'd be different if this was someone in the SNP", but unless the latter does the exact same thing it's hard to make it stick.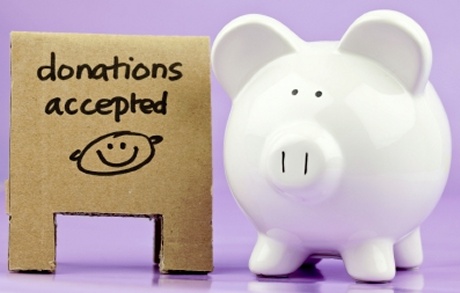 So this week presents a rare opportunity to study the phenomenon in the flesh, as both the Yes and No campaigns release their lists of campaign contributions so far. Let's see how it went.
Firstly, the facts. The "Better Together" anti-independence campaign announced donations of £1.1m (with another £1m pledged but not actually delivered), while Yes Scotland revealed funding of £1.6m. The Herald described the former figure as a "£2m war chest" (even though almost half of it is as yet imaginary), and the statistics were presented by the Daily Record this week as a 2:1 advantage for the No camp, in a piece littered with extraordinary arithmetical errors.
Of the "Better Together" figure, 60% comes from just two people – oil executive Ian Taylor and author CJ Sansom (neither of whom live in Scotland and who won't be able to vote in the referendum). Of the Yes Scotland figure, an almost-identical proportion (62%) also comes from two people, lottery winners Chris and Colin Weir.
The Scotsman describes the Yes Scotland sum as being "almost entirely" made up of the Weirs' contribution, but headed its coverage of the No-campaign figure with the words "Almost 10,000 people have donated more than £1million to the campaign to keep Scotland in the United Kingdom" – an intriguing difference of focus.
Back on the Herald, the paper's "Scottish Political Editor" Tom Gordon continues the Scotsman's theme, with some harsh analysis of the Yes camp's revelations:
But hang on – the "small pool" of Yes donors numbers "more than 7,000" individuals. That's fewer than the 9,494 or so of the No campaign, but hardly by orders of magnitude. The Yes contributors have donated an average of £16 each, compared to the average of £18.26 coughed up by small donors on the No side.
That's certainly a little less, but at this point we modestly hesitate to refer to the 1000+ people who also contributed over £33,000 to this site's own recent fundraiser and those who gave over £12,000 to Newsnet Scotland last month, which would close the gap almost completely. We're not aware of anything comparable on the No side.
(The Daily Record tried an interesting spin, headlining an article "Almost 10,000 people donate more than £1million to the campaign to keep Scotland in the United Kingdom". This was technically correct, but conveyed an implication that everyone had kicked in £100, when in fact 90% of the sum had come from just 10 people.)
Mr Gordon's tweets when the "Better Together" figures were released were a little different in tone, mostly focusing on the lack of Yes Scotland's corresponding lists (although the Yes camp had contacted "Better Together" to suggest simultaneous release, but been ignored).
As it turned out, the "rumours" reported by Mr Gordon were well off the mark – the amount of money actually received by Yes Scotland to date is 45% higher than that given to the anti-independence campaign.
"Better Together" campaign director Blair McDougall also seemed to experience a rather sudden change of heart between Sunday and Wednesday. In the Scotsman and Record's pieces he could be found proudly trumpeting the absence of donations from political parties in the No camp's coffers:
"We are humbled that, in difficult economic times, almost ten thousand people have chosen to make a contribution to our campaign."We have not received a penny from political parties. Every penny we have raised, we have raised ourselves from supporters of our cause."
But when Yes Scotland's figures showed an in-kind contribution of £343,000 from the SNP, he took a rather different view:
Let's see if we're understanding this one correctly, then – having only one political party contribute to your campaign is bad, but having none at all contribute to it is good? Have we got that right?
It seems so. The Yes Scotland campaign is backed by the SNP, the Greens, the SSP, the Parliament's only independent MP and others, but none of those apparently count as they haven't put in any money and the campaign is really just an SNP front. Meanwhile, "Better Together" hasn't had a penny from Labour, the Tories or the Lib Dems, so presumably they don't really support it either. Good to know.
Finally, the media has belatedly begun to pick up on the shady history of the No camp's biggest contributor – a Tory donor with links to corporate crime, tax avoidance and a murderous Serbian warlord – several days after pro-independence site National Collective first drew attention to it.
(NB: We originally wrote this piece on Wednesday afternoon to be published that teatime. It's been rather overtaken by events since then.)
As yet, "Better Together" has offered only a mumbled one-line statement that it accepted his £500,000 donation in "good faith", with no suggestion of returning the money. We'll be watching keenly to see if the story is pursued as aggressively by the media as the completely innocent actions of the SNP with regard to the Weirs' donation to the party in 2012 were.
In short, then, it's hard to conclude that the Scottish media has been even-handed in its characterisation of the two camps' donations. "Better Together" has had its statistics inflated and spun positively while Yes Scotland has had its belittled, even though the "grassroots" figures are similar and the Yes total is significantly larger.
(And overwhelmingly sourced from people living in Scotland – the Yes campaign doesn't accept donations of over £500 from elsewhere – whereas less than half of the No camp's money comes from people who'll have a vote in the referendum.)
As such – as another popular musical artist might put it – no surprises.