Scottish Conservatives leader Ruth Davidson, bless her wee heart, is banging once again in today's Scottish Sun on the drum she's made her own personal pet issue of the referendum campaign – the BBC.
The Tory chief – who likes to bash the public sector but has spent almost her entire life funded by the taxpayer, first as a Beeb employee, then as a student at a Scottish university and now as an MSP – notes that viewers in Ireland pay £5.50 a month to access the iPlayer, and that the same fate might befall an independent Scotland.

It sounds a reasonable argument, but like so many of the No camp's assertions it unfortunately falls to pieces under the pressure of reality.
The BBC website notes that iPlayer is only intended for people in the UK, and that qualifying residence is determined by way of a user's IP address. For those of you who aren't fully internet-savvy, an "IP address" is sort of the electronic equivalent of a postcode. But it's rather less accurate than a postcode.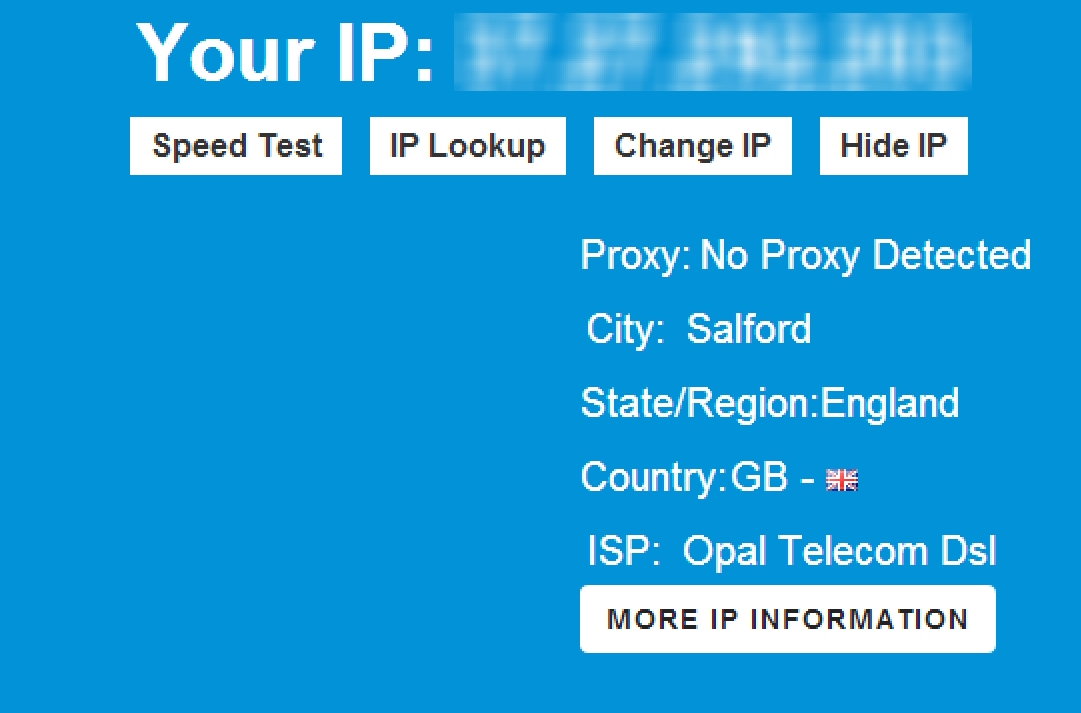 Because an IP address can't really track YOUR location, but only that of the internet company you use. The above, for example, is what gets returned for our IP address by sites like What's My ISP?, and readers who've been paying attention for the last two years will of course know that Wings Over Scotland is in fact NOT located in Salford (ironically the new home of the BBC), but almost 200 miles away in sunny Bath.
To cut a long and boringly technical story short, the chances of the BBC ever being able to accurately identify whether anyone in the current UK actually lives in England, Scotland or Wales are essentially nil. Broadband companies will continue to operate across the borders, and with a 200-mile-plus margin of error there's simply no practical way of separating out Scottish customers. Any attempt to do so would inevitably result in the BBC shutting out millions of angry English and Welsh viewers.
We're sure that an independent Scottish Government would come to a reasonable and sensible arrangement with the BBC to purchase its services legally. Scots want access to the Corporation's programming and the BBC desperately needs money, so neither side has any interest in any other outcome.
But in the worst-case scenario, there's simply no chance that the BBC could block iPlayer access from Scotland even if it wanted to. Maybe someone who understands computers could explain that to Ruth Davidson.
.
EDIT 14.44: It should, of course, also be noted that Scotland, unlike Ireland, is already part-owner of the iPlayer, rendering the comparison even more inaccurate.