The media and the No camp, in so far as those are two different things, got incredibly excited today about some comments made by new European Commission president Jean-Claude Juncker in which he said that the EU wouldn't undergo any further enlargement for the next five years.
"Juncker deals blow to Alex Salmond's EU claims" (Telegraph)
"Independence: Juncker deals blow to Scots EU plans" (Scotsman)
"Alex Salmond's dream of staying in the EU dealt a blow by new President of the European Commission" (Daily Record)
"Blow for SNP as Junker [sic] rules out EU expansion" (Express)
"Unionists hail Juncker 'hammer blow' to Scotland's EU place" (Financial Times)
"Better Together said the president's comments make it clear that a Yes vote in the referendum would also be a vote to leave the EU." (Herald)
So far so mundane. And then something odd, but welcome, happened.
Someone did their job properly.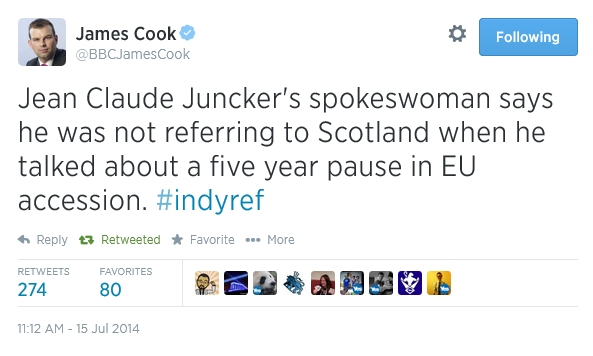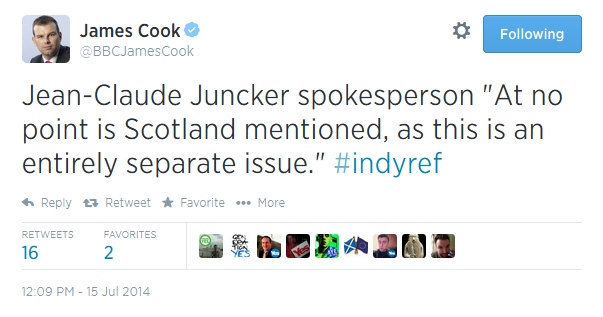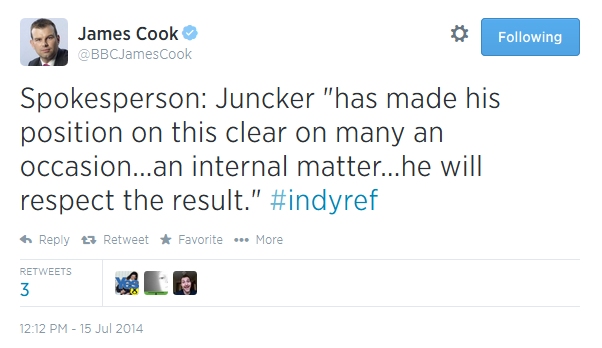 Turns out, all you need to do is ask the question.
The proud and patriotic Scots in the No camp had been much too busy revelling joyously in the idea that Scotland would be an outcast nation condemned to the fringes of the international community to think about that, of course.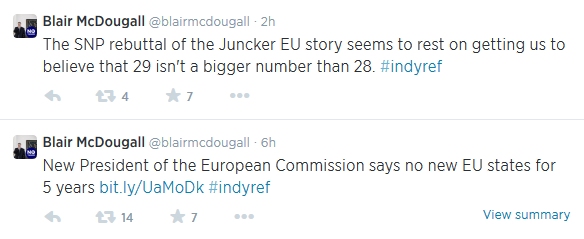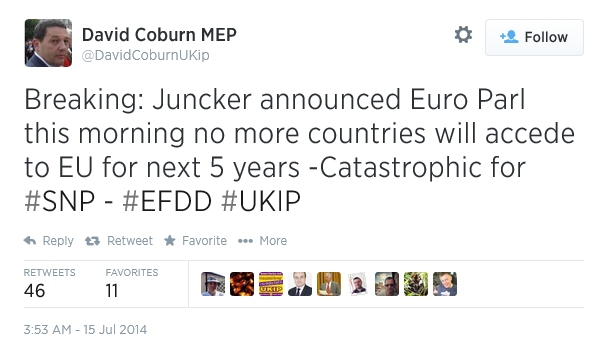 It was obvious to anyone else what Juncker had meant. He spoke of new countries not meeting the entry criteria (which wouldn't apply to Scotland, which has complied with all EU regulations for 40 years), and of "no new enlargement" in the next five years (which wouldn't apply to Scotland, as Scotland joining in its own right would leave the EU exactly the same size it is now).
But so desperate are the No camp to do Scotland down that they just couldn't hold it in. Ruth Davidson in particular will have some difficulty living down her hasty gloat that:
"Jean Claude Junker [sic] is only confirming what we already know – that an independent Scotland would have to join the same queue as everybody else for membership of the EU.

Only today we find that queue has grown to a minimum of five years. On one side we have Alex Salmond with his non-existent legal advice, and on the other we have the people actually making the decisions about EU entry."
As will Jackie Baillie, who can never resist an opportunity for a big fat fib:
"It is now clear that, if we leave the UK, we would be leaving the EU. This would put thousands of Scottish jobs at risk and would be massively damaging to our country."
(Although we commend her for at least not just saying "a number of" jobs.)
In fact, Juncker's clarification that the referendum was "an internal matter" hints strongly at the exact opposite conclusion. If he regards the vote as essentially none of the EU's business, that can only suggest that his view is that an independent Scotland would be rubber-stamped straight in.
Of course, there's an easy way to find out. The EU has already said that it will give a clear official statement on the subject if it's asked to do so by the UK government. Inexplicably, the UK government has refused to take that simple step, even though it would have Scots believe that the answer will support its position.
We applaud the BBC's James Cook for doing his job, and we wistfully imagine a debate where the rest of the press had shown such basic journalistic diligence. And we wonder, rather more pointedly, if the incident will lead to an increase in pressure from the media – which has until this point been sorely and bewilderingly lacking – on the UK government to ask the EU question and settle the matter, so that the people of Scotland can make a more informed decision.
We're not holding our breath too hard, we must admit.