We've now filed a formal complaint with the Scottish Information Commissioner about this, because what we'd forgotten last week was that our original request was actually sent in September and it's now been almost 60 working days with no sign of a proper response, not the 20 it's supposed to take.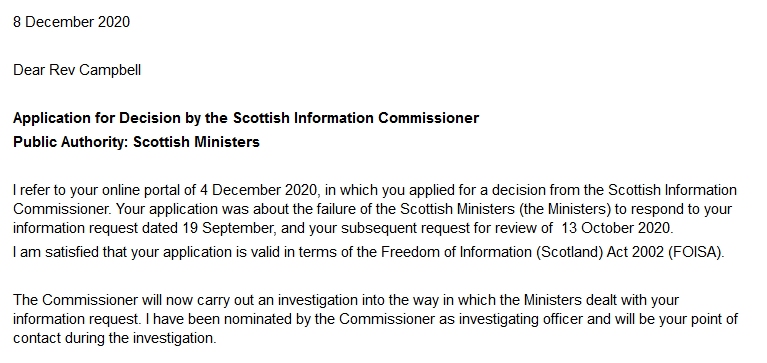 Because for some reason the Scottish Government REALLY doesn't want you to know what the First Minister and Geoff Aberdein talked about in March 2018, and we think that you probably should.
We can't say whether that was the same matter that Alex Cole-Hamilton was referring to in the Holyrood chamber last month when he said this:
But we can tell you that we sent this FOI request yesterday:
"To: ceu [at] gov [dot] scot
Name: Stuart Campbell
Date: 7 December 2020
Response required by: 8 Jan 2021

Information requested:

(1) Has the Committee [on the Scottish Government Handling of Harassment Complaints] received a written submission from Mr Geoff Aberdein, former chief of staff to former First Minister Alex Salmond?

(2) If so, on which date was the submission received?

(3) Has the Committee accepted the submission?

(4) If so, on what date will the submission be published on the Scottish Government website?

(5) If not, for what reason/s has the submission not been accepted?"
And even though it's taken 60 days to have our previous request acknowledged, we got an actual response to that one the same day.
It's a fob-off saying "not our department, guv, ask THOSE guys over there", but it nevertheless indicates that it isn't simply a case of the coronavirus pandemic creating an unfortunate backlog that means requests take weeks to be looked at. This request was received, read, assessed and replied to within literally hours.
So there's no possible excuse for the other one – which simply requests a clarification of two apparently contradictory statements issued by the Scottish Government, and should not be in any way difficult or complicated to provide a proper answer to – to have taken three months and counting.
But there's good news, because we got another FOI reply today too.
So it's now the offical position that the separate inquiry into whether Nicola Sturgeon breached the Ministerial Code DOES encompass not only whether she attempted to interfere in the inquiry, but also whether she lied to the Scottish Parliament about her knowledge of it (which we know, officially and on the record, that she did).
It is, to put it generously, now EXTREMELY difficult to see how James Hamilton can come to any conclusion other than that the First Minister lied to Parliament, now that we know it's in his remit to determine that fact. And if he does, the Ministerial Code unambiguously requires her to resign.

As we write this, we're listening to Peter Murrell give evidence to the other inquiry, and what he's just told it (namely that the Salmond allegations were Scottish Government business, not SNP business) unequivocally proves that she broke the Ministerial Code over that too, by conducting Scottish Government business on Scottish Government premises without any minutes or records being kept of it.

(Murrell, extraordinarily, told the committee that the first he knew of any of it was when it appeared in the media in August 2018.)
The First Minister cannot, by any possible interpretation of the rules, remain in office once these two inquiries deliver their verdicts. It's time for her to step down and give the SNP a fighting chance to get a new leader in place for the 2021 election, before the damage becomes irreparable.