A post appeared on the news-and-discussion site Reddit Scotland last night. We've reproduced it in full below, because it seems like something people should know.
"I'm an NHS doctor (GMC #7036831)*, and seeing [the image below] on my feed made me very suspicious at how they arrived at this claim (I'm voting Yes, by the way).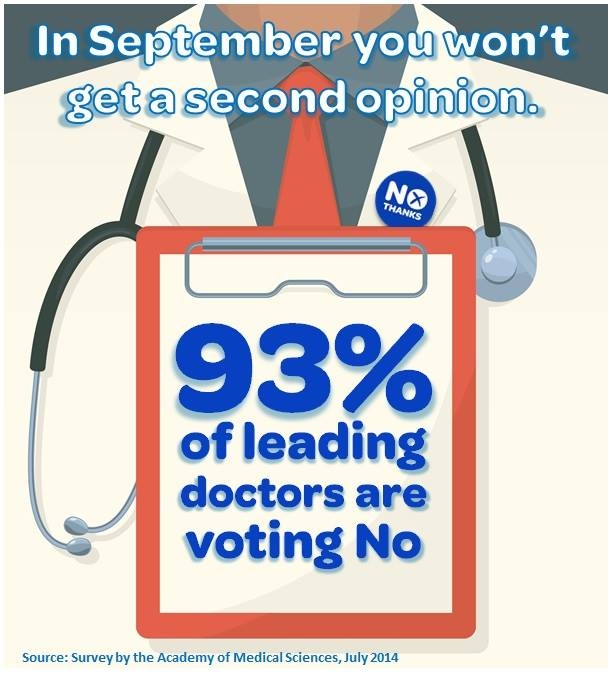 Some facts about this rather misleading image.

Better Together polled 106 Scotland-dwelling fellows of the London-based Academy of Medical Sciences. Of the 76 respondents, 73 indicated their preference as remaining in the UK. So that's the 93% figure dealt with.

Who are the Academy of Medical Sciences? Their "about us" page states:

'Our elected Fellows… are drawn from the fundamental biological sciences, clinical academic medicine, public and population health, health technology implementation, veterinary science, dentistry, medical and nursing care and other professions allied to medical science as well as the essential underpinning disciplines including mathematics, chemistry, physics, engineering, ethics, social science and the law.'

This is not an NHS-affiliated organisation and its membership is evidently drawn from such a wide range of disciplines, many of which not directly related to clinical medicine, that calling their respondents "top doctors" is arguably very misleading.

Who funds the Academy? Well, their site states they do receive funding from the Department of Health, but their donors list is essentially a directory of huge multinational drug and medical technology firms.

What are their aims? Here's one of the sections:

'We seek to capitalise on our independence and ability to connect stakeholders from across the life sciences sector to… [Facilitate] strong and equitable partnerships between academia, industry and the NHS… along with promoting effective engagement with regulators and policy makers…'

So, there you have it. Better Together have presented the above figure as a majority of 'leading doctors' planning to vote No. What we actually find, with a minimum of Google detective work, is that the 'leading doctors' are actually Fellows of a London-based organisation, primarily concerned with academia and not directly affiliated with the NHS, funded in part by donations by big pharma and openly stating their aims include influencing policy decisions.

Are Better Together openly lying to people on Facebook? You decide."
We have little to add, other than to note the comically-inadequate sample size of just 76 people. Uncharacteristically, the Scottish media seems to have been rather wary of this "poll" – the only reporting of it we could find from a quick Google was in the Herald, where it was mentioned in passing in relation to something else.
Perhaps even the press are learning that you can't trust a word "Better Together" say.
.
*We checked the number on the GMC website and it returned a registered current doctor, qualified from the University of Glasgow.