Jill Stephenson is (or maybe was) Professor Emerita of Modern German History at the University of Edinburgh. She was the subject of a substantial profile piece in the Times a couple of months ago on the subject of the independence campaign, which called her "one of the most compelling voices in support of the Union" (as well as somewhat inflating her status to just "Professor Emerita of History"), and therefore we must take her to be a respectable commentator who wouldn't tell crude flat-out lies.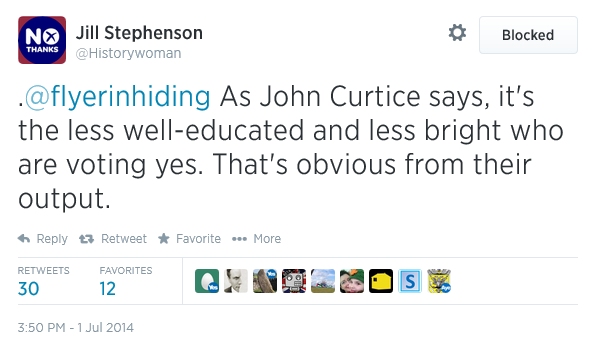 So we were intrigued to notice the above tweet from yesterday. Can anyone point us to Professor Curtice actually making such a claim? It would surely be significant if the country's leading (and apparently only) psephologist had indeed said that Yes voters were just a bunch of thickos. At the very least it would somewhat colour his analysis, which we've hitherto always considered professional and impartial.
We've got to pop out for a bit, so any help would be appreciated.