We know it's early doors, but we're going to state with some confidence now that this is the Tweet Of The Night: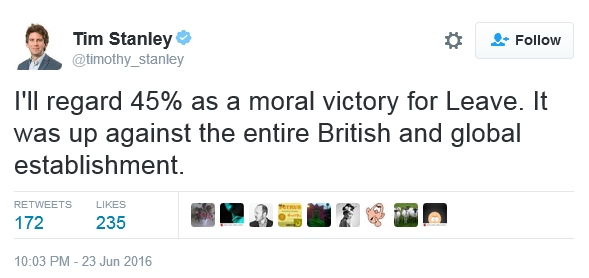 Yes, that really is Tim Stanley, leader writer of the Telegraph, complaining about being up against the British establishment in a referendum. (In which Leave was supported by, among others, the Sun, the Daily Mail, the Telegraph, and the Daily Express – the #1, #2, #4 and #6 best-selling newspapers in the country – along with around half of the MPs of the governing party.)
For extra fun, we might collect some of his indyref tweets later. But to the very best of our recollection, he didn't consider the Yes campaign's 45% – which really WAS achieved against the entire British establishment, without a single daily newspaper's support – as a "moral victory".
But, y'know, we'll check.